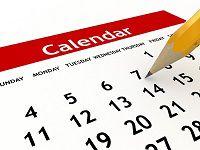 Al-Anon's "Peace and Serenity" group meets each Thursday from 7-8 p.m. at Winchester First United Methodist Church, 100 S. Jefferson St. in Winchester. The "Faith Alive" Al-Anon group meets Tuesdays at 7 p.m. at Faith Lutheran Church, 101 Bragg Circle in Tullahoma. The "Serenity Seekers" meet Mondays and Fridays at 7 p.m. at Serenity House, 313 Collins Ave. in Tullahoma. All who are concerned about a loved one's drinking are welcome.
Ninth annual AngelFest Friday starting at 4:30 p.m. on University Ave. in Sewanee featuring The Eaglemaniacs in concert, family activities, vendors, food, reverse raffle and much more. Free admission.
Ninth annual Brothers of the Wheel Toy Run Saturday. Register at Pioneer Motorcycles, 2433 Decherd Blvd in Winchester, at 11 a.m. Ride starts at noon. Bring a new, unwrapped toy.
Life Force member-appreciation day
Everyone is invited to AirMedCare Network member appreciation day Oct. 5 from 10:30 a.m. to 2:30 p.m. at Winchester City Park, 1895 Phillip Fulmer Pkwy., Winchester. Enjoy refreshments, family-friendly activities and meet the local Life Force flight crew and membership team.
The October meeting of Chapter Z Tennessee of the International P.E.O. Sisterhood is Tuesday at 10 a.m. All unaffiliated members of the P.E.O. Sisterhood in the Middle Tennessee area are welcome.  Call 931-962-0202 for information.
Everyone is invited to join their neighbors in supporting our local firefighters during Broadview Volunteer Fire Department's fish fry Oct. 12 from 3-7 p.m. at the fire department located at 5253 Lynchburg Road in Winchester. Adults $10, children $5 includes catfish or chicken strips, slaw, hushpuppies, beans, fries, dessert and drink.
South Cumberland Conservative Network
South Cumberland Conservative Network meets Oct. 12 with Christie Shaw, education specialist, speaking on "Decisions Choices and Options in Southern Tennessee."  Meet and greet is 5:30-6 p.m. followed by refreshments and program at 6 p.m. at 300 1st Ave. NW, Winchester.
Heritage Day & Fall Festival
Tims Ford's Heritage Day and Fall Festival Oct. 12-13 from 9-5 p.m. at Tims Ford State Park. Enjoy demonstrations, reenactments, crafters and vendors, woodcarvers, food, games, live music, competitions and more. The event is free to the public.  For vendor application, email Destiny.Adcox@tn.gov.
Baby Steps walk for pregnancy and infant loss awareness Oct. 13 at 4 p.m. at the track next to Franklin County Annex building, 851 Dinah Shore Blvd. in Winchester. Registration is $25 and includes a t-shirt and will help purchase a CuddleCot to allow grieving families more time with their angels. To register or for info., call Jessica at 615-586-2627.
Free Fall Family Fun Night Oct. 17, 4:30-8:45 p.m. at Franklin County High School football field, 833 Bypass Road, Winchester. Enjoy school competitions, special music, cash prizes, kid's zone, individual competitions, free food and weather balloon lift-off. All are welcome.
South Central Human Resources Agency Head Start/Early Head Start policy council meeting Oct. 17, at 10:30 a.m. in Fayetteville. Info., 931-433-7182.
United Daughters of the Confederacy Kirby-Smith Chapter 327 Sewanee meets Oct. 19 at 11 a.m. at Oak Restaurant in Manchester.
Interior Threads & Workshop at SAS
A reception for artist Christi Teasley will be held Oct. 24 from 5-7 p.m. at St. Andrew's-Sewanee Art Gallery in Sewanee for "Interior Threads," an exhibition of textile art. The exhibit runs through Nov. 6. A public workshop will be held on Oct. 26 from 9-3 p.m. The $25 fee for the workshop includes lunch. For info., visit sasgallery@sasweb.org. SAS Art Gallery hours are Monday through Friday, 9 a.m. to 3 p.m., and by appointment.
American Red Cross blood drive Oct. 25 from 1-7 p.m. at Winchester Church of Christ, 1230 S. College St., Winchester.
Tims Ford State Park will host a free trunk or treat at the Fairview Campground Oct. 25 at 5:30 p.m. To volunteer to set up a trunk-or-treat station, email Destiny.Adcox@tn.gov. Trunkers participating should be ready between 5-5:30 p.m. Volunteers who register to set up a trunk-or-treat station may receive a retail or camping/cabin discount. Devil's Step Boat Ramp will be closed all day for Halloween events. The ramp area can be used for parking for the haunted hike and the trunk or treat, but will be closed to all boat traffic.
Tims Ford State Park will host a haunted hike on Devil's Step Island departing from Devil's Step Boat Ramp at 6:45 p.m. Oct. 25. Boats will depart every 15 minutes with the last boat departing at 9:30 p.m. Cost is $5 per person, $2.50 for children under 10 and registration is required at the Fairview camper check-in station the day/evening of the event. Enjoy a fire with cider, hot chocolate and s'mores in the boat ramp area. To volunteer to be a part of the haunted hike, email Destiny.Adcox@tn.gov.
Third annual Decherd Fall Festival Oct. 26, 9 a.m. to 5 p.m. in downtown Decherd featuring the bands Double Shot and Built on Blues, arts, crafts, a chili cook-off, a silent auction, children's Halloween costume contest, food and more. Vendor booths are $20. For information or to register as a sponsor or vendor, visit ShopDecherdTN.com.
Fall Christmas Craft & Vendor Fair
Everyone is invited to a Fall/Christmas Craft Fair Oct. 26 from 8 a.m. to 3 p.m. at the Franklin County Annex building, 851 Dinah Shore Blvd., Winchester. Spaces to participate as a vendor are $30 payable at the Franklin County Senior Center, 74 Clover Dr., Winchester. Send an email to fcdirector@fcsc.comcastbiz.net or call the center at 931-967-9853 to also get a vendor space. Reserve your space by Oct. 11.
Acoustic jam sessions Oct. 26, Nov. 9 and Dec. 7 from 6-9 p.m. at Franklin County Senior Center, 74 Clover Road, Winchester.
Southern Tennessee Ladies' Society's Annual Holiday Market is Nov. 1-2 starting at 9 a.m. in the Franklin County Annex Building located at 839 Dinah Shore Blvd. in Winchester. Shop from 53 indoor booth spaces filled with boutique-style arts and crafts. Stay the day and eat at their concession stand featuring delicious hot and cold foods as well as baked goods to freeze for the holidays. Applications are being accepted for booth sales. Download an application and booth layout at www.southerntnladies.com/Activities.html or email Sandi at stlsholidaymarket@gmail.com or call 570-656-6118. STLS is a non-profit 501(c)(3) organization with all proceeds from the sale of booth spaces, food items and goods benefiting their Scholarship Foundation.
Salute to Veterans art show
North Middle School invites everyone to their art show and reception, "A Salute to Veterans" on Nov. 7 from 6-8 p.m. at the Franklin County Art Guild's Artisan Depot Gallery and Gift Shop located at 204 Cumberland St. East in Cowan.
Veterans Day parade Nov. 10 at 2 p.m. in Winchester. Deadline to enter is Oct. 25. Contact Ray Cobb, 931-308-8914.