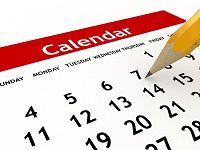 Al-Anon's "Peace and Serenity" group meets each Thursday from 7-8 p.m. at Winchester First United Methodist Church, 100 S. Jefferson St. in Winchester. The "Faith Alive" Al-Anon group meets Tuesdays at 7 p.m. at Faith Lutheran Church, 101 Bragg Circle in Tullahoma. The "Serenity Seekers" meet Mondays and Fridays at 7 p.m. at Serenity House, 313 Collins Ave. in Tullahoma. All who are concerned about a loved one's drinking are welcome.
Franklin County Senior Center invites everyone to join in the Metropolis Casino trip Oct. 24. Contact Linda Weaver at the Center at 931-967-9853 or email fcscctrips@gmail.com.
The AEDC Woman's Club's first meeting of their new year is today with social hour at 9:30 a.m. at Arnold Lakeside Club, followed by the meeting at 10 a.m. featuring Americana music artist Judy Paster. Everyone is welcome. Information, 931-393-2552 or 931-434-5415.
Everyone is invited to John L. Sanders Park (Babe Ruth field) located at 117 College St. in Decherd for the Cruisin' for Cancer car show on Friday from 5-8 p.m. This is a free event, but donations will be accepted for the Multi-County Cancer Support Network. Dash plaques awarded for first 50 cruisers as well as three trophies for people's choice. Enjoy a dance contest and oldies music.  Presented by Pack the Park Car Club. Info., 931-308-6977. More info. www.facebook.com/packtheparkdecherdtn. Vendor info., 931-308-3802.
Clothing giveaway for all in need Saturday starting at 9 a.m. at Agape Ministries, located at 35 S. Porter St. in Winchester.
Rising Sun Redbud Music Fest
Everyone is invited to the Rising Sun Redbud Music Fest Saturday at the Kiwanis Club Amphitheater located on North College St. in downtown Winchester featuring Sugar Lime Blue from 4:30-6 p.m.; Eightball Aitken from 6:15-7:45 p.m.; and American Floyd (Pink Floyd tribute band) from 8:15-10:15 p.m. Enjoy a classic car cruise-in at the corner of North Porter Street and Second Avenue Southeast across from Bates Grocery. Other activities include craft vendors, food and drink.
South Central Human Resource Agency will distribute free U.S. Department of Agriculture commodities Tuesday from 10 a.m. to noon to eligible residents on a first come, first serve basis at the pavilion located at 1041 Wilton Circle in Winchester. For eligibility info. call 931-967-1438.
"Think Sepsis First" Conference
Think Sepsis First conference Sept. 13 with registration at 8:15 a.m. on the Moore County campus. The conference starts at 9 a.m. and focuses on educating caregivers and healthcare providers on this often-fatal medical condition. Motlow students and faculty free, others, $30. Continuing education credits available. Registered attendees receive tee shirt, snacks and lunch. Register online at mscc.edu/thinksepsis.edu.
Ribbon cutting /Grand opening
Everyone is invited to the grand opening and ribbon-cutting ceremony Sept. 14 at 10 a.m. at the BlueCross Healthy Place at Huntland City Park. Following the ribbon-cutting ceremony, the park will open.
Everyone is invited to the Making A Difference Suicide Awareness Movement (MAD SAM) Unity Walk "Stamping Out Suicide" Sept. 14 from noon to 5 p.m. at the Red Roof Pavilion in Winchester City Park. Enjoy special musical guest Alison McCormick, bingo, an auction and a free barbecue dinner sponsored by Weaver Farms. For information on the MAD SAM memory wall, call Gina Steele at 931-308-0574.
South Cumberland Conservative Network
South Cumberland Conservative Network meets Sept. 14 at 5:30 p.m. for a meet and greet at 300 1st Ave. N.W., Winchester featuring State Executive Committeewoman Cyndi Miller.  The program will be on education, fiscal responsibility in government and pro-life causes.  Light refreshments and the program starts at 6 p.m.
Advisory Council on Aging & Disability
South Central Tennessee Advisory Council on Aging and Disability quarterly business meeting Sept. 18 at 10 a.m. at 101 Sam Watkins Blvd. in Mt. Pleasant. 931-379-2929.
SCHRA Head Start/Early Head Start
South Central Human Resource Agency Head Start / Early Head Start policy council meeting Sept. 19 at 10:30 a.m. at the Fayetteville central office. 931-433-7182.
Fall Festival Beauty Pageant
Fall Heritage Festival Beauty Pageant Sept. 20, 6 p.m. on Tennessee Avenue in Cowan. Pageant attire or Sunday best. Entry fee $25, with sibling discount of $20 each for two or more from same family. Entry deadline Sept. 18 at 4 p.m. Applications at Cowan City Hall, Cowan Development, Belles and Beaus. Visit www.fallheritagefestival.info/beauty-pageant-2/ for more information or contact Yvonne Stewart at 931-308-5754.
Free admission to the Fall Heritage Festival Sept. 20-22 in downtown Cowan celebrating the life, history, arts and culture of the Cumberland foothills with music, arts, crafts, living history, kids zone, demonstrations, pageant, food, music, fireworks Friday and Saturday, cruise-in with Smokey and the Bandit convoy, music by Bad Nayber, Jackwagon, Double Shot, Cagney Frizzel, Cody McCarver and Whey Jennings. Sunday music by Worth the Struggle, Sims Family and Stillwater Bluegrass. Free parking. For more information, go to FallHeritageFestival.info, visit the event's Facebook page or call 931-563-3868.
Cardiopulmonary resuscitation class Sept. 23 at 1 p.m. at the Franklin County Senior Center, 74 Clover Dr., Winchester. Class has just six openings available for $20. Call the Franklin County Senior Center at 931-967-9853.
Cowan Commercial Club meets Sept. 26 at 6 p.m. at Simpler Times, 102 E. Cumberland St., Cowan. Update provided on officer nominations, fall membership drive, fall festival and fall season. Membership and participation open to area residents and business owners. Visit www.cowancommercialclub.com.
The Franklin County Chamber of Commerce invites everyone to Casino Night Sept. 28 from 6-9:30 p.m. at the Franklin County Country Club. Chamber members $40, non-members $50. Tickets available at the Chamber office or call 931-967-6788.
George Fraley annual BBQ supper
Everyone is invited to the George Fraley annual barbecue supper Sept. 28 between 5-9 p.m. at the Franklin County Annex, 839 Dinah Shore Blvd., Winchester. Join in for a celebration of the life and accomplishments of Rep. George Fraley.  Come out for the great food and stay for the fellowship and festivities. For tickets call Louise at 931-703-1043. Cost is $25 for adults, $15 for ages 10-17.
Everyone is invited to a candlelight service Sept. 28 at Cowan Montgomery Cemetery in Cowan. The candlelight service is at 5:30 p.m. followed by the service at 6:30 p.m. Rainout date is Oct. 5.
Heritage Day & Fall Festival
Tims Ford's Heritage Day and Fall Festival Oct. 12-13 from 9-5 p.m. at Tims Ford State Park. Enjoy demonstrations, reenactments, crafters and vendors, woodcarvers, food, games, live music, competitions and more. The event is free to the public.  For vendor application, email Destiny.Adcox@tn.gov.
Tims Ford State Park will host a free trunk or treat at the Fairview Campground Oct. 25 at 5:30 p.m. To volunteer to set up a trunk or treat station email Destiny.Adcox@tn.gov. Trunkers participating should be ready between 5-5:30 p.m. Volunteers who register to set up a trunk or treat station may receive a retail or camping/cabin discount. Devil's Step Boat ramp will be closed all day for Halloween events. The ramp area can be used for parking for the haunted hike and the trunk or treat, but will be closed to all boat traffic.
Tims Ford State Park will host a haunted hike on Devil's Step Island departing from Devil's Step Boat Ramp at 6:45 p.m. Oct. 25. Boats will depart every 15 minutes with the last boat departing at 9:30 p.m. Cost is $5 per person, $2.50 for children under 10 and registration is required at the Fairview camper check-in station the day/evening of the event. Enjoy a fire with cider, hot chocolate and s'mores in the boat ramp area. To volunteer to be a part of the haunted hike, email Destiny.Adcox@tn.gov.
Fall Christmas Craft & Vendor Fair
Everyone is invited to a Fall / Christmas Craft Fair Oct. 26 from 8 a.m. to 3 p.m. at the Franklin County Annex building, 851 Dinah Shore Blvd., Winchester. Spaces to participate as a vendor are $30 payable at the Franklin County Senior Center, 74 Clover Dr., Winchester, by emailing fcdirector@fcsc.comcastbiz.net or by calling the center at 931-967-9853. Reserve your space by Oct. 11.
Southern Tennessee Ladies Society's Annual Holiday Market is Nov. 1-2 starting at 9 a.m. in the Franklin County Annex Building located at 839 Dinah Shore Blvd. in Winchester. Shop from 53 indoor booth spaces filled with boutique-style arts and crafts. Stay the day and eat at their concession stand featuring delicious hot and cold foods as well as baked goods to freeze for the holidays. Applications are being accepted for booth sales. Download an application and booth layout at www.southerntnladies.com/Activities.html or email Sandi at stlsholidaymarket@gmail.com. STLS is a non-profit 501(c)(3) organization with all proceeds from the sale of booth spaces, food items and goods benefiting their Scholarship Foundation.