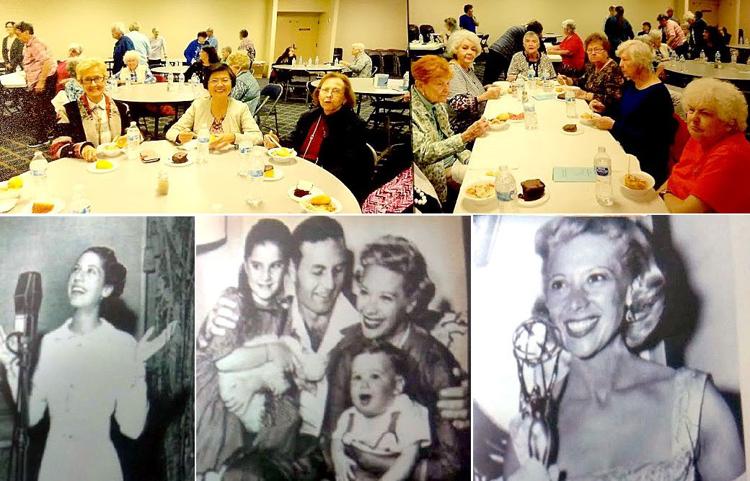 Local historian Joy Gallagher presented an interesting slideshow and history lesson during a recent meeting of the Wings of Hope Widow's Ministry.
The meeting was held on April 15 at the Winchester Cumberland Presbyterian Church where widows enjoyed the slideshow all about Dinah Shore, American singer, actress and television personality, as well as a top-charting female vocalist of the 1940's who was born in Winchester.
Gallagher's collection included a photo of Dinah's parents, Solomon A. Shore and Anna Stein on their wedding day as well as a shot of the building on the south side of the Winchester Square which was occupied by Abe Sanders called Shore's Department Store from 1924 to 1934.
While in college, Fannie Rose (her given name before stardom) made her radio debut with a 15-minute program on the Nashville station WSM at the Grand Ole Opry. The theme song of that program was the 1925 hit song, "Dinah," a name she was called by 1939 and adopted legally in 1944.
Included in the film presentation was the wedding photo of Shore with husband George and her daughter, Melissa Ann, on Dec. 5, 1943, in Las Vegas, Nevada. Another happy family slide revealed George and Dinah with daughter and adopted son David Montgomery who was born on May 11, 1954.
Gallagher's collection includes a photo of Dinah Shore holding her Emmy in 1957 when she was voted best female personality of the year.
Many of the widows in attendance at the program remembered the songs Dinah was famous for which include "I'm Looking Over a Four Leaf Clover," "Buttons and Bows," "Baby Face," "That Lucky Old Sun," "Mule Train," "Music, Music, Music," "If I Knew You Were Coming I'd have Baked a Cake," "Tennessee Waltz," "Rag Mop," "Chattanooga Shoe Shine Boy," "Come On-a My House," "Mockin' Bird Hill," "Walkin' My Baby Back Home," and "Doggie in the Window."
Attendees thoroughly relished the history lesson while eating lunch and enjoying the company of friends.
The Wings of Hope Widow's Ministry will meet again on May 20 for a patriotic singalong at local nursing homes.
All area widows are welcome to join in the fun. Wear red, white and blue and meet at 4 p.m. at the First United Methodist Church in Winchester. Following the sing-along, the group will meet at a local restaurant for a Dutch treat supper.
About Wings of Hope Widow's Ministry
The purposes of Wings of Hope Widows Ministry are to provide a relaxed comfortable atmosphere where widows can minister to each other creating a healing process; to provide prayer partners and spiritual mentors for widows; to assist in re-entering the community as a new widow; and to promote fellowships, friendships, and fun for widows.
The biblical definition of a widow is any woman who has lost the protection or provision of her husband through death, divorce, desertion or imprisonment.
Wings of Hope Widows Ministry goal is to encourage and assist women to formulate a widow's organization called Wings of Hope within their own communities; to encourage churches to organize their own Widowed Persons Ministry; to encourage communities to be involved in widow's ministries; and to extend the cause of Christ through Widows' Ministry.
Wings of Hope Widows Ministry is a 501(c)(3) organization and donations are tax-deductible. Please mail your tax deductible donation to: Wings of Hope Widows Ministry, P.O. Box 427, Winchester, TN 37398.