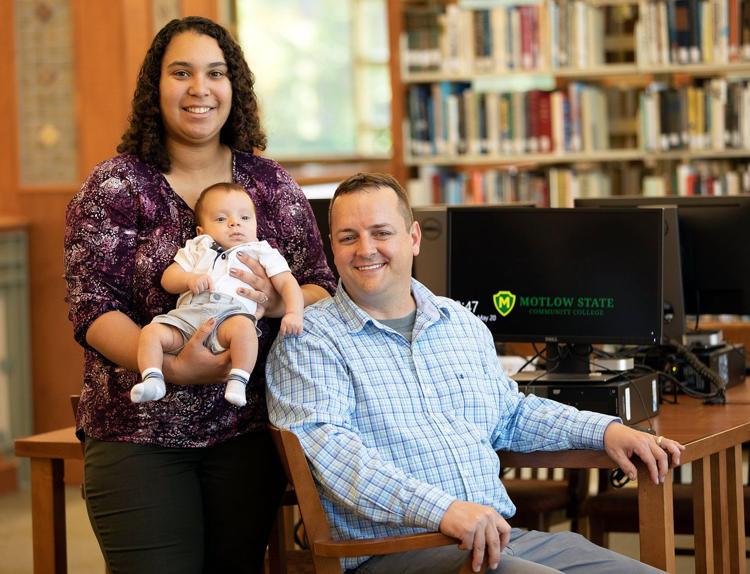 When Adam Bartlett graduates from Motlow State with his degree in mechatronics, he will have achieved an exceptional accomplishment—under much greater-than-typical challenging circumstances.
You see, Adam is an adult learner, often referred to as a nontraditional student, who is the father of four children: Brayden, Kaylee, Dylan, and Logan, who are 21, 18, and 16 years old, and two months, respectively. He is a diligent and dedicated father who regularly attends the children's extracurricular activities. He works full-time at Amazon. And he is a new father.
All this while attending Motlow State as a full-time student, taking as many as 21 credit hours in a semester.
Obviously, Adam is not your average college student. In fact, he is a perfect student—at least with his grade point average. He was one of 50 Motlow students who received the 2019 President's Award, for students achieving a 4.0 grade point average. He also received the 2019 Departmental Award for Physics.
Thanks to the support he receives from Motlow faculty and staff, Bartlett is well on his way to providing a better life for himself and his family.
He gives much credit to the learning atmosphere at Motlow for sustaining him as a student. "Motlow reminds me a lot of the small town I grew up in," said Bartlett, whose hometown is Oakland, Iowa. "I would recommend it to others because of that. The professors and staff have built a community within the institution that really lets the educational environment thrive."
One of his professors, Dr. Patrick Murphy, Motlow physics instructor, understands and identifies with the challenges Adam faces while pursuing his education. "Adam is an exceptional student who has mastered the very difficult subject of physics while maintaining a 4.0 GPA, carrying a heavy class load, and working through significant personal challenges such as a full-time job and raising a family. Adam is an exceptional learner who responded well to, and appreciated, the supportive Motlow academic environment."
After completing his well-planned educational journey, which includes obtaining his bachelor's degree in mechatronics at MTSU, Bartlett, who lives in LaVergne, will have received separate A.A.S. degrees from Motlow in mechatronics engineering, mechatronics technology, and electrical engineering.
"My goals for the future are to finish my degree, move back to my home state of Iowa, and," he added with a smile, "provide for my family so my new son can enjoy the childhood that I had."