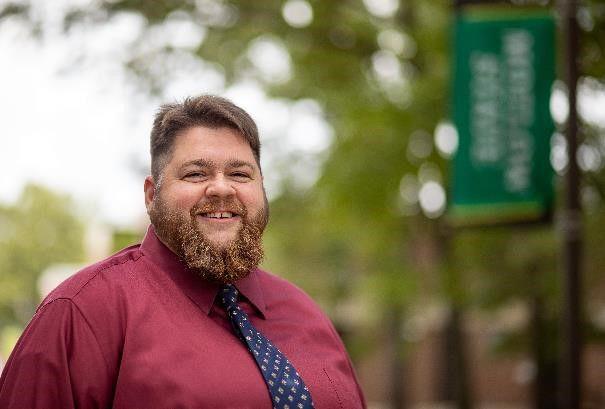 Motlow State's Robin Keel continues to demonstrate strong leadership within the higher-education community.
Keel, a human resources analyst at Motlow, has been named as a South/Southeast regional representative for the Consortium of Higher Education LGBT Resource Professionals.
He is also one of 12 College and University Professional Association for Human Resources members selected to participate in the 2019-20 CUPA-HR Wildfire program, a 12-month leadership development experience designed for higher-education human resources professionals who are early in their careers.
The appointment and selection are further evidence of his leadership role as he serves Motlow and the regional community.
Keel is also the Tennessee representative for the Phi Theta Kappa International Alumni Advisory Board and received the PTK International Paragon Advisor Award this year.
"I feel privileged to serve our LGBTQIAP+ community and grateful that we are working to better serve all of our students," Keel said. "This is an exciting time for Motlow as we continue to engage our community at state, regional, national, and international levels. It is an honor to work with colleagues from across the nation to facilitate healthier learning and working environments in higher education."
Keel has demonstrated a pattern of promoting equity and inclusion. He is president of the Tullahoma PFLAG chapter and is the Motlow Pride Alliance charter advisor.
He was recently certified by the National Inclusive Excellence Leadership Academy as a fellow along with four other Motlow employees.
The Academy is dedicated to helping participants boost their strategic diversity leadership skills, disrupt the status quo at their institutions, and become innovators around issues of diversity, equity, and inclusion.
NIXLA's vision is to build an outstanding cohort of leaders who will collectively transform the landscape of higher education.
The Consortium is a member-based organization working towards the liberation of LGBTQ people in higher education, supporting individuals who work on campuses to educate and support people of diverse sexual orientations and gender identities. It advocates for more inclusive policies and practices through an intersectional and racial justice framework.
Keel and the other CUPA-HR program participants make up the sixth Wildfire class. They will have the opportunity to develop their professional skills through tailored learning experiences including mentoring, a shadow visit on the campus of a human-resources leader in higher education, attending the CUPA-HR Annual Conference and Expo thanks to support from HigherEdJobs and completing a year-end project highlighting the insights they gain throughout the year. 
"The appointment and selection signify the leadership that Robin espouses both internally for our institution and the respect that has been garnered by external peers," said Dr. Michael Torrence, Motlow president. "We are fortunate to have employees that lead from where they are and are passionate and convicted to our sense of purpose. This is what makes Motlow a leading institution. We expect that with this appointment, and when others are appointed, that they bring back with them knowledge that assists in our college-wide growth as well as with our community engagement."
A resident of Tullahoma, Keel graduated from Motlow in 2015 with a double major in mass communications and education.
While a student at Motlow he received the National Collegiate Honors Council's National Student of the Year Award for 2014 and was recognized as an international distinguished member of Phi Theta Kappa in 2015.