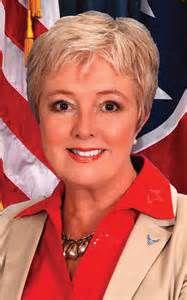 NASHVILLE -- State Senator Janice Bowling (R-Tullahoma) has been reappointed as Deputy Speaker, a key leadership role in the Tennessee Senate.  The appointment was made by Lt. Gov. Randy McNally as the 111th General Assembly's prepares to wrap up the 2019 organizational session on Saturday.
Bowling serves Tennessee's 16th senate district which includes Franklin, Coffee, Grundy, Marion, Sequatchie, Van Buren and Warren Counties.
Lt. Governor McNally said, "Janice Bowling has served as Deputy Speaker with honor and distinction. I am grateful she has agreed to continue serving the Senate in this role."
Bowling is the first woman to hold the position which helps schedule and guide the flow of legislation on the floor, assists the speaker in the administrative decisions of the Senate, and serves as a liaison with regional and national legislative bodies.  She was also appointed to serve as a member of the Senate Judiciary Committee, the Senate Transportation and Safety Committee and the Senate Government Operations Committee.
The Senate Judiciary Committee is responsible for hearing all bills dealing with civil laws, criminal laws, judicial proceedings, apportionment of elected officials and governing bodies, and all matters relating to the courts, as well as law enforcement.  The Senate Transportation and Safety Committee has jurisdiction over legislation regarding highways, roads and bridges and all forms of transportation in Tennessee, as well as the Department of Safety and Homeland Security.  The Government Operations Committee reviews all department and agencies of state government to improve efficiency and effectiveness in state government. 
Senator Bowling was selected as 2018 Legislator of the Year for the Tennessee Forestry Association, South Central Development District, Upper Cumberland Development District, and Southeast Tennessee Development District. In 2015, she was awarded Tennessee Municipal Electric Power Association's "Power of Excellence" award for her work in helping to increase access to high speed broadband service across the State of Tennessee.
Senator Bowling was involved in founding the Arnold Engineering Development Complex and served as president of that organization, as well as, Air Force Materiel Command Liaison. She has been married to Temple Bowling, IV since 1969 and has three children and seven grandchildren.​