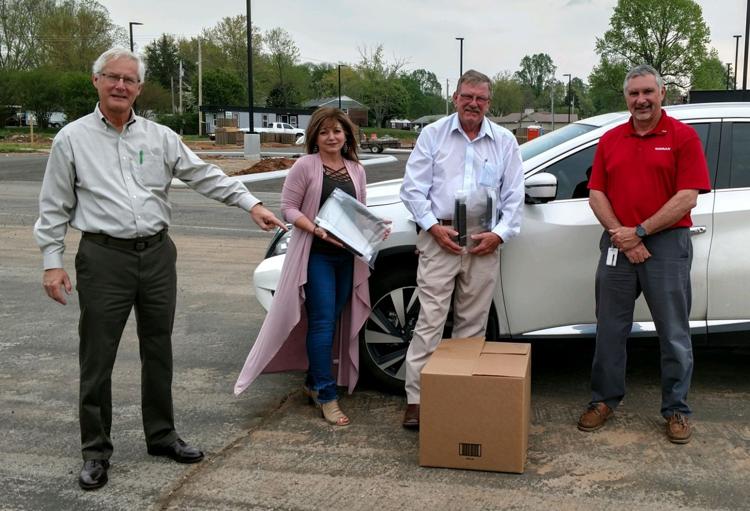 In being a good corporate citizen, Nissan North America Inc. has donated key personal protective equipment to Southern Tennessee Regional Health System and Franklin County's emergency first responders to provide protection from the coronavirus threat.
Abby Pickett, STRHS-Winchester/Sewanee marketing and communications coordinator said Nissan provided more than 200 protective face shields and masks to the hospital.
Sheriff Tim Fuller said the county received 120 face shields — a gesture he wasn't expecting.
"It's a tremendous help to us," he said, adding that the county had few facial PPE pr0ducts on hand.
Fuller said county personnel use disposable protective gloves in abundance, but with the coronavirus threat, officers and other first responders in the field needed the facial protective products that have become so sought after and very hard to find.
"It's been a godsend," he said.
Pickett said the hospital is also very appreciative of Nissan's contribution to its staff's welfare and safety.
"Southern Tennessee Regional Health System is grateful to Nissan North America for their donation of 3D printed face shields for our staff amid the evolving COVID-19 situation," she said. "Their spirit of innovation during this unprecedented time is inspiring and a testament to their commitment to their community.
"We appreciate our community's ongoing support and cooperation as we work to protect local families from the spread of COVID-19."
County Mayor David Alexander expressed similar sentiments.
"It's very difficult to put it in words what this means," he said. "PPE has been getting very hard to find, and it's essential to protecting our first line of workers, and we've got to protect them.
"This shows how communities and businesses work together to help during a crisis."
A press release from Nissan says that the company is using its manufacturing and engineering expertise to 3D print headbands and protective face shields to donate to local healthcare centers and their staff who are working on the front lines in the coronavirus crisis.
The production process is underway at the company's three manufacturing facilities in Tennessee and Mississippi, as well as its research and design center in Michigan.
Together, these sites have already assembled and donated more than 3,000 face shields and will be able to print headbands and assemble more than 1,000 shields per week moving forward.
"Nissan is proud to be in Tennessee, and we're tapping into our spirit of innovation to help local healthcare workers who need more protective gear now," said Parul Bajaj, senior manager, Philanthropy, Nissan North America, Inc. "We're happy that our 3D printers offer the manufacturing flexibility that enable us to help protect people working in the medical community."
The press release says Nissan is taking extra safety precautions to ensure the safety of its employees.
The company temporarily suspended vehicle production of its U.S. manufacturing facilities on March 20. Besides limiting the number of employees at each location, it has deployed enhanced safety and sanitizing measures in the areas of the plant where assembly of face shields takes place, the press release says.