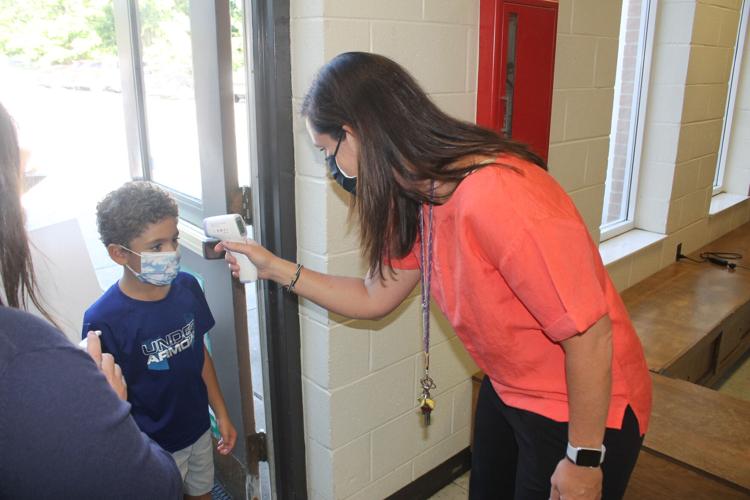 With classes officially starting Wednesday, parents and their children were at Franklin County's schools earlier this week through special orientation gatherings so parents could meet the teachers who will be guiding their children educationally through a pandemic.
Sewanee Elementary was the only one in the 11-school system to require students and those on campus property to wear protective facemasks, showcasing that the COVID-19 pandemic has extended into its second academic year.
First-grade teacher Barbara King was busy Monday evening meeting her new students who appeared excited to assess their new surroundings, even while donning protective facemasks.
King, other teachers and parents agreed the fall 2020 semester is one of the strangest they've ever seen because of the coronavirus.
"This is my 17th year here, and it's completely different from anything I've ever seen before," she said while highlighting the smaller class numbers in socially-distanced arranged desks with arrangements made to accommodate those students who opted to learn virtually from their homes.
"The main thing is to make sure everyone — all the children — are safe," King said, adding that although the conditions are strange, they are most memorable, and the students will probably never have a difficult time remembering that the pandemic occurred in 2020. "It'll definitely be a memorable year because there's so many changes that have had to be made just to make sure everyone is safe."
Kariston Henley said she is glad her 6-year-old son, Jaxson Cooley, is returning to school.
"We're excited about going back," she said. "He's really excited about it."
Like King, Henley highlighted how different the learning environment and conditions are for the students and teachers this year. She also agreed that it would be difficult to forget how unique the school year already is, even before it's progressed into full swing.
Second-grade teacher Kim Casey said she thinks the students will be more prepared to deal with life because of going through the unique challenges of the strange school year.
"I think we'll all definitely learn a lot," she said, referring to the changes and having to figure out a way to deal with them.
Principal Allison Dietz agreed by saying the students should become more resilient in dealing with adversity, and the school's teachers are up to the task to get them properly through the school year.
"I know that I have a very supportive staff along with the parents and the community, and we'll all do what it takes to get through this," she said. "We look forward to a successful school year."