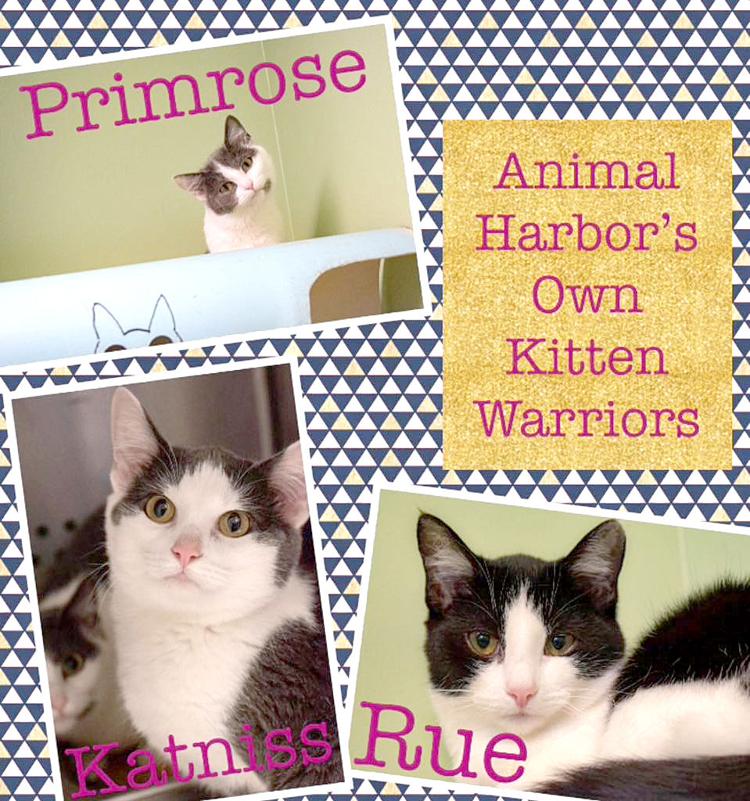 Animal Harbor has a number of lovable, adoptable pets just waiting for their forever home.
This week, Animal Harbor is spotlighting Huckleberry Finn, Rue, Primrose and Katniss.
Rue, Primrose and Katniss are gorgeous bi-color 6-month-old kittens. Rue is the black and white kitten, and Primrose and Katniss are gray and white. All three sisters have a personality of their own and interact with everyone differently.
Shelter manager Emily Holland said: "Rue tends to be the more reserved kitten while here at the shelter, but like many other cats she will express her personality more in a loving home environment. Primrose and Katniss have really opened up after being moved to the cat community room and are quite the dynamic duo."
Although the trio would prefer to go into a home together, it is not a requirement. They are up-to-date on age-appropriate vaccinations, FIV/FeLV negative, spayed and microchipped.
Huckleberry Finn is a 2-year-old medium-sized mixed breed dog with a very kind spirit and zest for life.
Holland said: "Huckleberry hasn't had the best life. His original owner moved and left him behind to roam the trailer park scavenging for food and looking for a shelter in the cold winter months. He is fitting in very well at the shelter where he plays with other dogs and soaks up all the human attention he can get."
Animal Harbor staff feels Huckleberry will do well in a variety of homes with other pets and older children.
He is awaiting his neuter and microchipping procedures, is currently up-to-date on vaccinations, and is heartworm-negative.
Animal Harbor is located at 56 Nor-Nan Road in Winchester. The limited-admission animal shelter facility is operated by members of the Franklin County Humane Society, a private nonprofit 501(c)(3) organization.
Animal Harbor hours are Tuesday through Friday from noon to 5 p.m. and Saturday from 10 a.m. to 4 p.m. Call Animal Harbor at 931-962-4472.
Check out their other adoptable pets at www.animalharbor.org, and enter a drawing on their website for a free spay or neuter for one of your current pets.
Please help Animal Harbor continue to save abandoned pets by sending donations to Animal Harbor, P.O. Box 187, Winchester, TN 37398.