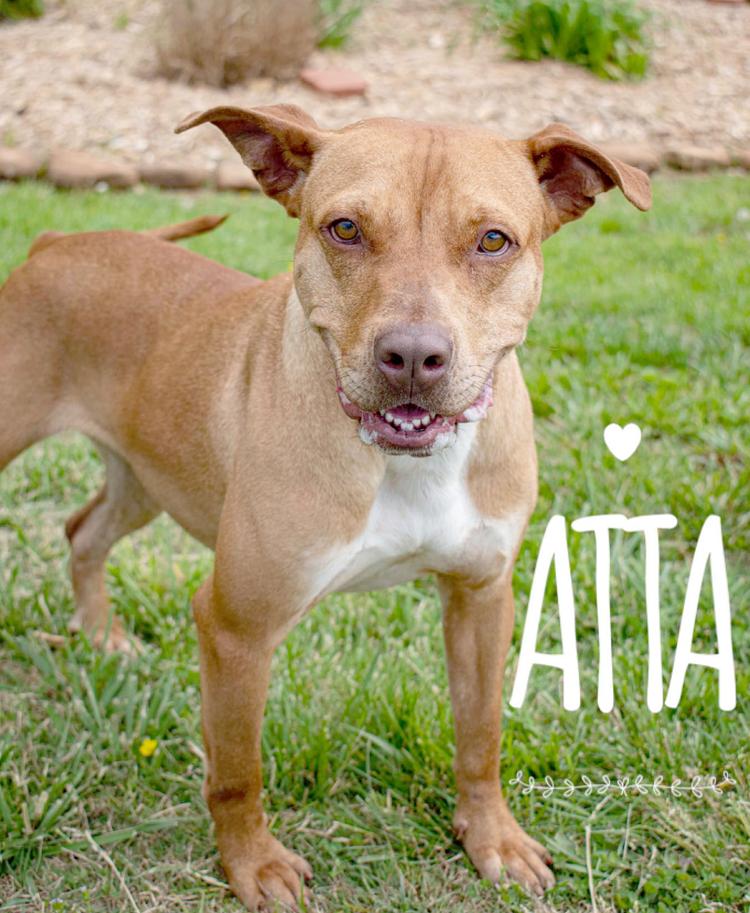 Animal Harbor, a limited-admission, nonprofit 501(c)(3) organization, operated by members of the Franklin County Humane Society, has a number of pets that would make great companions.
Pets spotlighted in this edition include Atta, a red-and-white pittie mix, and Yzma, a gray, long-haired cat.
Three-year-old Atta has been through some troubling times and is looking for someone to show her some love.
Shelter manager Emily Holland said, "She is the definition of a dog that shows clear physical and emotional signs of abuse and neglect, but this does not determine her fate or future."
Visitors to the shelter may find that Atta is especially reserved and intimidated by the presence of an unknown human and may be especially uncertain with human touch.
 Holland said, "With each additional minute you spend with her, you'll start to see slivers of her true personality come to life."
Shelter staff say that after spending a little time with Atta, she begins to show signs of trust.
"Her ears swiftly go from tightly laid back to bravely on top of her head and her tail quickly goes from tucked under her behind to gently swaying back and forth, gaining momentum with every nice word spoken to her," Holland explained.
Once she has gained one's trust, she begs for affection as well as a play session with a tennis ball.
"This is when you start to see the life and zest of a happy dog full of hope for her future come out," Holland said. "Many times the shelter is a scary place for a dog that has been used to living in a home, but for Atta the shelter is truly a place of safety and security to which she has never experienced before."
Holland went on to say that Atta's gratitude for a safe shelter and caring, loving humans really shows.
"We can't imagine how beautiful her transformation will continue outside of the shelter," Holland said. "If you are prepared to adopt an angel dog, she certainly fits the bill."  
Atta is up-to-date on vaccinations, heartworm-negative, spayed and microchipped.
Yzma is described by staff as a gorgeous 2-year-old gray, long-haired goddess of a cat.
Yzma's life is one of very humble beginnings. She was discovered living alone in a local trailer park with a host of other stray cats.
"Holland said, "Life has not always been easy for Yzma at the shelter, but after a month of being here, her true personality is finally shining through."
Although staff say she likes to be an independent princess, she is starting to come down from her beloved window perch and socialize with the other cats and staff.
"Her transformation has been so great to witness, and we think she will continue to thrive in a nurturing home," Holland said. "If you think Yzma could have her own setting place on a throne at your house, contact Animal Harbor."  
Yzma is up-to-date on vaccinations, FIV/FeLV negative, spayed and microchipped. 
To meet these pets and learn about the adoption protocol, call the shelter during open hours Tuesday through Friday from noon to 5 p.m. and Saturday from 10 a.m. to 4 p.m.
Check out other adoptable pets at www.animalharbor.org, and enter a drawing on the website for a free spay or neuter for one of your current pets.
To help Animal Harbor continue to save abandoned pets, send donations to Animal Harbor, P.O. Box 187, Winchester, TN 37398.