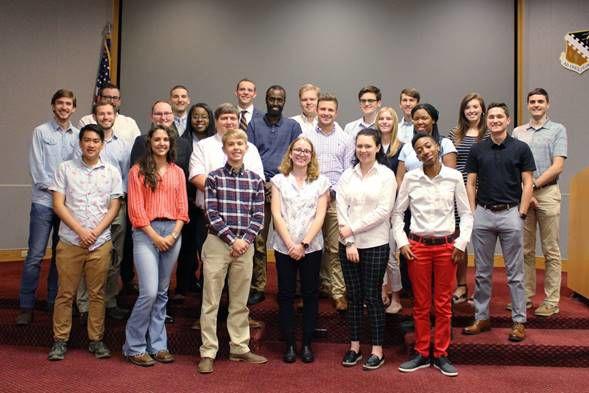 Engineering students from colleges and universities across the United States spent the summer completing internships with the Arnold Engineering Development Complex.
Recently, there have been two opportunities available to college students wanting to intern with the AEDC.
The Department of Defense at Arnold Air Force Base, headquarters for AEDC, offers internships through the Air Force Civilian Service Premier College Intern Program, and the AEDC Test Operations and Sustainment contractor, National Aerospace Solutions, LLC (NAS), also has an annual summer internship program.
The internships through PCIP are made available to college and university juniors and provide 12 weeks of on-the-job experience.
According to Andrea Hanna, the PCIP administrator at Arnold, AEDC has offered DOD internships and summer hire opportunities every year, but this is the second year the internships have been offered through the PCIP. 
The goal of the PCIP is to prepare the college students for their future careers and possibly qualify them for a full-time position with the Air Force Civilian Service.
"An internship under the Premier College Intern Program is meant to give a meaningful experience that will allow college juniors to explore federal careers and then have the opportunity to return as full-time employees upon graduation," Hanna said. "Following a successful PCIP internship, an individual may be offered a full-time position through the highly-competitive PALACE Acquire Program."
This year there were three DOD engineering interns, two at Arnold and one at the Hypervelocity Wind Tunnel 9 in White Oak, Maryland.
DOD intern Christoph Neisess, who is an upcoming senior at the University of Maryland, said he had a positive experience being part of the PCIP program.
"I've really enjoyed the opportunity I've had to work at AEDC Tunnel 9," he said. "I've been able to work alongside the project engineers here, as well as a graduate student, who are doing research. The exposure to different people and projects has taught me a lot.
"I also feel like I've worked on projects that will actually make an impact on a larger scale rather than just doing busywork like a lot of internships give. I've been interested in the hypersonic field since early on in my college career, so getting to see firsthand what it's like to be a part of the research going into hypersonic flight has been a great experience."
Luke Neise, a DOD intern at Arnold who will be a senior in the fall at Vanderbilt University, said the internship was a learning opportunity that he would've been unable to get anywhere else.
"My time at the AEDC through the PCIP program has introduced me to topics and work that is not only extremely interesting, but also entirely novel in many ways," Neise said. "I've worked on solutions to some problems that I didn't know existed when it came to wind tunnels, and other challenges have allowed me to utilize my education in truly unique ways.  With the PCIP program in particular, I also feel that I've been given a really good understanding of the Air Force as a whole and its larger mission."
With 25 students, NAS had its largest group of interns since starting its summer internship program in 2017.
In both the DOD and NAS programs, the interns have the opportunity to get a first-hand look at a variety of career fields, such as design; aerospace systems; test operations; flight systems and flight test; laser support; instrumentation, data and controls; technology development; asset health assurance; modeling and simulation; space and missiles test operations; and facility analysis.
Because the AEDC offers such diverse opportunities, this is the third summer that Trevor Blair, a NAS intern with the Technology Innovations Branch, has returned to Arnold.
"My first two internships provided the opportunity to learn about different areas and disciplines on the base, which greatly helps to decide where I would fit best," he said. "Deciding to come back to the base this summer came down to the fact that this is a unique facility that provides many opportunities to learn and grow, often quite quickly. I saw the advantage of learning and making connections in the Technology Innovations Branch, and from there it was easy."
NAS General Manager Dr. Richard Tighe commented that he hopes the NAS interns not only enjoyed their time at Arnold but will take away new skills that will help them in the future.
"Our internship program provides a great benefit to the AEDC, NAS, and the students," Tighe said. "We focus on ensuring the students participate in real projects and make tangible contributions while they're here at the AEDC. We want them to leave here having gained experience that's relevant to their future careers, having learned what it's like to support a national security mission, and hopefully with an interest in returning to AEDC in the future.
"We had a tremendous group of talented students from Tennessee, the region, and from across the country this summer. We appreciate how welcoming the people of southern middle Tennessee and AEDC have been to our interns."
NAS summer internships are posted on the Careers page of the NAS website, www.nas-llc.us. Internships for summer 2020 will be posted by September 2019.