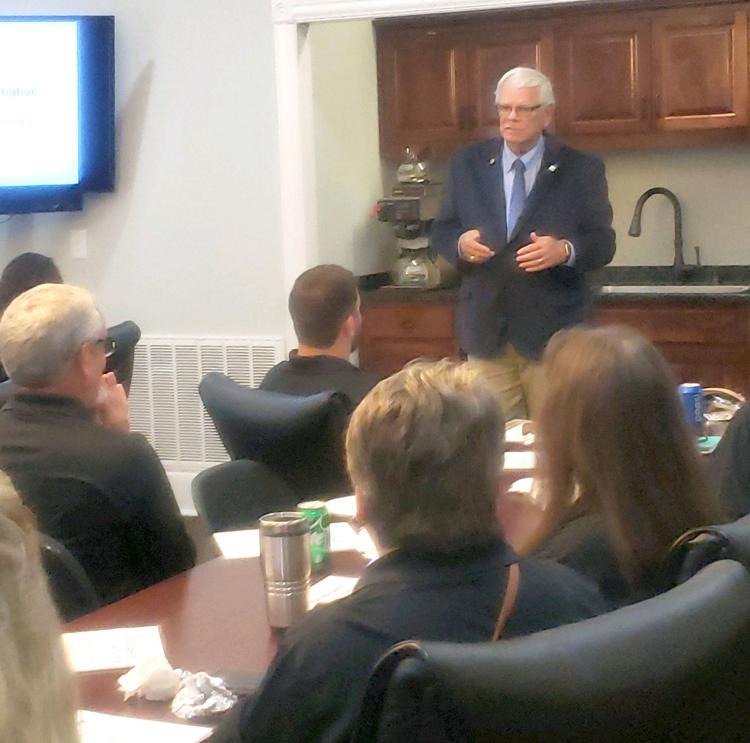 Alan Clark of the Franklin County AM Rotary Club recently led a discussion workshop concerning leadership with the 27 members of the 2019 Chamber of Commerce Franklin County Leadership program.
The workshop, titled "The Leadership Initiative,"  has kicked off the program for the last five years.  Ideas presented were developed by Clark and other members of the AM Rotary Club.
"We try to make it participative, and learn so much ourselves about leadership from the class discussions," said Clark. "The new ideas are used to update the presentation each year. "
From research Clark conducted about leadership beginning in 1998, he published "The Leadership Initiative" two years ago with input from Rotarians Dr. Brad Schapiro, Dr. Garrett Orr, the late Burl Hiles and others.
"Leadership is an evolving concept that has an everyday effect on our lives," Clark said. "We take into consideration several different leadership styles and have participants discuss their own theories of leadership as well. Hopefully, they come away with a better understanding of the dynamics of leadership and their own philosophy of it."
Clark is currently an affiliate broker with Lynch-Rigsby Realty and Auction and an editorial writer for the Herald Chronicle.
He is retired from the U.S. Army where he achieved the rank of colonel and is also retired from education holding a doctorate in education administration from the University of Tennessee.
He has also worked at all school levels from kindergarten through graduate school in public and private environments.
"The Leadership Initiative" is available for any organization that desires to understand how to meet the challenges of change in the 21st century.
Interested organizations may contact Clark on his website at alclarkvoice.com or by calling 931-691-1452. The AM Rotary Club meets Thursdays at 7 a.m. at SUNRISE (The Breakfast Place) in Decherd. The public is always invited to attend.