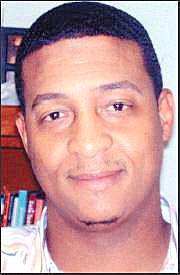 The Martin Luther King Jr. Scholarship Foundation will host its annual memorial service on Sunday at 2:30 p.m. at the Winchester First Missionary Baptist Church located at 317 Third Avenue S.E.
Charoline Simmons, MLK Foundation secretary, said: "The Foundation invites the public to come and be a part of this historical occasion, where homage is paid to the 'Drum Major' for peace, Dr. Martin Luther King Jr. The speaker this year is one of Franklin County's most esteemed citizens, Mr. Eric Vanzant."
Vanzant is most noted for his benevolent work throughout Franklin County, not only as a professional, but also as a role model for the community and his service through his church.
"His job as the director of the Campora Family Resource Center so aptly describes him," Simmons said. "His family mirrors his work as his wife, Dee, is an educator in the Franklin County School System, and both of his children, Erica and Jadon, are following in their footsteps."
Mary Ann Greer, the Foundation's only active founding member, said: "It is always a privilege to reflect on the contributions Dr. King has made to the progress of people as a whole. During this time of strife in our nation and the world as a whole, we need to be reminded that 'Peace means Progress.' It will be great to spend an hour reflecting on how much progress Dr. King made for the minorities of our country by practicing peace."
Special recognition will be given to the seniors from Franklin County and Huntland high schools who attend the program.
Students will receive applications for the Martin Luther King Jr. scholarship, which will be awarded in May at the MLK Foundation's annual scholarship banquet.
Applications will be available at both school's guidance offices for those unable to attend.
More than 60 Franklin County students have received the MLK Scholarship that has been presented to at least two students every year since 1989. About 150 students have received book awards as well.