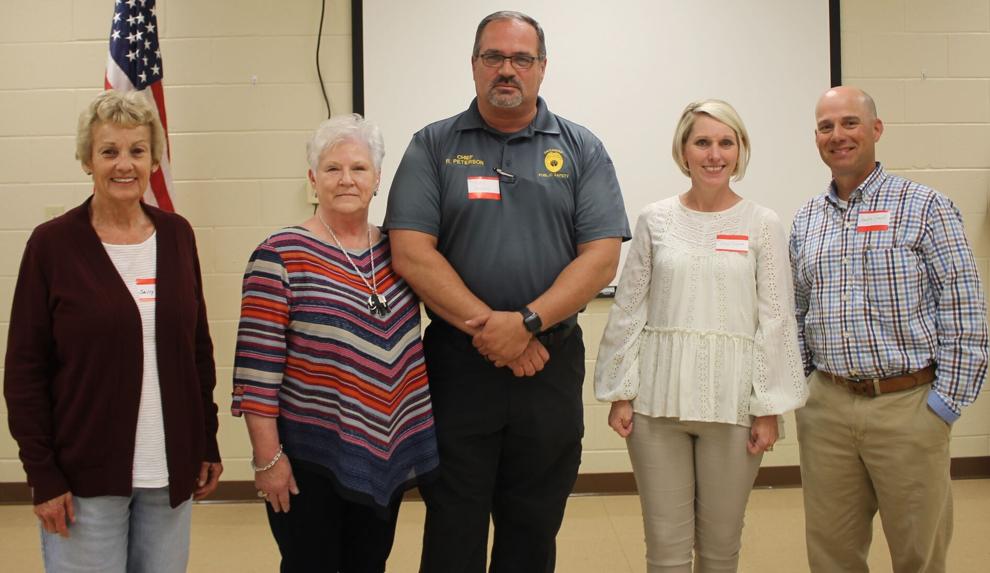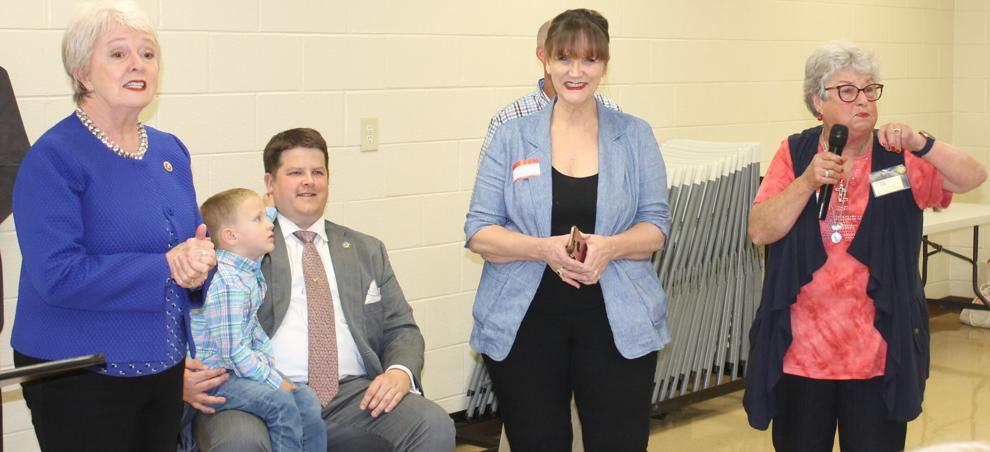 The Franklin County Republican Party recently held a reorganization meeting to elect new officers, and Brooks Lynch is taking over the helm as chairman.
The decision was made following an announcement that Chairman Bradley Sherman would be stepping down to avoid any conflicts within the party and to better prepare to run for public office in the May 2022 Republican primary.
Amy Dennis was nominated to serve as vice chairwoman while Ross Peterson will continue to serve as secretary.
Brenda Craig was nominated as treasurer and Sally Somoya will serve as vice treasurer.
Sherman began the meeting by welcoming the large gathering of attendees and guests.
"This is a good-looking crowd, and I'm so proud of this turnout and of the conservative community in Franklin County," Sherman said.
He then complimented the gathering while noting that Franklin County voted about 75 percent Republican in the November 2020 election.
Sherman then introduced Sen. Janice Bowling, R-Tullahoma.
"On behalf of the Franklin County Republican Party, and personally from this particular constituent, thank you Senator Bowling for all you do and continue to do for us," he said.
Sherman then honored all the veterans in attendance by asking them to stand up for a round of applause before leading the gathering in reciting the Pledge of Allegiance.
Sherman then asked Tennessee Republican Party State Executive Committeeman Dr. Jerry Anderson to lead the gathering in the singing of the national anthem.
Sherman acknowledged and thanked several prominent Franklin County Republicans in attendance for their work in making the county a "Red County."
Sherman continued by paying tribute to County Commissioners Greg King, Glenn Summers and Carolyn Wiseman.
He then recognized the hard work of Register of Deeds Denise Ingle Marshall and County Mayor David Alexander.
Next, Sherman asked the gathering to give a round of applause to Assistant Attorney General Courtney Lynch, Decherd Director of Public Safety Peterson and Huntland Chief of Police Charles Keller.
Sherman thanked Circuit Court Clerk Robert Baggett before asking the GOP Ladies Auxiliary members and the Republican Women's Club-Federated members to stand up for a round of applause.
Sherman also acknowledged the new FC GOP Ladies Auxiliary Chairwoman, Somoya, who wasted no time in thanking another essential member of the group, Joy Spencer.
"The Franklin County Republican Party would like to acknowledge Joy Spencer, who has been the co-chairwoman of the FC Republican Ladies for the past four years, and she has done a terrific job," Somoya said.
Somoya presented Spencer with a small token of appreciation as the gathering applauded Spencer's service and dedication.
Sherman then recognized Joseph Johnson, former DUI special prosecutor for the 17th Judicial District and newest member of the Huntland Board of Mayor and Aldermen.
Sherman then recognized and thanked Chancellor Melissa Thomas Blevins-Willis before asking Rep. Iris Rudder, R-Winchester, to stand up for a round of applause.
"I don't hear anything but good things about Iris," Sherman said. "Every time I've been privileged to go to State Executive Committee meetings with State Executive Committeeman Dr. Jerry Anderson and State Executive Committeewoman Joanne Davis, everyone is always bragging on Iris and y'all need to know that she does a great job representing all of you."
Sherman then thanked all the volunteers for their hard work on behalf of the party.
"Everything that we do happens because the volunteers in this party make it happen," he said. "You guys make it happen, as the Franklin County Republican Party is not four or five people who sit on a board, the party is all of y'all."
Before moving on to other matters, Sherman thanked Dean Binkley for all of his hard work and volunteer efforts on behalf of the party.
"He has provided his time, his resources, his energy and his efforts to support this party, and we appreciate you," Sherman said.
He then spoke about the importance of getting more young people involved with the party.
"Franklin County High School Young Republican Club sponsor Mark Sidoli does a wonderful job leading those young people," Sherman said.
He then told the gathering that because of the financial support of many Franklin County residents, FCHS senior Andrew Sellers would be the first ever recipient of the Franklin County Republican Party Scholarship.
Sherman then shared the story of why he first became politically involved by serving as the chair of the party since 2019.
Sherman introduced his wife, Dr. Courtney Sherman, and their 3-year-old son, Oliver.
"He's too cute and he means too much to me," Sherman said. "I've gotten involved in trying to push back against this constant encroachment of government taking over the role of the church and the role of God in people's lives and the shrinking of our freedoms — the reason that I've gotten involved is because he doesn't deserve what's coming in this country if we don't do something."
He then told the gathering that though he was stepping down as the FC GOP chairman to pursue other plans, he would continue to support the party in any way that he could.
"After tonight, I will step back into the largely ceremonial role of past chairman, but I am happy to do anything that you Franklin County Republicans need me to do at any time," Sherman said to a standing ovation by the gathering.
He then turned the meeting over to Joy Spencer, chair of the Nominating Committee, who nominated Brooks Lynch to succeed Sherman.
Lynch told the gathering that Sherman had done a fabulous job and remarked to Sherman's talents as a public speaker before thanking the gathering.
"I want to thank the Nominating Committee and especially you, Franklin County Republicans, for your vote of confidence in letting me serve in this position," Lynch said.
He told the gathering that he had worked as a farmer for the past five years after working as a commodity broker at Woodall Grain.
"I look forward to meeting all of you, and I know a lot of you have been working for a long time making this party what it is today and I hope to add to what you have already established," Lynch said.
He then spoke about the party's vision going forward, and how one of the party's priorities was to increase young membership and interest in the Republican Party.
"We have got to continue to bring young folks into this party," Lynch said.
He told the gathering that popular upcoming annual events, such as the Bonfire Night, the Reagan Day Dinner, the Chili Supper and candidate forums and visits would continue.
Lynch also said that he was eager to hear of new ideas that could benefit the party, including any ideas that could entice younger Franklin County residents to get involved.
Lynch then opened the floor for a brief update from Rudder and Bowling.
Rudder informed the gathering that she was disappointed with some of her fellow legislators regarding discussions concerning House Bill 13 and Tennesseans' rights to choose when it comes to COVID-19 vaccines.
House Bill 13, which was sponsored by Rep. Bud Hulsey, R-Kingsport, and Bowling in the Senate, would prohibit "state and local authorities from forcing, requiring, or coercing a person to receive an immunization or vaccination for COVID-19 against the person's will."
Rudder explained her stance.
"That's been a very big disappointment because I really thought that everybody would understand the importance of being free to make that decision on your own," she said.
Rudder then informed the gathering about the progress and discussions regarding Gov. Bill Lee's constitutional carry bill.
Most Tennesseans will be able to conceal carry or openly carry handguns beginning on July 1, 2021.
Rudder concluded her update to the gathering by conveying her gratitude.
"Thank you so much for sending me to Nashville," she said. "I enjoy being there, and I am humbled by the opportunity to serve you."
Bowling then briefed the gathering on her recent legislative efforts to bring fiber-optic broadband to Tennessee's rural communities and her medical cannabis bill.
She has been a longtime advocate of bringing fiber-optic broadband internet access to rural Tennesseans.
Although Bowling has presented a clear need for increased broadband internet service, legislative efforts have been met with resistance from telephone and cable companies in the past.
Her most recent "fiber to the premises" legislation (formally known as the Tennessee Local Authority Bill) suffered another setback recently when committee members chose not to advance the bill.
Bowling then informed the gathering that her medical cannabis bill had failed in the Senate Judiciary Committee.
Had the bill passed, it would have introduced the Tennessee Medical Cannabis Act and would have allowed cannabis to be grown, produced, sold, taxed, and regulated inside the state of Tennessee by Tennesseans legally, Bowling said.
"You had to have intrastate commerce only, or 'seed to sale' in the state of Tennessee only," Bowling said.
She said that the intrastate-only stipulations in her bill would have made sure that countries like China, Russia and Canada would have been prevented from coming in to Tennessee and owning a large share of the industry.
Finally, Bowling told the gathering of her efforts in protecting Tennesseans' rights to choose whether or not to get the COVID-19 vaccine.
Bowling said that about 1,000 people came to Capitol Hill in support of legislation that gave Tennesseans the right to choose whether the COVID-19 vaccination was right for them and their family members.
"My bill was Senate Bill 187, and that bill said there shall not be a mandate on the vaccine in Tennessee," Bowling said. "Every adult in Tennessee has the right to study the issue and make a medical determination after consulting with their doctor."
She said that her bill also allowed exemptions should hospitals mandate that their employees be required to take the vaccine that would have allowed those employees to have a religious exemption, a right of conscious exemption and a medical exemption.
"All of those things were in the bill, and legislators stripped out a lot, and the bill wasn't nearly as strong," Bowling said. "My opinion when you're carrying legislation is that if you still have some good in your legislation after changes are made to it, keep going; if they make you add some bad to your legislation, however, kill it, because it's better to have nothing than a bad bill.
"Like that medical cannabis bill, when you hear that I voted against it, now you know why."