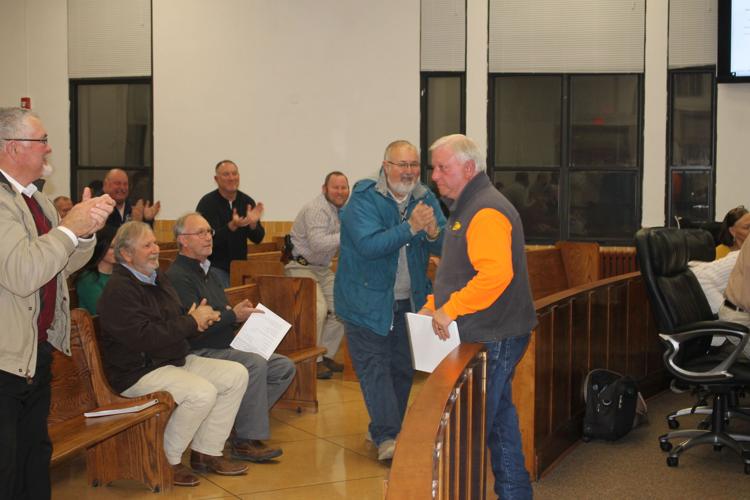 A proposal to form a special budget committee narrowly failed to pass without simple majority support from the Franklin County Commission Monday night.
However, members agreed to suspend rules and approved a one-time bonus for employees of the school system who work in support roles to educational programs and system operations.
The meeting was highlighted by an emotional speech from retiring Highway Superintendent Johnny Woodall in his last appearance before the full commission.
A special reception will be held in Woodall's honor on Thursday from 11 a.m. to 2 p.m. at the Franklin County Annex Building on Dinah Shore Boulevard. His last official day on the job is Jan. 2, 2020.
The resolution to form the budget committee failed in an 8-7 vote with nine votes being required to form the simple majority.
In favor were Commissioners Sam Hiles, Gene Snead Jr., Lydia Curtis Johnson, Adam Casey, Carolyn Wiseman, Dale Schultz, Greg King and Angie Fuller.
In opposition were Chuck Stines, Johnny Hughes, Helen Stapleton, Barbara Finney, Doug Goodman, David Eldridge and Scottie Riddle. Don Cofer was absent from the meeting.
Riddle initially voted in favor of the resolution but opted to change his vote.
Charles Curtiss, Tennessee County Commissioners Association executive director, was on hand and provided detailed first-hand knowledge about how county budget committees operate throughout the state.
At issue has been how the county's budget matters have been handled by the Finance Committee, which includes County Mayor David Alexander, Riddle, Wiseman, Eldridge, Finney, Woodall and Director of Schools Stanley Bean.
Commissioners supporting having a separate budget committee said the county has eight commission districts with two commissioners representing each district.
King said the issue in forming the budget comes down to fair representation for all districts, and he supported forming a budget committee because he believes all districts would be represented.
When the Legislative Committee discussed forming the budget committee, a suggestion was made that the first serving commissioners could be on the committee for the first two years of their four-year terms, then each district's other commissioner would serve the remaining two years.
However, Curtiss cautioned the commission about potential problems. He said not all commissioners thoroughly understand detailed budgets, and when elections occur and members are voted out or others opt not to seek re-election, commissioners left on the committee may know very little about the budgets they are considering.
Regarding the school system bonuses, the School Board approved on Nov. 11 to give a one-time bonus to classified employees who work in support roles to educational programs and school system operations.
However, the Finance Committee failed to act on the measure at its Nov. 19 meeting with no one seconding a motion by Director of Schools Bean, who serves on the committee, and the issue died.
Bean said the County Commission could still consider the bonuses at its Monday meeting. However, he said with Commissioners Wiseman, Riddle, Eldridge and Finney, who all serve on the Finance Committee, not supporting it, it was doubtful the full 16-member commission would either.
However, the full commission approved the bonuses in an 11-4 vote with Hiles, Finney, Eldridge and Fuller in opposition.
The action involves giving a $500 one-time bonus for full-time classified employees, $300 for part-time workers and $200 for bus drivers. The action also included approving $500 bonuses for two cafeteria workers who didn't get raises.
Eldridge told the commission that the employees have different salary structures, and the bonuses would not be based on percentages which means some employees would be paid at a higher percentage than others.
Eldridge said the bonuses should have been included as part of the overall budget which was approved several months ago.
Stines said $500 would mean a lot to employees on a $12,000 annual income, and they deserve the money, especially at Christmastime.
Bean was asked why the School Board decided to approve the bonuses after the budget had already been approved.
He said the fund balance — also referred to as reserve funds which function like a savings account — is in better shape than initially thought.
Bean said the school system has $3.4 million in its fund balance, and the state requires a minimum of $1.4 million. He said that the bonuses would total $139,000 which would leave more than $3.2 million in the fund.
Eldridge said that the county's budget has moved into a pattern where its expenditures are exceeding its revenue stream which means that if cuts aren't made, the taxpayers would eventually be providing money that had been expended to pay the bonuses.