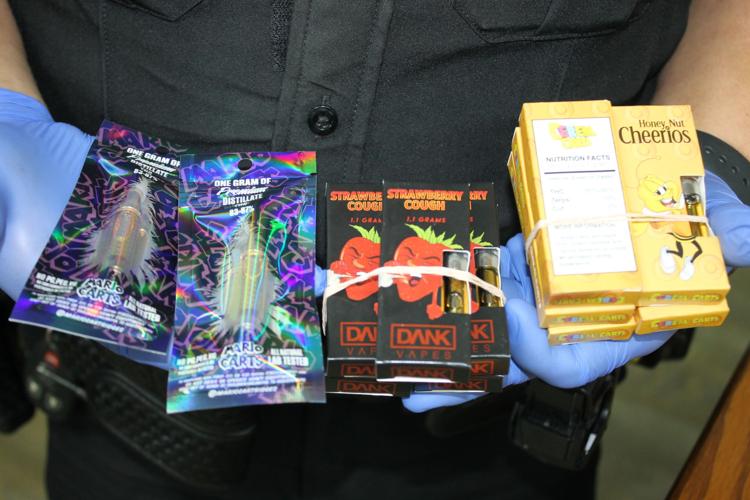 Two individuals were recently arrested and booked into the Franklin County Jail on multiple charges after officers from the Decherd Police Department and an official with SETHRA Community Corrections Probation found suspected marijuana and other related suspected illegal items in a home also occupied by children, authorities said.
Police confiscated what is believed to be 4 pounds of marijuana, 25 THC vape pens, pills, scales, baggies and two firearms in the Decherd residence, authorities said.
The street value of the suspected marijuana and suspected THC vape pen products was estimated at $30,000 to $35,000.
According to Decherd Assistant Police Chief Kenneth Griffin, Decherd residents Shelbie Harden and Austin Bingham were arrested and charged with manufacturing, delivery and sale of schedule VI and schedule II drugs, unlawful possession of a weapon, unlawful possession of drug paraphernalia and aggravated child endangerment.
The two are to appear in court on Sept. 23.
Children were present in the home and were removed from the residence by officials with the Department of Children's Services, Griffin said.
According to Griffin, the incident occurred on July 22 at a residence located on Oak Street in Decherd.
Griffin, along with Officer Daniel Wockasen, accompanied DCS workers who were removing two children from the residence when they noticed a rolled-up dollar bill which contained a white powdery substance in the home, Griffin said.
Megan Jacobs with SETHRA Community Corrections Probation then assisted Griffin and Wockasen in a search of the residence due to the suspicion of drug use, he said.
According to Griffin, officials found the suspected marijuana and the THC vape pens during their search.
Also found were what are believed to be prescription Hydrocodone pills, digital scales, baggies, and several dollar bills with a white powder residue, Griffin said.
Authorities also found and seized a Glock 19 9mm-caliber pistol and a Taurus 40-caliber pistol, Griffin said.
Several of the suspected THC vape pen products were packaged by the manufacturer in wrappers displaying artwork and phrases which might attract the attention of children and teenagers, authorities said.
One of the products displayed a cartoon honeybee on a yellow background with the phrase "Honey Nut Cheerios."
The bottom of the package also displayed the phrase "Cereal Carts."
Officials noted that the packaging looked nearly identical to the popular children's breakfast cereal of the same name.
Another package containing suspected THC vape pen liquid bore the phrase "Mario Carts," which is similar to the name of a popular video game franchise.