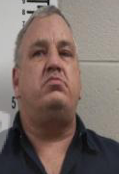 Two inmates in separate Franklin County cases being held in jail have had their $1 million bonds reduced and were released from custody pending subsequent court appearances.
Former Winchester Police Officer Tristan Delacruz, who was arrested on May 4 on multiple sex-offense charges, including rape, aggravated kidnapping and aggravated assault, appeared in Franklin County Circuit Court on Tuesday.
His $1 million bond was reduced by Judge Thomas Graham to $100,000, and he was able to meet the requirement and was released from custody.
Delacruz is to appear again in Circuit Court on at 9 a.m. on July 29.
Michael Edwin Grant, who was arrested and charged in the May 6 shooting death of his 72-year-old father, Michael Grey Grant, had his $1 million bond reduced to $250,000 by General Sessions Court Judge Thomas Faris and was also able to meet the requirement to be released from custody.
The younger Grant is to appear again in General Sessions Court at 8 a.m. on Aug. 5.
In the Delacruz case, a Franklin County Grand Jury returned indictments charging the 28-year-old former police officer with six counts of rape, six counts of sexual battery, two counts of domestic assault, one count of false imprisonment, two counts of aggravated kidnapping and one count of aggravated assault.
With the assistance of the Lincoln County and Franklin County Sheriffs' Departments, Delacruz was later arrested in Lincoln County. He was transported to the Franklin County Jail, where he was booked on a $1 million bond and later transferred to the Coffee County Jail where he remained until his most recent court hearing.
An investigation by special agents with the Tennessee Bureau of Investigation resulted in the indictment and arrest of the former police officer.
On Oct. 2, 2020, 12th District Attorney General J. Michael Taylor requested the TBI to investigate Delacruz on sexual-assault allegations.
During the course of the investigation, agents developed information that identified Delacruz as the individual allegedly responsible for multiple incidents of sexual assault in March 2020. He was subsequently released from his employment with the Winchester Police Department.
Delacruz was arrested for a third time in early November 2020 in connection with an assault incident, according to Franklin County Jail records.
In the shooting case, the younger Grant is suspected of killing his father who sat in the cab of his 18-wheel truck which was at Speedy Self Storage, 911 S. College St., Winchester, according to police reports.
Reports said the victim often parked his truck at the storage facility, and his son apparently had some words with his father before allegedly shooting and killing him with a handgun, Police Chief Ritchie Lewis said.
Lewis said the shooter then went to his mother's residence and told her what he had done.
The mother called police dispatchers and explained what had happened and said that her son was going to the Police Station to turn himself in, Lewis said.
However, Grant was apprehended by Sgt. Cody Bishop and Patrolman Rocky Thomas while on his way to the Winchester Police Department, police said.
Grant was charged with criminal homicide and was being held at the Franklin County Jail.
The motive for the shooting is unknown, and the incident is under investigation by police detectives, Lewis said.