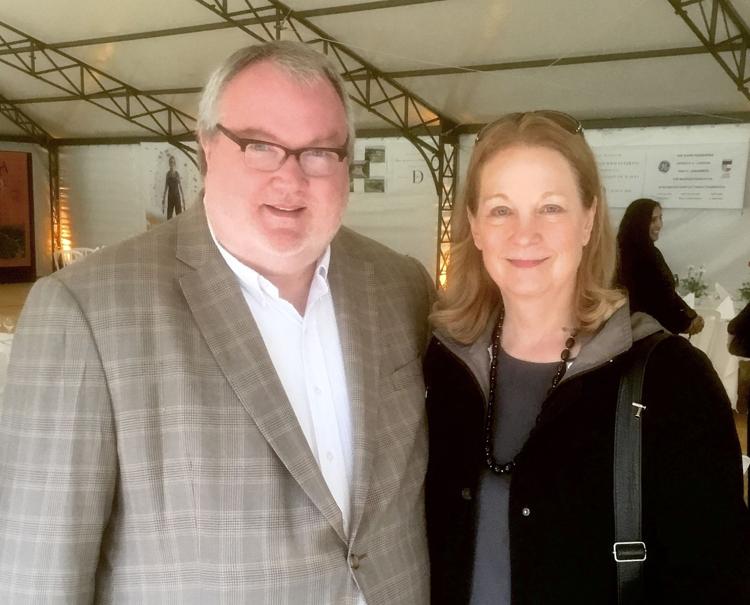 Dr. Michael Hill of Elora and Nashville recently attended the various commemorative events of the 75th anniversary of the D-Day invasion at Normandy, France, honoring his late father, James "Ed" Hill, who served there during World War II.
James Hill (1924-2016) of Franklin County was drafted into the U.S. Army in 1943, and served in the European Theatre of World War II until its end in 1945. Most notably, he was part of the initial wave ashore on Omaha Beach in Normandy, France, on the early morning of June 6, 1944, as part of the 116th Infantry, 29th Division, H Company.
"It was 75 years ago this very night that Supreme Allied Commander General Dwight D. Eisenhower gave the order, 'Let's go!' from his headquarters in southern England, which sent the largest amphibious assault force ever known to mankind in motion, heading towards the northern coast of France," Dr. Hill said.
James Hill was just 19 years old when he left England on that dark night and sailed to Normandy.
Dr. Hill said, "I'm so happy to have brought my father back to France for the 50th, 55th, 67th and 70th anniversaries of D-Day.
"Dad wanted to return for the 75th anniversary event but passed away in 2016," Dr. Hill added.
Dr. Hill's mother, Evelyn (1924-2010), also did her part to help during WWII.
She worked during that time as an operator on the Manhattan Project in Oak Ridge, which ultimately led to the development of the atomic bomb, used to bring an end to the war with Japan in 1945.
For this most recent fifth trip to France for the anniversary of D-Day, Dr. Hill left the U.S. on May 28, heading first for Burgundy, France, where he has a small vineyard purchased in 2016, which he named after his parents.
"I wanted to remember my parents in a way that included something in France," he reflects. "Having my own vineyard reminds me of them every day."
After a week spent in the vines of the Bourgogne, Dr. Hill and his chauffeur drove to Normandy on June 3, where he was the guest of his dear friend, Countess Dorothea de la Houssaye at her chateau in the small village of Aumeville-Lestre, which is very close to the D-Day landing beaches.
Dr. Hill stayed here for the coming week of festivities and remembrances.
"Numerous U.S. paratroopers reenacted the airborne divisions' airdrops over Normandy on June 6, 1944," Dr. Hill said. "One reenactment included over 1,000 military personnel parachuting over Normandy, including a 97-year-old WWII veteran who'd jumped 75 years earlier!"
Dr. Hill spent June 6 at the Brittany-American Cemetery, near the tiny village of Saint James, France, where his cousin, Pvt. Felix Coker, is buried.
"Our first cousin, Felix, was from Alto and was killed at the Battle of Fountainbleu in July of 1944," Dr. Hill said. "He and my father were in different infantry units during the war, but grew up together."
June 6 is a solemn day in Normandy, and almost treated like a holiday. The newly created "Normandy Institute," located at Chateau de Bernaville in Normandy, hosted a luncheon on Friday where Dr. Hill was a guest speaker.
"I'm excited to be a major donor to the Institute," Hill notes. "One of our Board members is Susan Eisenhower, granddaughter of President Dwight D. Eisenhower, with whom I had a long conversation about what directions the Institute can take in the future."
Dr. Hill supplied the wine for the luncheon from his vineyard in Burgundy. Three U.S. veterans, ages 95-97, who had landed on the beaches of Normandy 75 years ago, were present for the occasion.
"I attended Mass at a church in the Normandy village of Angoville-au-Plain on Pentecost Eve on June 8, where both U.S. and German soldiers were treated for their injuries during fierce fighting after the invasion started," Dr. Hill recalls. "You can still see the bloodstains on the church pews, which were used as beds while the church was a temporary hospital."
On Monday, Dr. Hill attended the dedication ceremony for a monument remembering General Omar Bradley, who commanded the entire U.S. invasion force in Normandy from June 6 through late July of 1944.
"My dad had a great deal of respect for General Bradley," Hill remembers. "He called him a 'true soldier's soldier.'"
After leaving Normandy, Dr. Hill spent a week in Paris attending the opera and visiting several museums.
"It's difficult to understand the gravity Nazi tyranny had on western civilization during WWII, and how the largest invasion force the world had ever seen, began at Normandy on June 6, 1944," Hill reflects, "My dad, a citizen soldier from Franklin County, Tennessee, played his part in not only the liberation of France, but the liberation of all of us. My parents were truly part of the greatest generation."
Even though James Hill has passed on, as have many members of the greatest generation, his son says he has no doubt his dad was there in spirit at the 75th anniversary of D-Day.
Dr. Hill offered a note of thanks to his dad and all those brave soldiers, saying, "Thank you for playing your part in changing the course of history, to rid Europe of Nazi tyranny. You changed the lives of a grateful France, and you changed mine, too."
James Hill was awarded numerous medals by the US for his service during WWII, including the Purple Heart with Oak Leaf Custer and the Bronze Star.
In 2007, Hill was named a Knight of the French Legion of Honor, France's highest honor, for his involvement in the Liberation, as well as the French Croix de Guerre Medal for valor. He was also named an honorary citizen of France in 1999.
Hill was interviewed by NBC's Andrea Mitchell five years ago on June 6, 2014, about his role in the D-Day invasion. Hill passed away on Aug. 26, 2016.