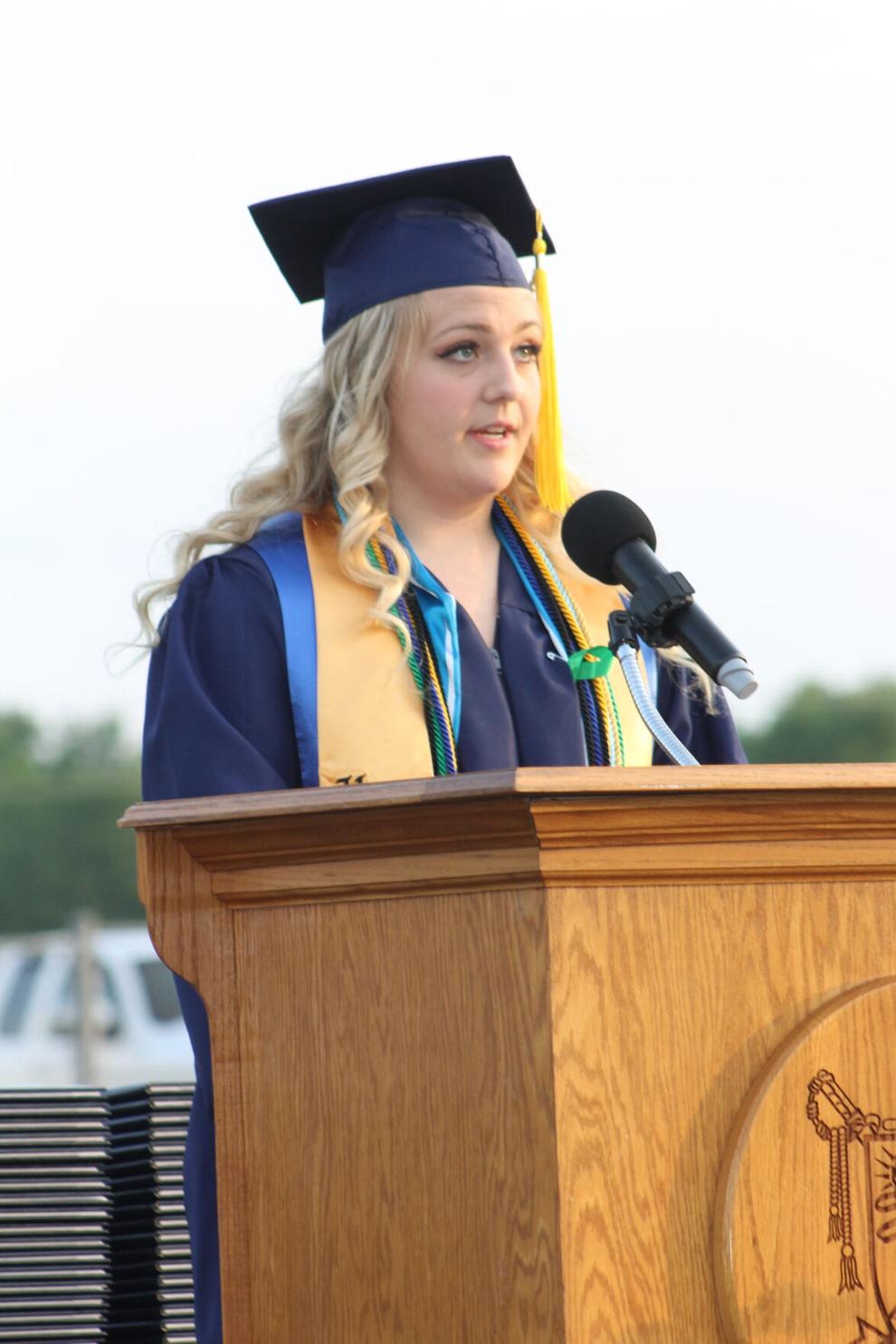 High school graduations traditionally take place under normal circumstances, but the past two academic years have been very different with Franklin County High School's Victoria Rylan Wolkonowski touching on the subject in her valedictorian speech.
Wolkonowski addressed her fellow students Friday night in a ceremony that sent the 284 FCHS seniors on their way to life after high school.
"To the Class of 2021, we survived the pandemic!" she said. "We have been through virtual, hybrid, in-class, back to hybrid to in-classroom settings.
"We have been unmasked, masked and half-masked. If you would have asked me a year ago if I thought I was going to see my friends and classmates graduate together, I would have told you that you were crazy. But we made it!"
Wolkonowski said that being at the graduation ceremony together and in-person should mean so much to the class, especially after the trials they faced in the past year.
"Who would've thought that our extra week of spring break would turn into a six-month-long stay at home," she said. "I know this past year is nothing like we thought our last year of high school was going to go.
"We've had to navigate Zoom and learn how to make sure our mic is muted so we didn't embarrass ourselves. We've spent more time with our families than ever before and learned exactly how to push their buttons.
"We've learned how important toilet paper is to everyone and the lengths people are willing to go to get it."
Wolkonowski said that some of the students have lost family members to COVID and many of them missed the chance to celebrate birthdays, holidays and precious memories shared with loved ones.
"We've been more isolated than ever before and had to figure out how to navigate these hard times without exposing our loved ones to the virus," she said. "My prayers go out to each and every one of you."
Wolkonowski said that although the last year hasn't been easy, the students were able to learn more about themselves than they ever would have otherwise.
"That's what it did for me," she said. "I hope that is what it did for you because we are truly survivors in every sense of the word.
"If we made it through last year, we can do anything. We are strong, courageous and fighters. We won't give up on our dreams because we know that they are the one thing that keeps us going."
Wolkonowski said that when the seniors move on from high school and embark on their next big journey in life, whether it be college, the workforce or the military, they won't be wasting any opportunities because they know how quickly such prospects can disappear.
"We will hug our family a little tighter, hang out with our friends a little more and start every day being thankful we get to be together," she said.
Wolkonowski quoted Ephesians from the Bible: "Be very careful, then, how you live — not as unwise, but as wise and making the most of every opportunity."
 She explained her reasoning for selecting the verse.
"If I could say anything to the Class of 2021, it would be that life is short and everything can be taken away from us in an instant — dream big, fight for what you want in life, stand up for what you believe in, never take no for an answer, be kind to everyone, but most importantly, pray and keep God in your life because he is the reason we are here today!
"Thank you and congratulation to the Class of 2021."
In her address, Wolkowski paid tribute to the educators who had paved the way for her to graduate at such a high level.
Salutatorian David Hunter Sensat began his address by explaining the differences between being salutatorian and valedictorian.
"I researched the definition of salutatorian on the most credible source I know: The Urban Dictionary," he said. "Salutatorian is defined as someone who just missed being the valedictorian by a few GPA points or an ACT point. Jokes aside, it is an honor and a privilege to stand before you today."
Sensat said the graduation marks the closing of one chapter and the beginning of another.
"For most of us, we have all shared the same experiences for several years," he said. "We trudged through the torment that is 'The Scarlet Letter' and embraced the enriching concept that is standardized together.
"No matter the trial, we always had each other. Despite any petty argument that we may have, there was always an understanding that, even though we are going through a ring of fire, we are going together."
 Sensat said that in the coming months what the seniors have known in their lives at school will change.
"We will no longer have each other to lean on for support," he said. "We will embark on separate journeys with varying amounts of difficulty.
"It is imperative that we do not fear the inevitable. So long as we remember the lessons taught to us by our teachers, friends and family, we will not only survive, but thrive in this world."
Sensat said he cherishes the lessons taught to him by his teachers who "taught me the importance of enriching one's education for their own benefit."
He said his friends taught him to enjoy life and surround himself with people who "are genuinely kind and not acting just to benefit themselves."
Sensat paid tribute to his father, Joshua Sensat, whom he said taught him the most important lesson of all — perseverance.
He said his father built himself up from nothing and sacrificed everything to provide a better life for his family.
"My dad is one of the most honorable and good people I have ever met," the younger Sensat said. "So long as we all persevere and remember the lessons we have learned, there is no doubt in my mind that we will all do well in the next chapter of our lives.
"I am appreciative for being able to spend these past four years with such a generous and understanding group of people. I wish you all good fortunes in the journey ahead."