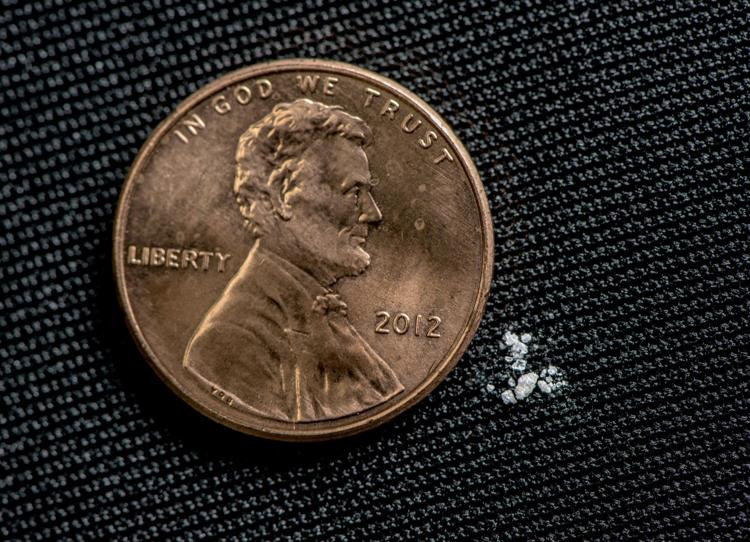 There were two overdose deaths related to fentanyl last week in Tullahoma, according to Coffee County Sheriff Chad Partin.
Fentanyl is an extremely powerful synthetic opioid similar to morphine, but 50 to 100 times more potent.
The two victims both died in the same house on June 2, Partin said.
"It's picking up, we're seeing more of it," he said. "There were two deaths in the same house in Tullahoma, on the same day, within a short span. I don't know the details because the Tullahoma Police Department is investigating the cases, but I think it was pure fentanyl.
Pure fentanyl comes in a form of powder, added Partin.
"Some people may be thinking they are getting a different white powder and it's not what they think it is – it may be a lethal dose of fentanyl," Partin said. "Some people may be thinking they are using cocaine, and it may not be cocaine."
Michael Bonner, chief of Coffee County Emergency Medical Service and medicolegal death investigator, warned about the dangers of fentanyl.
"I cannot confirm what the drug was but both men died quickly after using, which is consistent with fentanyl," Bonner said about the two Tullahoma cases of last week.
"There are reports of fentanyl being mixed with multiple other drugs, making it very difficult for someone to know. And because it takes such a small amount and it acts quickly, it is very dangerous to users, bystanders and first responders."
Fentanyl is 50 to 100 times more potent than morphine, according to the Tennessee Department of Health.
It is legally used to relieve intense pain after surgery or chronic pain.
In prescription form, it is known as Duragesic and Sublimaze.
Fentanyl is an opioid analgesic, a type of drug that binds with opioid receptors and blocks the transmission of pain signals to the brain.
Non-prescription fentanyl sold through the illegal drug market can be used as a standalone substance or mixed with other substances, including heroin.
It can be in the form of a powder, transdermal patch, nasal spray or in counterfeit tablets disguised as other prescription drugs.
Fentanyl is pressed into counterfeit tablets mimicking commonly misused prescription opioids such as hydrocodone and oxycodone.
The U.S. Drug Enforcement Agency has reported that in many cases, the shape, coloring and markings were consistent with authentic prescription medications and fentanyl was only detected after laboratory examination.
According to the DEA, non-pharmaceutical fentanyl is often packaged as a powder in waxed envelopes or glassine bags stamped with brand names such as "Ghost," Get Right," "El Chapo" and "56 Nights."
There have been reported instances of fentanyl pain-relief patches being cut up and smoked or ingested.
The Tennessee Bureau of Investigation has confirmed that state law enforcement officials have made several seizures of fentanyl analogues across the state in forms such as heroin and many counterfeit versions of hydrocodone, oxycodone, Percocet and other misused pain-relief medications.
The appearance of fentanyl in drugs associated with overdose deaths has more than doubled in recent years.