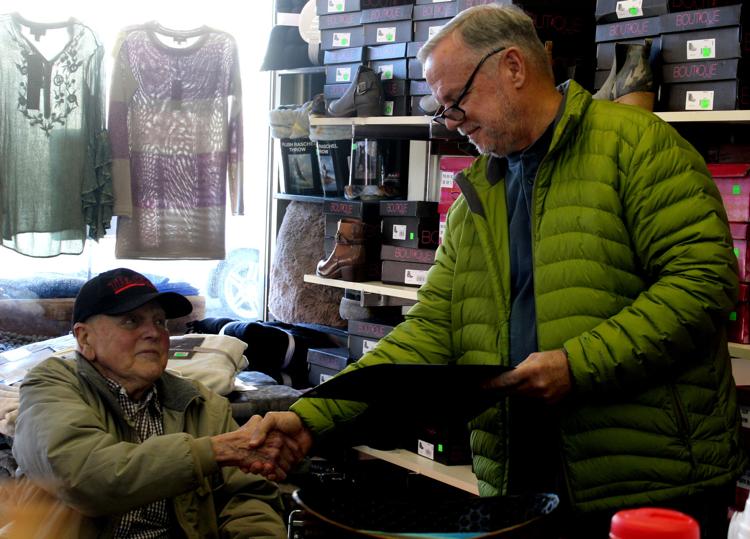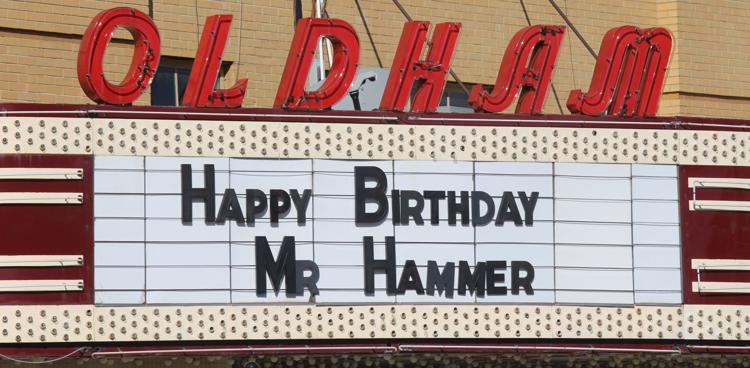 Citing his father's age and physical condition making it difficult to continue on, Hammer's Department Store is closing, according to Josh Hammer, son of the man who has managed the Winchester bargain outlet since 1958.
Hammer said Friday his father, Earl, is in a position where continuing on with the store's operations on the Winchester Square would be difficult, so a decision has been made to sell out the inventory and close the business.
"His health has declined, and it's time to let it go," Josh said. "This is just like all things — they rise and set. I'm sure something will rise there eventually. Something always manages to rise."
Josh said it will probably take until the third week of June or the end of it before the inventory is sold out, and the store will be closed after that.
Earl Hammer recently turned 90 and was honored in special tribute on Jan. 25 that was attended by about 80 who showed up to give him their best wishes and share memories that have developed during the last 60 years.
Winchester Mayor Terry Harrell read a proclamation, officially declaring the day in honor of Hammer.
Eddie Clark, former county commissioner and current business owner, said Hammer had been a personal inspiration to him as he grew up and went into business for himself. He added that Hammer had set an example how to run a business, and it was only fitting to pay tribute to him as he turns 90. Hammer's actual birthday was Jan. 26.
"That's a milestone in itself," Clark said, referring to reaching a 90th birthday.
Friends, employees and former employees shined a light on how Hammer had affected their lives.
Employees explained that the store and Hammer had become like a family for which they are grateful to have had the opportunity to work there.
Rep. Iris Rudder, R-Winchester, said it would be difficult to categorize the influence Hammer has had on the community.
"I don't know if that's possible," she said, adding that he has been such an influence and set such strong examples for others to follow Rudder said her children especially loved the store's upstairs toy area, and visiting the establishment was routine.
Bryan Jones, who owns Bells & Beaus on the Square, said he rents his store space from Hammer's, and Hammer has been very supportive of his business venture.
He added that it only seemed fitting to show up and wish Hammer a happy 90th birthday.
Hammer's son, Jonathan, said the day was very meaningful.
"It's special for him because he is special," he said, referring to his father.
His father also said the day was meaningful.
"It's amazing to see these people come out and wish me a happy birthday," Earl said. "It's really an honor, and I appreciate it."
Harrell referred to why he thinks Hammer has reached the 90-year milestone with many additional birthdays expected.
He said Hammer was an active runner and could be seen regularly running throughout Winchester.
Harrell referred to a song by country and western singer Barbara Mandrell called "I Was Country When Country Wasn't Cool."
"Mr. Hammer was running when running wasn't cool," he said, adding that Hammer's commitment to his exercise regime paid dividends in longevity and good health.
Harrell said Hammer's Department Store is one of only three remaining businesses in Winchester with their roots extending back to the 1950s.
Hammer's had temporarily moved a few years ago to 1415 Dinah Shore Blvd. in Winchester into larger quarters. However, the old location and its historic place on the Square eventually drew the business back to its origin point.
"We should never have moved," Hammer said, which was followed by several saying how glad they were to have the business back on the Square where it has always had such a strong presence.
Eva Austin, who owns Therapy Works, 1397 South College St., Winchester, said earlier that Hammer was a strong personal inspiration when she went into business.
"I learned a lot about business from him," she said, adding that how Hammer managed his store and handled related operations is the key reason she ventured into a business career.
Austin said the Hammer family has done something unique by having offspring operate stores in various communities in Tennessee and Alabama under the family name.
She added that the stores have made a strong impact in their respective communities, and Earl's presence in Winchester and Franklin County has been a strong benefit to the area.
"What he's done for the community is tremendous," Austin said, adding that it was only fitting to go the extra distance to honor him on such a landmark birthday.
Earl's father, A.B. Hammer Sr., bought the store in 1955 and Earl became manager in 1958.
Hammer's stores got their start in Guntersville, Alabama, in 1941.
A.B. Hammer Sr., whose background in retail stretched back to old line stores like Dobson's and Watson's in Knoxville, rented an empty building in Guntersville and put in salvage stock to sell out.
With the help of his son, Bernard Jr., the store grew and before long his other children and their spouses started other locations in North Alabama and Tennessee.
In addition to Earl, store locations have been owned and operated by A.B. Hammer Jr., Bob Hammer Sr., Helen Hammer Kern, Emily Hammer Hall and Fred Hammer.
Over the years, the children and grandchildren of the original owners have entered the business,  introducing new locations but always keeping true to the original idea that Hammers' is a bargain hunter's paradise.