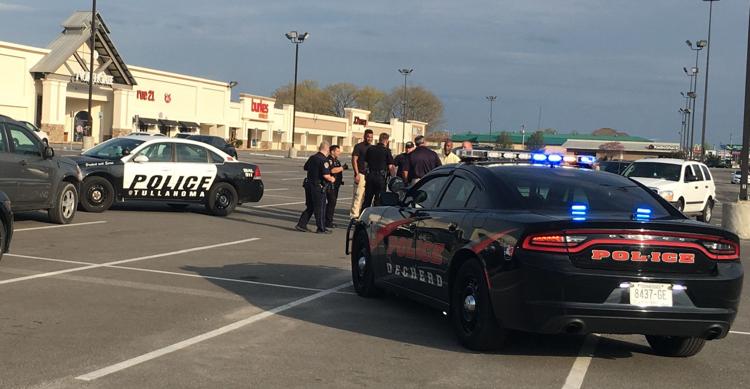 Two Nashville men have been released on $25,000 bond after being involved in a high-speed chase that began at the Decherd Kroger and ended at Northgate Mall in Tullahoma.
The men arrested were Jarquias Jimar Greer, 3010 Ewingdale Drive, Nashville, and Wilbur Eugene Shue, 606 N. Dupont Ave., Dunlap.
Both were charged with two counts each of aggravated assault and one count each of felony evading arrest, speeding, reckless endangerment, reckless driving, stop-frisk-and-halt violation, failure to obey traffic control device, unlawful carry or possession of a firearm, and possession of a firearm during commission of a crime.
Greer was also charged with simple possession/casual exchange of a controlled substance and introduction of contraband into the Franklin County Jail.
Both are set to appear in Franklin County General Sessions Court on July 20.
Decherd Police Chief Ross Peterson said officers received a call concerning a man with a gun at the Quality Inn, 1838 Decherd Blvd., about 4:30 p.m. on Tuesday.
Peterson said the caller reported that a man might be attempting to kill someone with a gun. He added that the suspects fled on foot to the adjacent Kroger parking lot and got into a 2012 Chrysler 300 car and nearly crashed into two police vehicles while getting onto Decherd Boulevard.
 "They had to swerve to miss him," Peterson said, referring to one of the patrol cars.
The suspects proceeded down Decherd Boulevard toward Tullahoma at an excessive speed, Peterson said.
Tullahoma police officers received a call for assistance in the chase from the Franklin County communications dispatch center, according to Tullahoma Investigator Johnny Gore.
"The communications center called and said they were in pursuit of a car, and the subject was trying to kill somebody over there and had almost hit another one of the Decherd officers and was headed this way," Gore said. "They just wanted our assistance to block intersections, and that's all we did."
Gore said he and other officers from the Tullahoma and Decherd police departments caught up with the suspects in the parking lot of Northgate Mall.
The men parked in front of Jo-Ann Fabrics and Crafts store and took off on foot, Peterson said. One suspect was quickly apprehended by Decherd Police Officer Daniel Wockasen while Gore apprehended the other inside the fabric store, he added.
"The driver got out of the car, and the passenger got out of the other side, took off running south, trying to go to JCPenney," Gore said. "I took off in the car and crowded him in. (The driver) ran into Jo-Ann's along the back side of the aisle, and I caught him on the backside."
Both men were transported to the Franklin County Jail after being taken into custody.
Peterson said an investigation is continuing and additional charges might be forthcoming.
He said ordinarily police officers would have taken information from the vehicle's license plate, halted the chase and arrested the suspects later because that tends to be a safer move to protect the public.
However, he said in this particular case, with reports that guns were involved, including one suspected of being converted to full-automatic operation, a decision was made to stop the suspects as soon as possible because they were a dangerous threat to society.