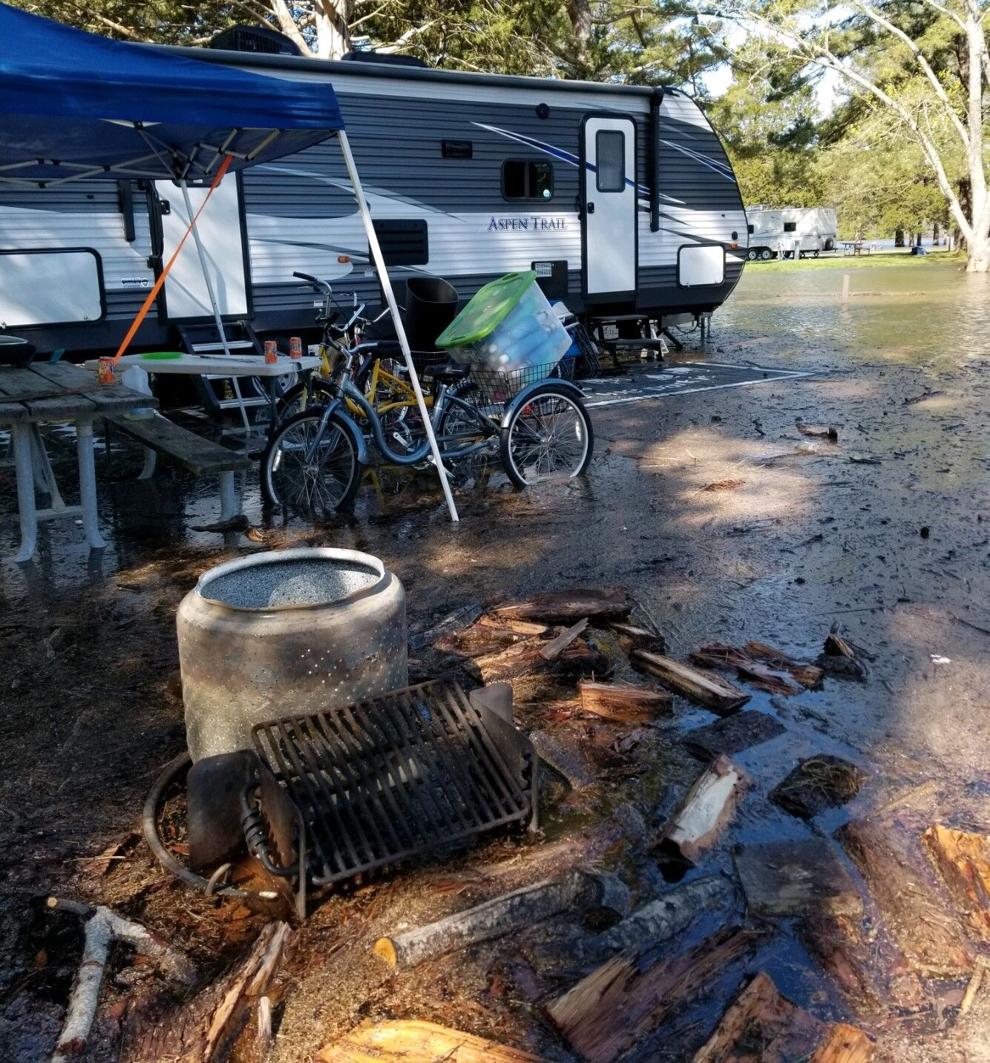 While recent flash flooding left six dead in northern Middle Tennessee, Franklin County was plagued with flooded lower areas and some road closures.
Those who visited Fairview Campground at Tims Ford State Park on March 31 — some taking advantage of spring break where their children were out of school — were left standing in high water when 2.38 inches of rain fell on the area, resulting in rising water that threatened camp vehicles.
However, the conditions were more of an inconvenience rather than being life-threatening.
Julie Byers, who was camping at Fairview, on the edge of Tims Ford Lake, with her husband, Eric, sons Dylan Byers, Keaton Solomon and Kelton Solomon and cousins Linda Cornelison, Angie Limbaugh and Lexie Limbaugh, said the Byers have camped at the facility for decades, but it was the first time amid such high water.
"The rain came and went, and the water kept rising until we could no longer stay," Mrs. Byers said. "We were flooded with no power. We have done our family camp at this same spot that used to be called Devil's Step for over 40 years, but this was our first experience with the flooding."
Campers were faced with fording their way to higher ground to keep their vehicles and equipment dry with water almost rising to where it was about to enter their campers.
Anita and Eric Bohanan were at Fairview with their son, Dale Bohanan, and were aided by friend Steve Franklin, who helped them retrieve their camper. The Bohanans are friends of the Byers and have shared camping adventures through the years.
However March 31 was a new experience.
"It's the first time we camped in Tims Ford Lake," Mrs. Bohanan said, referring to their camper being in standing water.
While Franklin County was under a flash-flood watch issued by the National Weather Service on March 31, several roads were closed due to high water.
They included Modena Road at Decherd; North Second and Mill streets in Decherd; Hims Lane; Highway 50 at Owl Hollow Road; and Blue Creek Road.
Luke McCurry, Franklin County highway superintendent, said the county was fortunate to not be hit so severely with flooding.
"We were lucky not to have all that much damage," he said, adding that some gravel road areas and driveways throughout the county had been cut into by flood water or were washed out.
McCurry said the damaged areas had been repaired to where they were passable by the end of last week, and the Highway Department would be sending out road graders this week to finish the work.
He said county employees were working on the repairs for about four days in total with the labor and materials costing about $25,000.
McCurry said Lynchburg Road at Owl Hollow Road had more extensive damage, but those repairs were being handled by the Tennessee Department of Transportation.
An estimate for the cost of the repairs was not immediately available.