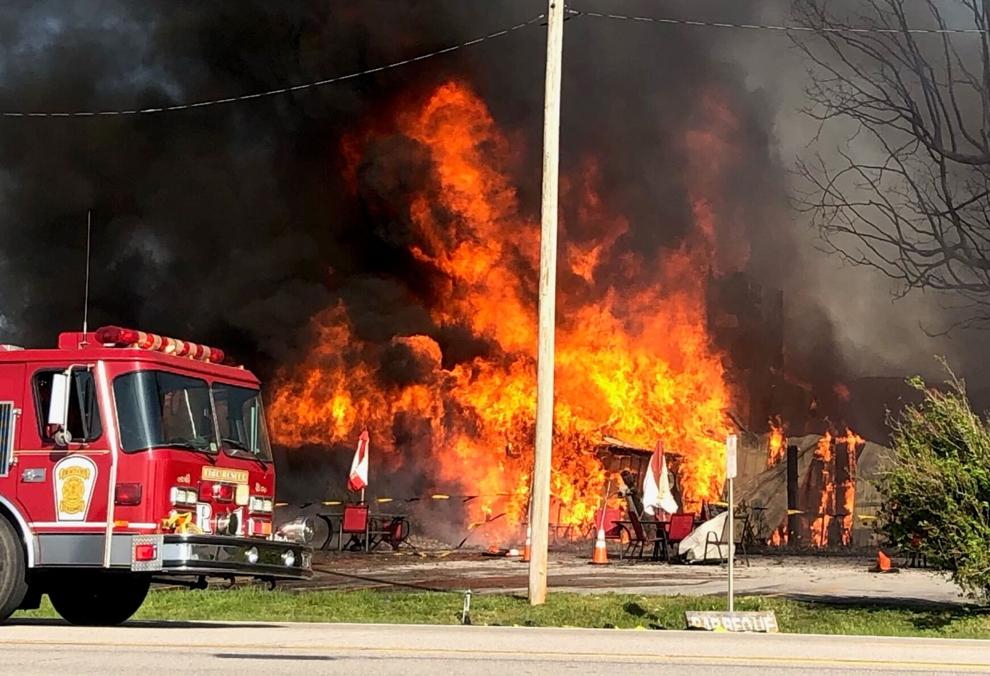 An iconic Monteagle restaurant burned to the ground on April 27, leaving local residents to mourn the loss of decades of Grundy and Marion County history.
A fire claimed Jim Oliver's Smoke House Restaurant, leveling the restaurant and trading post. The restaurant had served the Marion and Grundy County communities for 61 years.
According to Monteagle officials, the fire began at around 4 p.m. and quickly consumed the restaurant while crews from dozens of fire departments responded to the scene.
Fire crews from Monteagle, Winchester, Cowan, Decherd Fire and Rescue, South Pittsburg, Jasper, Tracy City and Alto-Oak Grove all coordinated to contain the blaze.
Personnel from the Grundy County Emergency Management Agency, the Sewanee Police Department and the Sequatchie Valley Electric Cooperative also responded.
Emergency crews were able to successfully evacuate all lodge guests and the restaurant, and no injuries were reported.
During the blaze, fire crews were concerned about winds in the area, which could have blown sparks and embers from the restaurant fire over to the adjacent lodge area.
However, officials said they were able to successfully contain the flames and keep the lodge from succumbing to the fire as well.
West Main Street in Monteagle was closed to all traffic for the duration of the blaze, keeping motorists at a standstill for several hours.
Witnesses reported traffic on the Sewanee side of the road was stuck for two and a half hours.
Motorists were also rerouted to the parking lot of the Monteagle Piggly Wiggly to wait for the road to reopen. By 9 p.m., the road was back open for travel.
Witnesses at the scene said that nothing remained of the iconic restaurant.
Social media reports said the smoke from the fire could be seen more than 20 miles away in Winchester and around the Arnold Engineering Development Complex.
The fire consumed the restaurant quickly, and crews were able to contain the fire around three hours later at 7 p.m.
Monteagle Mayor Marilyn Rodman thanked the more than 23 different agencies that responded to the scene for keeping everyone safe.
She also thanked the numerous volunteers who brought water and food to all the responding fire crews, including community businesses and churches.
While she was heartbroken to see the restaurant destroyed, she said a best-case scenario followed with no one being injured in the fire.
"That's what counts," she said. "Buildings can be rebuilt; lives can't. We're blessed that no one was hurt or killed."
The cause of the fire is under investigation.