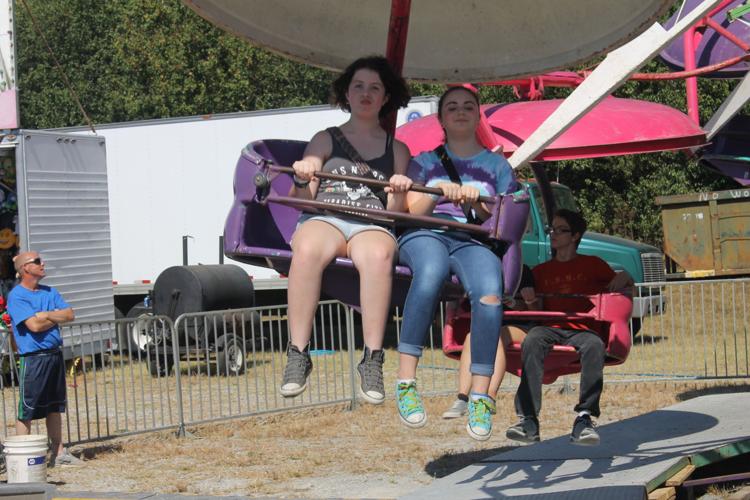 As a means to expand the Franklin County Fair's scope, a special day — appropriately called Kids Day — was set aside Friday so area youths could experience carnival rides at a reduced rate.
The day proved to be a big hit for those attending who were in mutual agreement that Kids Day was a great opportunity, and they were most thankful it was being offered.
Winchester residents Travis and Shae Taylor brought their 3-year-old son, Denver, to the Franklin County Fair to experience Kids Day.
Travis summed up the experience.
Shae added Kids Day is a unique experience and offers a different dimension for children to enjoy and give them something fun to do.
Travis said the Taylors have ventured to the fair long before Denver came into their lives.
"We always have a great time, and I wouldn't miss it," he said.
Denver, at such a young age, didn't have much to say. He merely pointed at a giant race car replica, indicating what he liked best about Kids Day.
Roxanna Anderton, who recently retired as a Clark Memorial teacher, explained she was at Kids Day as a chaperone for her grandniece and grandnephew from Manchester.
"I think it's great," she said, referring to Kids Day. "It's a great opportunity for the children, and it's great that they let school out on Kids Day so they can come out enjoy it."
Tabitha Stinnett, a sixth-grade math teacher at Huntland School, echoed Anderton's assessment.
"We love it," she said, referring to Kids Day. "It's good for the kids to have an out so they can just be kids."
Stinnett said many children don't get the opportunity to go to the fair at night, and Kids Day allows them the chance to enjoy what the event has to offer.
She used Friday evening as an example where Huntland High School had a football game scheduled which meant the students were going to be at the matchup cheering on their beloved Hornets.
Franklin County Deputy Chuck Stines, who is also a county commissioner and the county fire chief, was at Kids Day during his off time to give his son and stepson, Hank Stines and Brady Hall, a chance to enjoy Kids Day.
"We come every year to support the county and the fair," he said. "This is a great event, and it's great they let kids out of school to enjoy the fair. It's great to have events like this that give our youth something fun to do."
Rachel Hay, a North Lake Elementary School fifth grader, said it was her first time at Kids Day, and she was having a lot of fun.
"The rides are awesome," she said, adding that she would still attend the fair even if it didn't have a Kids Day. "But it's a lot better that they do have Kids Day."
Rachel said the Rock O Plane, which is a Ferris-wheel-type ride but with caged seating that spins as the wheel rotates, was her favorite carnival ride.
Bella Harris and Hope Reed are East Middle School students from Tullahoma who happened to be out on fall break which provided an opportunity to indulge in Kids Day with their friends.
Bella said the Zumur, a fast-moving swing, was her favorite ride, and Hope echoed her assessment.
Hope's mom, Jessica Massingille, said she was glad that Kids Day was being offered, and the reduced admission fees made the event all the more worthwhile.
"The price is definitely right, and they have something for all ages," Massingille said.
She explained she has a 2-year-old daughter, Piper, and the fair even offered something for her.
"This is my first year here, and we're definitely coming back," Massingille said.