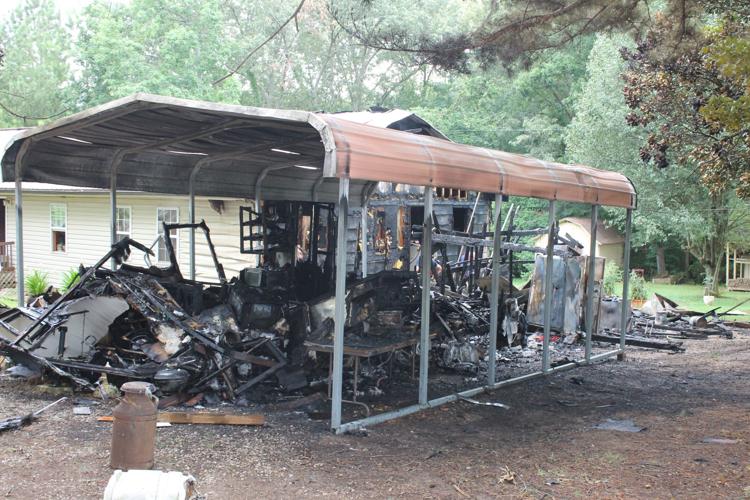 Four fire departments respond to scene 
A fire heavily damaged a home and destroyed a recreational vehicle in an adjacent carport on Friday afternoon at 346 Meadowwood Lane in Winchester.
No one was injured, and two house cats were rescued from the burning home.
The fire engulfed a covered carport and later spread into the attic space and exterior walls of the residence before the blaze was finally extinguished by more than 20 firefighters from four responding departments.
According to firefighters at the scene, the fire appeared to have originated somewhere under the carport, which was located a few feet from the side entrance to the home and housed a large RV camper.
Firefighters from the Winchester Fire Department initially responded along with deputies from the Franklin County Sheriff's Office.
An A&E Emergency Services ambulance crew was also dispatched to the location to standby in case there were injuries or if treatment was needed for heat-related emergencies. 
Winchester firefighters worked to extinguish the fully engulfed RV and carport when a secondary hazard was identified which prompted a call for additional help from the Decherd, Estill Springs Volunteer and North Franklin County Volunteer fire departments.  
According to firefighters, a natural gas line that fed into a meter that was mounted on an exterior wall of the home near the burning RV suddenly erupted into flames and created a secondary fire source.
Firefighters said that flames then spread into the attic space and roof of the residence.
Winchester firefighters were fighting a fire on three fronts at that point as the wall and side entrance of the residence had been ignited due to the close proximity of the carport and burning RV.
Each fire source was quickly extinguished as more than 20 firefighters from the four departments arrived to assist the Winchester firefighters.
A team from Elk River Public Utility District also responded to handle the damaged gas line.
Due to the nature of the incident, Franklin County Emergency Management Agency Director Scott Smith and EMA Deputy Director Casey Jackson also responded to the blaze.
The EMA's state-of-the-art drone was deployed and provided real-time thermal imaging of all hotspots on the roof and in the residence's attic space. 
"It was a great response from everyone involved in this incident, and everybody took care of each other," Smith said. "Fighting a fire in the humid Tennessee heat can be extremely dangerous for firefighters."
Smith said the American Red Cross was notified to provide assistance to the family.