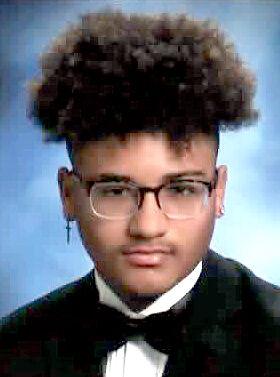 The Martin Luther King Scholarship Foundation recently presented two scholarships and two book awards to four outstanding local students.
For the second year, the Martin Luther King Scholarship Foundation chose not to hold its annual Scholarship Banquet due to the aftermath of the pandemic.
However, Charoline Simmons, secretary of the Martin Luther King Scholarship Foundation, said those setbacks didn't stop the bestowals.
"The Foundation and members of the Franklin County community have continued to work to raise funds to support the minority students of Franklin County and Huntland High schools," Simmons said. "As a result of three substantial donations, the Foundation was able to award two scholarships and two book awards to members of the 2021 graduating classes."
Makala Gillis, daughter of Heather Simmons of Estill Springs, was presented a scholarship in the amount of $2,000.
Gillis is a graduate of Franklin County High School, where she was a proud member of the drama club and is credited with acting, directing, producing and choreographing several one-act plays.
She was also the recipient of the senior superlative "Most Talented" by her peers. She plans to attend Middle Tennessee State University this fall where she will begin her studies in International Affairs.
Gillis stated in her introductory essay, "One of my greatest strengths is communication." She said being able to express herself is one of the keys to her academic success.
Payton Reed, son of Kermit and Andrea Reed of Elora, was presented with the second scholarship for $2,000.
Reed is a graduate of Huntland High School where he was an outstanding scholar and athlete.
He played varsity football for four years and was a member of the Beta Club and the National Honor Society. In addition, he served as a volunteer the past two years for the Challenger Baseball League in Huntland for special-needs children.
Reed was recently awarded a scholarship to attend the University of the South where he plans to major in biology. His senior superlative honor, "Most School Spirit," is an indication that he is a well-rounded student and athlete.
Kiaziah Vanzant and Tyrone Vanzant, both FCHS graduates, were presented with book awards in the amount of $150 each.
Kiaziah is the daughter of Rose and Gary Vanzant of Winchester.
Tristan is the son of Tyronne Vanzant of Winchester.
Kiaziah and Tristan plan to attend Motlow State Community College this fall.