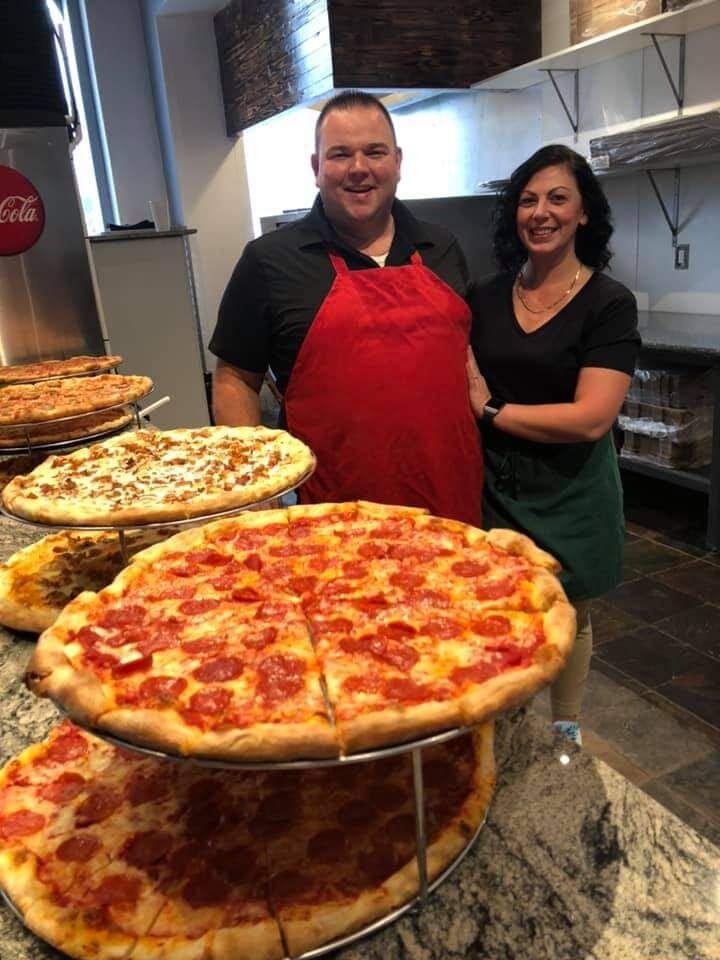 Really good pizza may be difficult to find, but not anymore in Franklin County. Tony and Jamie have seen to that.
Antonio "Tony" Renaldo and Jamie Brown, co-owners of Piezan Pizzeria Italiano in downtown Winchester, are transplants from upstate New York who now offer their unique blend of culinary artistry and authentic Italian pizza at their new store located in the old San Miguel's Coffee Shop on 44 South Jefferson Street on the square in Winchester.
"We kind of found Winchester on a trip through Tennessee, fell in love with Franklin County, Winchester, and the Square," Brown said as they held meetings to hire staff recently. "And we were living in the wine region near the Finger Lakes in Syracuse, New York, so we literally moved from one set of lakes to another!"
"This is actually my third restaurant," Renaldo said. "I started at age 13 at a country club, replacing a cook who had called in sick one night, and by 15 I was the sauté chef at the place.
"I fell in love with cooking and by age 19 was doing an internship in Manhattan with 11 other aspiring chefs, providing the opportunity to work under the direction of world-renowned chefs such as Gordon Ramsey and Wolfgang Puck. After a lengthy internship, I became a certified chef, having learned on-the-job, and headed off to New Orleans to work with Puck."
Renaldo's first restaurant, Tutta Bistro, was opened with a friend in downtown Manhattan, New York, and was very profitable, taking their careers to a professional level.
By then, the couple had their first baby, daughter McKenzie. The club life was not the place to raise a child, so his friend purchased the establishment, and Tony moved on to upstate New York to develop a little spot by their hometown, a small-family atmosphere very much like Winchester.
Ironically, the New York restaurant catered to country music legends like Luke Bryan, Little Big Town, and Tullahoma native Dustin Lynch. After seven years, he sold the place to a retiree who wanted into the business. That was in February 2017.
"I'm a pilot, so we started looking at aviation towns, like Tullahoma," Renaldo said. "On our way to Florida, we passed through this area and really loved it.  We looked at the demographics, and Franklin County really spoke to us.  So, here we are! Moving from one lake area to another one.
"We're so grateful to be here. We uprooted our family to open Piezan Pizzareia Italiano. Everybody has been very helpful here, including Mr. Dean Binkley and his wife, Andrea, who really took us under wing. None of this would have been possible without their hospitality and motivation."
What he learned in his journey about cooking came with him here to Winchester, and it is reflected in the menu at Piezan, which features mostly classic Italiano cuisine right now but will be likely expanded over time. 
After invitation-only tastings, the Piezan Pizzareia Italiano opens today. Until September 1, reservations will be needed for dinner from 4 p.m. until 9 p.m., excluding lunch from 11 a.m. to 3 p.m.  No reservation will be necessary for lunch dining, which will involve open seating.
The days and hours of operation are Monday through Thursday from 11 a.m. until 9 p.m., Fridays from 11 a.m. until 10 p.m., and Saturdays from 3-10 p.m.  The facility will be closed on Sundays.
As of today, the owners were adding wait staff, dishwashers and others to their employee list. The chef will be from New York.
"We'd like to thank Lauren Martin of the Winchester Downtown Program for her hard work and resources, Kenny Montgomery at CPU, Chris at CJ's Services, Randall Henley at Henley HVAC Services, and Danley Heating and Air Conditioning," Renaldo said. "These guys are the best!"
For more information, go to www.mypiezan.com, or call 931-313-5795. Additional details can also be located on Facebook and other social media sources.