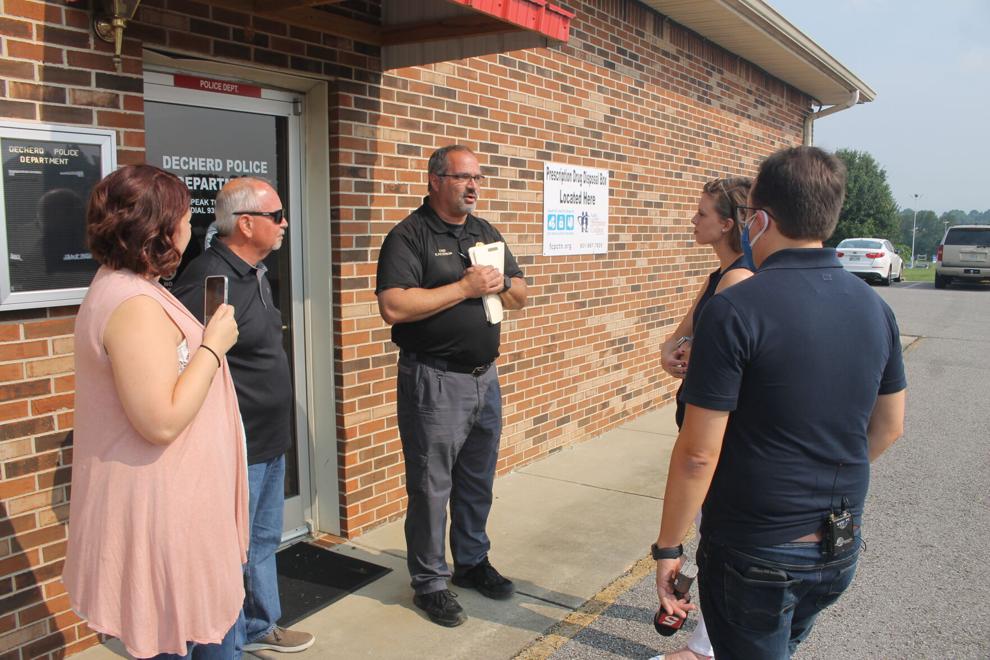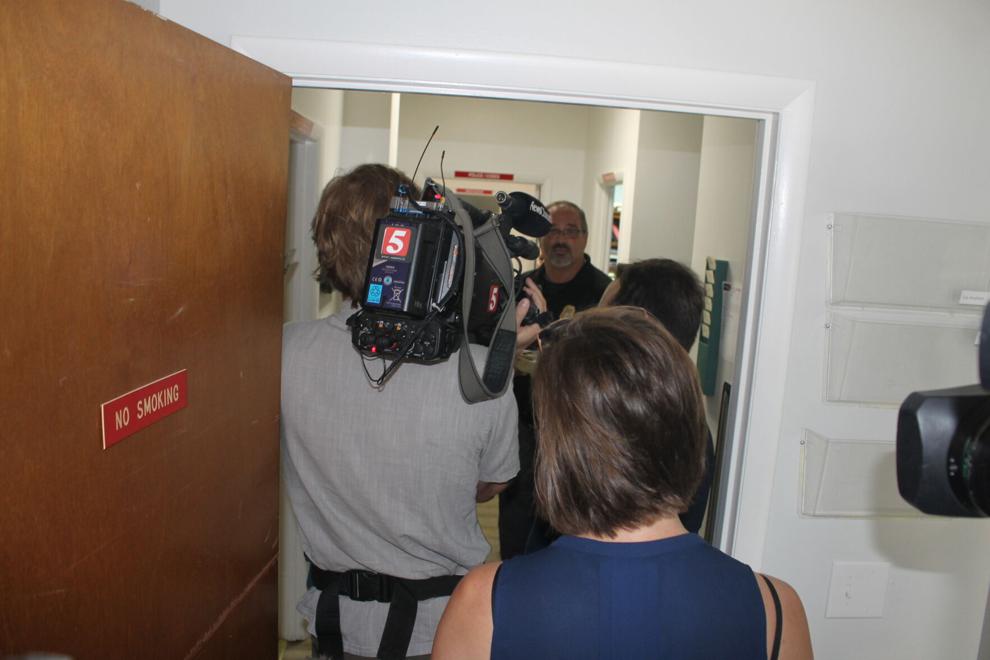 A special-called Decherd Board of Mayor and Aldermen meeting set for this evening to consider whether to fire Ross Peterson was called off by Mayor Michael Gillespie to further investigate allegations against the police chief.
City Administrator Rex Clark said he could not confirm whether the meeting was postponed to a later date or canceled altogether. He added Gillespie had set the meeting, and it was up to him to call it off.
Clark said the mayor, who was not present, wanted further details to surface from an investigation into circumstances involving Peterson.
Nashville TV news teams from Channels 4, 5 and 17 and local media showed up at City Hall after hearing word that the meeting had been called off.
The media presence resulted in Peterson fielding questions from journalists for more than an hour and a half surrounding the circumstances where an off-duty officer was charged with aggravated assault in a road-rage case in Murfreesboro and a sexual-harassment complaint filed by Sgt. Bruce Elliott that includes 38 current and former Decherd employees as witnesses was filed against Peterson and wife Michelle Peterson, a Water Department clerk, on grounds there was "blatant and repeated sexual harassment" while on the job.
Peterson said the conditions he is facing stem from a political attack with an upcoming Decherd municipal election next month and a county election next year.
Peterson was asked about why a more thorough background check into hiring Police Officer Mathew Ward was not conducted.
Ward, 31, of Cason Lane in Murfreesboro, was charged after an investigation of a June 13 road-rage case starting on Interstate 24. Ward was charged with aggravated assault after pointing his Decherd-issued handgun at Ilya Kovalchuk from the city of Franklin after speeding on I-24. Ward had displayed his badge and told Kovalchuk to pull over.
Peterson was asked what his involvement was in the process when Ward was hired.
He was quoted earlier in a Nashville News Channel 5 interview as saying the staff was allowed to ask only two questions and had no further go-ahead to extend beyond that.
"There was no form filled out where we get it notarized or we could ask questions, anything different from 'did you work here and would you rehire that person,' and since he's not actually got an extensive work history in law enforcement, we didn't do that," Peterson said. "That's my answer."
However, Ward did sign the release-from-liability form that contradicts Peterson's statement.
Peterson said Thursday that at the time Ward was hired, it was up to Sgt. Investigator Greg King to do a more thorough background check if he deemed it necessary.
Peterson said several times in Thursday's press conference that in dealing with 160 city policies, what's in place to be used isn't always clear, and he was unaware of the exact forms King was going by because King was handling that end of the hiring process.
Peterson said that, in addition to being the police chief, he's also the fire chief in his role as public safety director. He said the staff under him has been assigned the involvement in the hiring process, and the city follows background checks on employee candidates from the Tennessee Bureau of Investigation and the Peace Officers Standards and Training Commission.
He said that if any criminal history is present, it will surface, which didn't happen in Ward's case.
Peterson said Ward had completed about 750 hours in police academy training and was cleared to be an officer.
He said the media misconstrued the facts surrounding Ward's background.
Peterson said the media focused on one trainer's comments from part of the documents from the Fort Walton Beach Police Department in Florida, where Ward had been, but apparently did not focus on other trainer-comment sections that said Ward had the potential to become a good officer.
Peterson said some of the Enterprise, Alabama, records where Ward had worked have been referred to but were taken out of context.
Peterson said that while Ward was off-duty, it was out of his control to oversee Ward's actions in Murfreesboro.
Peterson said upon hearing word of what Ward was accused of doing, he tried to do what he could to make amends for the circumstances.
King has given a different account of what happened in the hiring process and said he had reservations about employing Ward.
He said Peterson had directed him not make a more detailed background check.
King had said some answers to questions he directed at Ward were unsatisfactorily answered.
King said he deemed the Fort Walton Beach Police Department should have been called, but Peterson directed him not to bother with it.
"He told me not to worry about calling," King said.
He then referred to Peterson's explanation about the situation.
"I felt it sounded like I didn't do my job," King said. "But I didn't do my job because I was told not to. … I should have been allowed to make the call. Law enforcement doesn't need any more self-inflicted wounds."
Peterson said Thursday that King has been given the authority and responsibility to do the background checks and should have done so on his own accord if he deemed it necessary.
King said that when he was interviewing Ward, the candidate stumbled on why he had only worked four months at a previous job.
He said Ward had said his girlfriend had found a job in Middle Tennessee, and he wanted to move to where she was living.
King said Peterson intervened in the questioning by saying: "So there was this old girl," and Peterson moved on to another question.
King said he asked Peterson about doing a further background check, however, the chief told him he thought Ward's answer for leaving the previous job was satisfactory.
King said he had planned to do a further background check, since Ward had signed the release-from-liability form, but Peterson didn't allow him to do it.
King said the department's command staff had revised its personnel-selection and background-check policies in January and also approved the background-liability release form. He added that it was patterned after the Metropolitan Nashville Police Department's policies which have proven to be successful.
"I patterned it after their's, and he signed off on it," King said, referring to Peterson.
King said four officer candidates were interviewed but not hired before Ward was employed, all with the detailed background checks. He said two were disqualified and two were offered jobs but declined employment.
King said four others have been hired since Ward joined the staff but nothing more than the National Crime Information Center background checks were done, which is all that is required by law. He added that the further-detailed background checks make the hiring process much more involved because of the additional details required to find and remove bad candidates.
However, King said he believes it's paramount to do the thorough background checks because it will reveal signals and problems that candidates, such as Ward, may have.
"It does make it harder," he said, referring to the hiring process. "But a lot of people are not suited for the profession, and it will show that."
Peterson said the policy is being revised, and if Ward is convicted on the aggravated-assault charge, he will be flagged by the POST Commission as not to be hired to work in law enforcement.
However, if Ward is not convicted, he would still be able to work in the field, Peterson said.
Peterson told the media that City Attorney Jerre Hood has issued a press release explaining the city's stance.
Hood said the city and its Police Department have received a lot of attention and adverse publicity recently, most of which stem from a sexual-harassment complaint originating from Police Sgt. Bruce Elliott.
"This complaint appears to have been drafted by or with the assistance of his son, Ben Elliott Duvall," Hood said.
He referred to the amended sexual-harassment complaint, filed by Sgt. Elliott, with additional witnesses.
Hood also refers to an age-discrimination complaint filed by Sgt. Elliott from when he was transferred from an investigator to third-shift supervisor. Hood said Sgt. Elliott received the same pay rate, plus night-differential pay "which in net effect," increased his pay.
Hood said the investigation is following procedures authorized in the city's personnel rules and regulations.
"Numerous witnesses have been interviewed, and that investigation will focus on the issue of whether Sgt. Elliott was the target of sexual harassment," Hood said.
He said the investigation will look at the "record as a whole and the totality of the circumstances, including the nature of the conduct in question, the context in which the conduct, if any, occurred, and the conduct of the person complaining.
"As a part of that investigation, the action and motives of Sgt. Elliott's son should be considered since Sgt. Elliott has apparently said his move to oust Chief Ross Peterson started with his son," Hood said. "His son has publicly stated this would all stop if Chief Peterson was terminated, but not until. The criminal background of Ben Elliott Duvall should be readily available for review by those interested."
Hood said the age-discrimination complaint was answered by Chief Peterson, and the matter is proceeding according to the city's personnel rules and regulations. He said that the age-discrimination investigation has not concluded.
Hood also addressed the Murfreesboro road-rage incident in his press release.
Hood said Kovalchuk appeared before the Board of Mayor and Aldermen "at the apparent behest of Ben Elliott Duvall."
Hood said the city performed its standard background check when Ward was hired.
"The controversy now focuses on an additional 'form' apparently drafted by Sgt. Greg King for a references check and whether an additional references check was made or should have been made," Hood said. "The board and mayor will consider those issues for further action as may be required." 
Ben Elliott Duvall responds
Ben Elliott Duvall, the son of Sgt. Bruce Elliott, countered statements made by Decherd City Attorney Jerre Hood about circumstances surrounding Police Chief Ross Peterson.
Duvall said Wednesday afternoon that Hood's allegations that Duvall had drafted the sexual-harassment complaint against Peterson are false, and his father initiated the action on his own accord.
Duvall also said that he has been relentless in his quest to hold Peterson accountable for his actions from an incident where his father had allegedly reported that two fellow officers had mishandled evidence in a 2019 drug arrest.
Duvall alleges that Peterson had subsequently taken retaliatory action against his father and moved him from an investigator to a third-shift supervisor.
He said that Hood bringing up the criminal-background issue is a distraction from the issues involving Peterson and should have nothing to do with the investigation into Peterson's actions.
"It shows how Jerre Hood feels," Duvall said about those who have been rehabilitated and are given a second chance at life. "It's pretty sad."
Duvall also said that he believes Peterson had directed officers to personally harass him through surveillance tactics that should not have been authorized.
Duvall said he would back off of his drive against Peterson if those handling the investigation would pay attention to the facts and consider the evidence rather than taking a path that could potentially lead to lawsuits against the city.