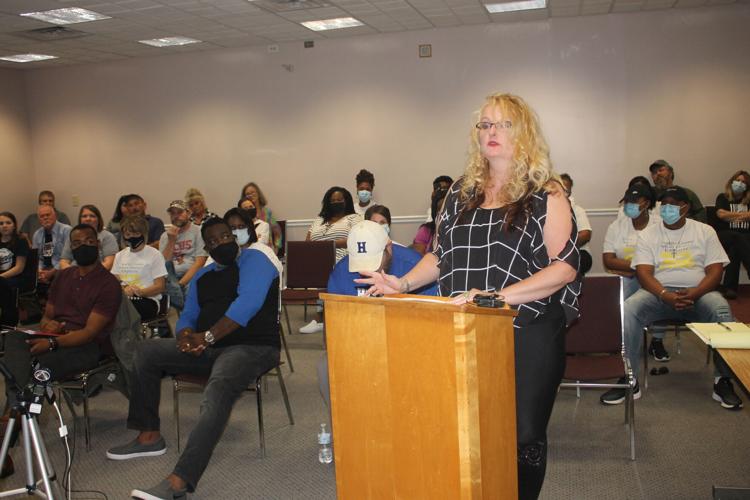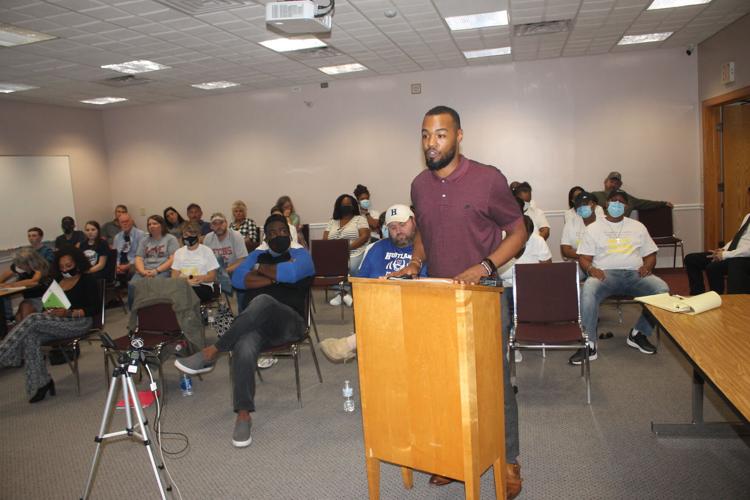 The Franklin County Rebels name and mascot will remain in place after the School Board approved Monday to keep things as they are.
The board's vote was 5-3 with Chris Guess, CleiJo Walker, Lance Williams, Christine Hopkins and Caycee Hanger Roberts voting to keep the name. Those who supported changing it included Linda Jones, Sarah Marhevsky and Sara Liechty.
Jones made the motion to change the name, and her effort was seconded by Marhevsky.
Jones said the board is obligated to make the change to reflect the interests of all students.
"It is our duty to meet the needs of every single student," she said. "We don't have a choice."
Jones said that 70 years ago, the name "Rebels," the song "Dixie" and the Confederate flag were adopted to represent the school. She said her motion and adopting it would reverse a trend that has left the Black students feeling as though they were inferior to White students.
The board allowed seven from an audience of about 50 to address the subject for five minutes each.
Residents addressing the board included Chris Colane, Tanya Hill, Michael Bradford, Candace Jenkins, Terrence Martin, Shanae Williams and Sheri Smith.
Colane, Martin, Williams and Smith spoke in favor of changing the Rebel name while Hill, Bradford and Jenkins supported keeping it.
Those wanting the mascot name removed and a halt to playing "Dixie" have cited that the term "rebel" signifies the oppression linked to slavery.
Those wanting the mascot name to remain cited a lasting tradition they deem needs to be preserved.
Colane, who spoke first via an internet Zoom link, said Franklin County High School needs "a new mascot that all the students can take pride in."
She said the School Board mentions diversity in its mission statement, but having a mascot that is offensive to some students doesn't fall in line with that objective.
"I petition the School Board to go for a new mascot," Colane said.
Hill, who was next in line to speak, referred to the term "Dixieland" and its connection to the South.
"We know the song 'Dixieland' had been around for at least 70 years," she said, referring to the song's link to the school. "It isn't a 'teach your children to tolerate' issue. It is teach your children not to hate."
Hill said she comes from a diverse background and her maternal ancestry stems from Native Americans, and her paternal White ancestry could have been deemed to be in conflict with her maternal forefathers.
"With all of this information, there has been no hatred between the two families over my parents nor their parents ancestors killing one another," she said, adding later: "This is 2020, and we do not want to go backwards. Please respect and consider all of the polls to keep everything the same."
Jenkins said those wanting to change the mascot name are falling in line with movements that she said stem from "terrorist" and "Marxist" ideals. She added that Winchester is named after James Winchester, who had been a slave owner.
She said the area's history runs deep and needs to be preserved, including keeping the Rebel mascot.
Bradford said Franklin County residents honor and celebrate the Rebel spirit.
"We love our southern roots, customs and traditions," he said. "The word 'rebel' means a defiant person who will not be controlled. Franklin Countians are the embodiment of a rebel spirit. Our opponents are acting like rebels now, whether they realize it or not.
"The last few months have been very stressful for this community. I thank God this day and this vote has finally come. I pray that after the vote, regardless of the outcome, my neighbors will be able to accept it, win or lose.
"I have faith the people of all races who live here will work to heal this divide. God bless American patriots, and God bless Franklin County Rebels."
Martin used an analogy where those wanting to keep the name would feel the way he does if they were standing in his shoes.
"If White parents were standing in my shoes and in this room, this probably wouldn't even exist," he said. "We wouldn't be here."
Martin said the links to the Confederacy weren't that prevalent in his mind while he was going to school. However, he said he ventured out into the world and began to take a different view of what those links mean.
'"Dixie' is in my head today," he said. "I didn't know what it meant until I left."
Martin encouraged the board to move away from those links to the past.
Williams challenged the board to make changes that reflect the best interests of the entire student body.
She explained how she had been a junior varsity cheerleader but didn't get to do the same at the varsity level because the school did not allow Black varsity cheerleaders.
Williams said the School Board's vote could move FCHS past the 70 years it has been tied to the inequality for Black students.
Smith, a 1988 FCHS graduate, said she didn't think anything about the Rebel mascot and related activities when she was in school because "that's what everyone did. … I didn't know any better."
Smith said she understands the hurt that the Rebel mascot has had for Black students.
She then told the board, "You have the opportunity to do what is right and should have done it decades ago."