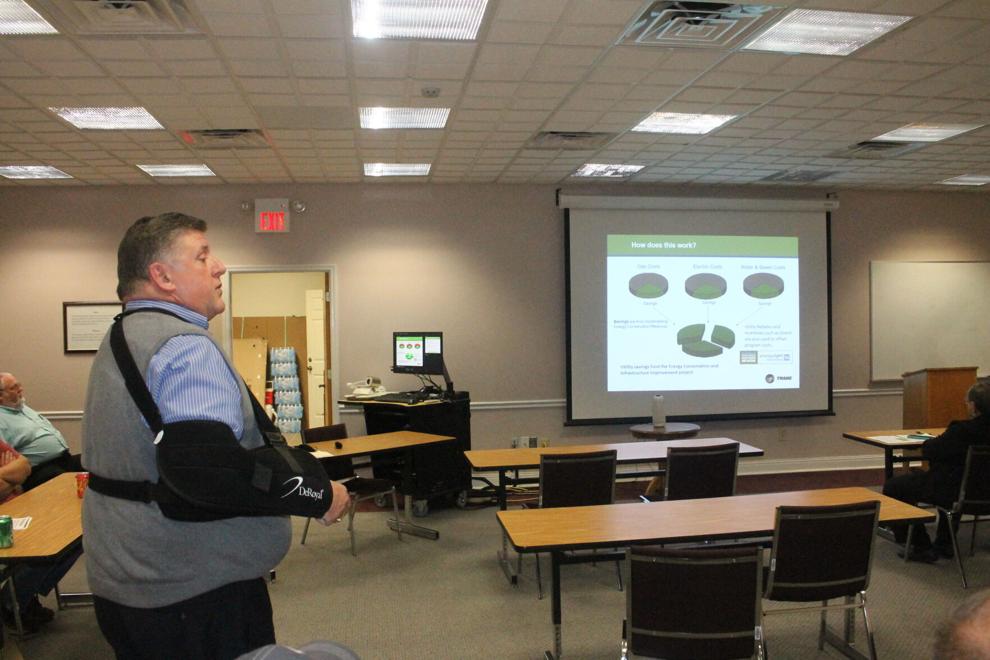 County government and the School System are looking at ways to save on energy costs by developing a unified plan to address the issue and recently fielded input from two companies specializing in the field.
The County Commission's School Committee met with School Board members on Jan. 25 and viewed presentations from PATH and Trane Technologies Inc. representatives about what the heating and cooling companies could do to save the School System potentially several hundred thousand dollars per year on energy costs.
Russ Phillips, PATH co-founder and principal, and Randy Mauldin, representing Trane's business development/energy savings solutions, each addressed the committee at separate instances during the meeting.
Phillips said the Franklin County School System spends $1.439 million annually on heating, air conditioning and lighting in its 11 schools and support facilities.
He added that with proper energy steps being taken, about $300,000 could be saved, cutting the annual energy expenditures to about $1.1 million.
Phillips said the savings would pay for the upgrades and the contract the school system would have with PATH.
"Our goal is to get you the most bang for the buck in savings," he said.
Phillips said PATH's scope is widespread with extensive projects at school systems and government operations throughout the Southeast.
He said energy savings are realized through better LED lighting, more efficient heating and air conditioning control measures, improved water-management measures, improved roofing and using solar energy sources.
Mauldin painted a similar picture.
He said Trane has an extensive track record with other school systems through updating lighting and converting to new energy-saving technology, using automated control systems, targeting heating and air conditioning unit replacement with more efficient units over time, better sealing windows and doors, installing improved plumbing fixtures and capitalizing on solar energy options.
Mauldin also said the improvements would more than amortize their cost and Trane's fees to implement and manage them.
He added that Trane would guarantee a set savings, and if the figure isn't met, the School System would be reimbursed for the difference.
Mauldin said Trane is the largest company at what it does and is the industry leader in the field. He added that Trane manufactures the products it offers and can sell and install them at a reduced cost.
Phillips and Mauldin said their respective companies have generated savings for other school systems and government operations and would do the same for Franklin County.
The School Committee agreed to review the information and potentially consider entering into a contract with one of the companies at a later date.
The issue was discussed at a previous School Committee meeting when members agreed that the School System is facing expenditures for heating and cooling systems and roofs at many of the system's 11 schools.
They agreed estimates should be made of what the system may have to spend in future years so that plans can be made to make upgrades when they become necessary.
Committee members agreed it will be worth looking into ways and means to reduce energy costs.