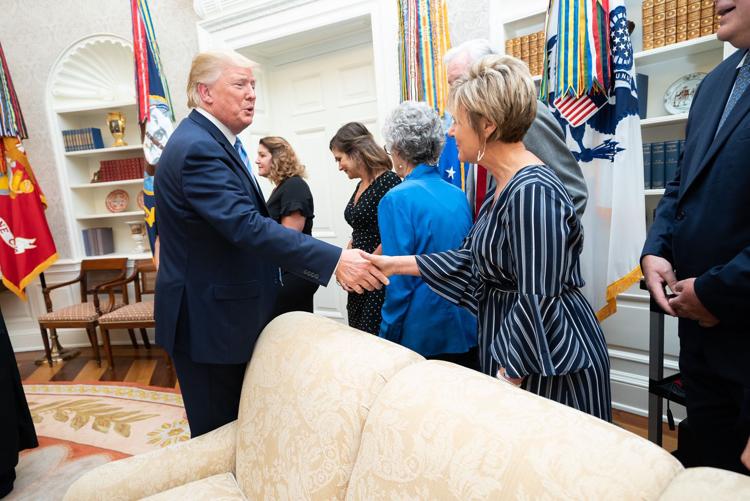 Dr. Mark Esper recently made national headlines after being confirmed by the Senate as the 27th secretary of defense, and while the politics of Washington, D.C. often seem a world away from rural, agriculture-based Franklin County, there is a close connection.
Esper's wife, Leah Lacy Esper, grew up in Decherd and has family and friends who live in the area.
It was Mrs. Esper's local connection that recently resulted in several Franklin County residents being in the Oval Office to meet President Donald Trump.
On July 23, the oath of office was administered to Esper by Associate Justice Samuel Alito while the president, friends and family looked on.
One of those friends was North Middle School science teacher Diane Gipson who has been a lifelong friend of Mrs. Esper since the two first met in the seventh grade.
Gipson recently made the trip to Washington, D.C., with her husband, Mickey Gipson, to show their support to the Espers and to take part in the ceremonies and celebrations following the official Senate confirmation.
Mrs. Esper's parents, Tom and Von Lacy, were also in attendance.
"My husband and I were honored to be invited to take part in the ceremonies and celebrations," Gipson said. "President Trump spoke on his admiration for Mark (Esper), and President Trump was very personable to each of us."
Pictures were taken with the president during the ceremony, and everyone had a chance to shake hands with the commander in chief.
"We also attended a full honors ceremony held at the Pentagon with President Trump and Vice President Mike Pence. I am extremely proud of Mark and Leah," Gipson said. "Both are exceptional individuals who genuinely care about what is best for our country."
Regarding her connection to Franklin County, Mrs. Esper reminisced about her life growing up in Decherd and spending time with her friends and family.
Seeing old friends and acquaintances again is a great way to reconnect to your past, but spending time with family is important for Mrs. Esper.
Her parents were well-known and respected in Franklin County.
"My mother, Von Lacy, taught English at FCHS for the majority of her 32-year teaching career," Mrs. Esper said. "She taught hundreds of students and was named Teacher of the Year at least once in her career."
Her father, Tom Lacy, worked at AEDC as a mechanical engineer testing jet engines.
Esper's father was also an influence when it came to playing sports.
"My father was an avid golfer, and he taught me to play," Mrs. Esper said.
"Franklin County — and more specifically, Decherd — is home for me," she said. "My parents live in Winchester for the summer months, so I usually visit two or three times during the summer.
"Any time you can spend with family is a good time."
And, although she leads a busy life, Mrs. Esper still finds the time to stay in touch with her best friend, Gipson.
Mrs. Esper said that she also has enjoyed seeing old friends whenever she was in town.
"I enjoy running into old friends and classmates," she said. "Last year, when I was visiting, I ran into two classmates, Donna Douglas and Brenda Bright, at Walmart, and I also got to see my friend Deneen Patton at Kroger.
"It's so nice to see longtime friends that you haven't seen in a while."
Growing up, Esper attended schools in Franklin County.
"I went to Mrs. Bean's kindergarten class," Esper said. "It was the best – several of my high school classmates went there as well."
Mrs. Esper attended Mary Sharp Elementary School in first and second grades and then Clark Memorial for third grade before enrolling at Good Shepherd for fourth through sixth grades and then North Jr. High for middle school.
She was an athlete and played golf and basketball during her school years in Franklin County.
Mrs. Esper attended Franklin County High School and graduated from the school in 1982.
She then attended Memphis State University and graduated in 1986, earning a bachelor's degree in business administration with a major in marketing.
After a short time working in Memphis, Mrs. Esper moved to Nashville. It was there where she met her future husband on a blind date set up by friends.
"We went to the Summer Lights Music Festival in Nashville with the couple that set us up on our blind date," Mrs. Esper said. "We were listening to jazz, and Mark told me that he didn't like jazz.
"I told him I didn't either, so we left the jazz concert and went to listen to other bands. We immediately bonded after that.
"That was 31 years ago, so I think we can say it was a successful blind date."
They were married on Oct. 7, 1989 – 16 months after their first date.
Regarding the incredible honor of her husband being named as secretary of defense, Mrs. Esper said she is proud of her husband and is confident that he is the right person for the job.
"There is no one in the world that loves the United States military more than Mark," she said. "It is a privilege for him to take on this role and help shape the military for years to come.
"It goes without saying that I am extremely proud of him. He has spent the majority of his life in service to our country through his military career, his government jobs, his role as secretary of the army, and now as secretary of defense. It's a huge responsibility, but there is no one more prepared to lead our military.
The following information is from the Department of Defense's website:
Dr. Mark T. Esper was born on April 26, 1964, in Uniontown, Pennsylvania. He is a 1986 graduate of the U.S. Military Academy and received his commission in the infantry.
Upon completion of ranger and pathfinder training, he served in the 101st Airborne Division and participated in the 1990-91 Gulf War with the "Screaming Eagles."
He later commanded a rifle company in the 3-325 Airborne Battalion Combat Team in Vicenza, Italy.
He retired from the U.S. Army in 2007 after spending 10 years on active duty and 11 years in the National Guard and Army Reserve.
After leaving active duty, he served as chief of staff at The Heritage Foundation think tank, followed by service as legislative director and senior policy advisor to former Sen. Chuck Hagel.
He was a senior professional staff member on the Senate Foreign Relations and Senate Government Affairs committees, policy director for the House Armed Services Committee, and national security advisor for former Senate Majority Leader Bill Frist.
During the George W. Bush administration, he served as the deputy assistant secretary of defense for negotiations policy at the Pentagon.
From 2006-2007, Dr. Esper was the chief operating officer and executive vice president of defense and international affairs at Aerospace Industries Association.
He was the national policy director to Sen. Fred Thompson for his 2008 presidential campaign and was a Senate-appointed commissioner on the U.S.-China Economic and Security Review Commission.
Dr. Esper later served concurrently as the executive vice president for the U.S. Chamber of Commerce's Global Intellectual Property Center and as vice president for Europe and Eurasian Affairs from 2008-2010.
Before being nominated as the secretary of the army in 2017, Dr. Esper was the vice president for government relations at the Raytheon Company.
Dr. Esper is a recipient of the Department of Defense Medal for Distinguished Public Service.
Among his many military awards and decorations are the Legion of Merit, Bronze Star Medal, the Kuwait Liberation Medal, Kuwait Liberation Medal-Saudi Arabia, and the Combat Infantryman Badge.
Dr. Esper holds a Master's of Public Administration degree from the John F. Kennedy School of Government, and a doctorate in public policy from George Washington University.
 Dr. Esper and his wife, Leah, have been married for 30 years and have three adult children.
Dr. Esper was sworn in as the 27th secretary of defense on July 23. He served as acting secretary of defense from June 24 to July 15.
Dr. Esper served as the secretary of the army from Nov. 20, 2017, to June 24 and from July 15 to July 23.