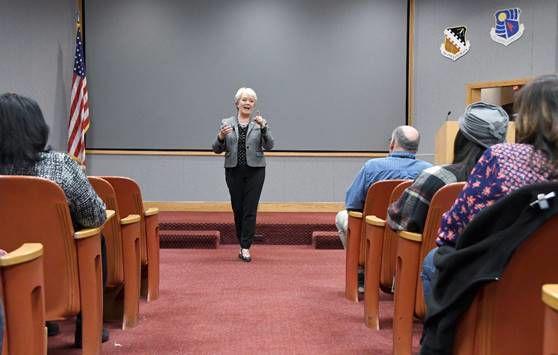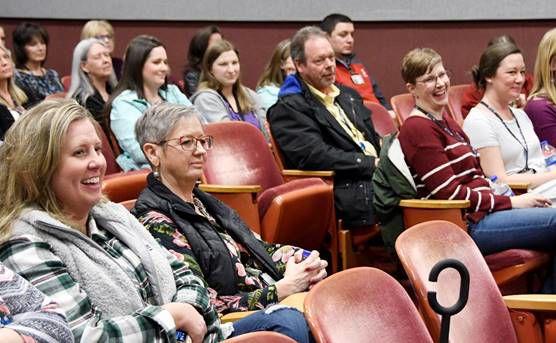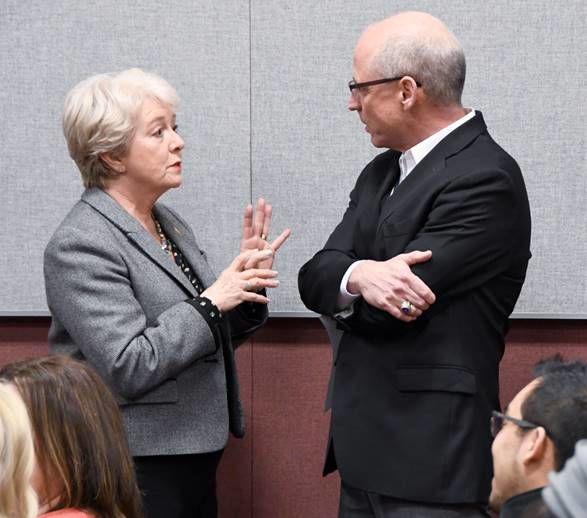 On International Women's Day, March 8, Tennessee State Sen. Janice Bowling was invited to Arnold Air Force Base to discuss how women are making a difference in Tennessee and her own role in state government.
Members of the Arnold Engineering Development Complex Test Operations and Sustainment contractor at Arnold Air Force Base organized the event in recognition of International Women's Day.
As a senator, Bowling serves Tennessee District 16, which covers Coffee, Franklin, Grundy, Marion, Sequatchie, Van Buren and Warren counties.
She is currently the Deputy Speaker of the Tennessee Senate. Prior to her involvement in state politics, she also served at the local level as alderwoman for the City of Tullahoma from 1992-2004 and 2005-2008.
AEDC and Arnold Air Force Base are special to Bowling, who has twice served as president of the Arnold Community Council, a nonprofit organization founded in 2000 to support and promote the AEDC.
Her husband, Temple Bowling, worked at Arnold AFB for 37 years before retiring in 2010. He served in many roles during his AEDC career, as an active duty member of the Air Force, a contractor employee and a government civilian.
In 1981 he worked for the deputy of contracting, and in 1995, became the director of contracting. He also served as acting executive director in 2006 before being asked to serve as the deputy director of the 704th Mission Support Group that same year.
Many at Arnold are still familiar with the Bowlings, and a large group took advantage of the opportunity to hear Sen. Bowling speak at the Main Auditorium to learn how she got her start in state politics.
Bowling explained that in 1993, Van Hilleary had asked her to help lead the Coffee County efforts for his campaign for congress. After he was elected, she served as the field representative in the 4th Congressional district covering nine counties. She then went on to become district director over all 11 counties in the district.
Having made connections and built relationships within the communities in her district, she decided to run for U.S. Congress. Though her two congressional runs were not successful, Bowling mentioned that her career has become what it is today because of her perseverance.
When asked if she's ever had difficulty being a woman in a mostly male political environment, she mentioned that she hasn't really experienced any issues.
"As a woman you do have to work harder, smarter and faster,'" Bowling said. "But now they know, 'She's Janice and she's a worker.' I've always gone in with the expectation that I'm here and I'm part of a team, and it's worked."
Bowling said a great part of her career has been when she has made her family proud. She mentioned a conversation with her young granddaughter when she became Tennessee's first Deputy Speaker of the Senate.
"She said, 'Nana, it makes me so proud when our family makes history,'" Bowling recalled.
International Women's Day falls on March 8 annually, and the 2019 campaign theme is "Balance for Better," focusing on gender equality and creating a gender-balanced world, according to information provided by the International Women's Day website.
In addition to International Women's Day, the entire month of March is Women's History Month.
Throughout the month, The Library of Congress, National Archives and Records Administration, National Endowment for the Humanities, National Gallery of Art, National Park Service, Smithsonian Institution and United States Holocaust Memorial Museum join in commemorating and encouraging the study, observance and celebration of the vital role of women in American history.
The movement for a nationwide celebration of women started in the 1980s. In 1981, U.S. Congress passed Pub. L. 97-28, which authorized and requested the President to proclaim the week beginning March 7, 1982, as "Women's History Week."
Throughout the next five years, Congress continued to pass joint resolutions designating a week in March as "Women's History Week."
Then in 1987, after being petitioned by the National Women's History Project, Congress passed Pub. L. 100-9, designating the month of March 1987 as "Women's History Month."
Congress has continued to pass additional resolutions requesting and authorizing the President to proclaim March of each year as Women's History Month with the tradition continuing into modern times.