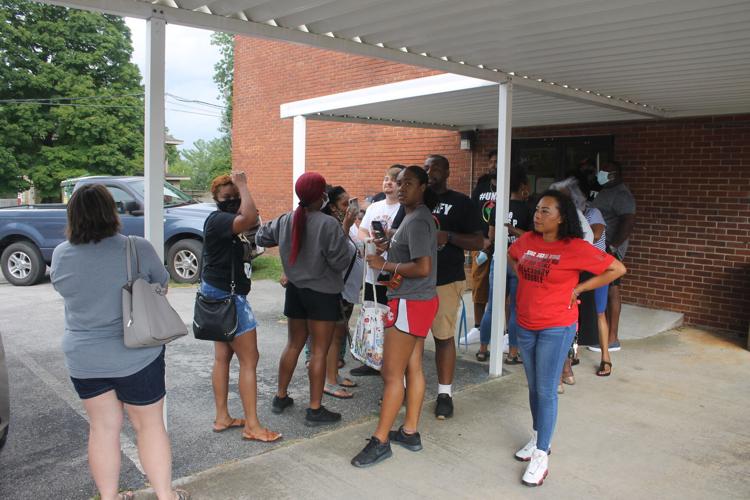 "Project Rebel" is a movement to remove deemed social injustices linked to the Confederacy and an associated stance on slavery in regard to Franklin County High School's mascot, but other former students want the issue left alone.
About 30 attended the School Board's Monday meeting at the school system's administration building, following social distancing guidelines due to the coronavirus pandemic. Four were allowed to speak for and against removing the Rebel moniker and other links to the Confederacy.
The national outcry over the death of a Black man, George Floyd, in police custody in Minnesota has sparked a new push to remove Confederate symbols, including changing the FCHS mascot name.
Those wanting the mascot name removed and a halt to playing the song "Dixie" at athletic events cited that the term "Rebel" signifies the oppression linked to slavery.
Those wanting the mascot name to remain cited a lasting tradition they deem needs to be preserved.
The item was not initially on the School Board's agenda.
Board members agreed last month to delay taking action on the issue due to the pandemic. They said the school system has enough pressing issues in ensuring classes can be safely held and have agreed to revisit the subject in October.
However, a group supporting keeping the Rebel mascot held a small parade, starting at the Franklin Farmers Co-op in Decherd and ending at the administration building in Winchester, and the board agreed to field additional input on the issue.
Michael Bradford, a 1988 FCHS graduate, said the word "Rebel" doesn't necessarily apply solely to the Confederacy.
"It's all about being an individual and refusing to follow a crowd that forces you to think the same way," he said. "True rebels know who they are and do not compromise their individuality or personal opinion for anyone. They're straightforward and honest, and they will tell it like it is. I am a Rebel."
Bradford said the name is founded in tradition that carries significant meaning.
"If you vote to remove our Rebel, you will be breaking the hearts of so many alumni," he said. "For 70 years, we have been known as the Franklin County Rebels. It is an important tradition and holds many dear memories. For many, it is all they have left of their youth."
Barbara Blackwell Brannon, who graduated from Townsend School in 1958 before the Black school was integrated into FCHS in 1966, had a much different opinion.
She said Townsend's history has been largely overlooked, and its tradition should receive much more attention.
Brannon said playing "Dixie" at football games when touchdowns have been scored has been a painful reminder about the Confederacy and slavery.
 "Dixie is your culture, not ours," she said.
Brannon said the school's atmosphere should reflect diversity and not be so one-sided with symbols that are reminiscent of slavery and "Jim Crow laws in 2020."
Danny Owens, a 1994 FCHS graduate, said perhaps some kind of a balance could be reached.
He said in terms of a global pandemic, the mascot question "is not really an issue."
Owens said rural communities are identified by their high school teams' names, and "removing a common identity creates a void that may not heal."
He said 20 rebellions had occurred before the Civil War, and the word "rebel" has widespread connotations.
Owens said that maybe "Mr. Rebel" could be retained with an updated logo that is more modern and wouldn't be offensive.
Shanae Williams, a 2009 FCHS graduate who spearheaded "Project Rebel" said retaining links to the Confederacy violates the school system's discrimination policy.
She said that the school system waited longer than 10 years to integrate the schools when the Brown vs. Board of Education lawsuit's decision would have allowed integration in the mid-1950s.
Williams said this isn't the first time steps have been taken to remove FCHS' offensive links to the Confederacy.
"The time to do something about it is now," she said. "This didn't occur for no reason."