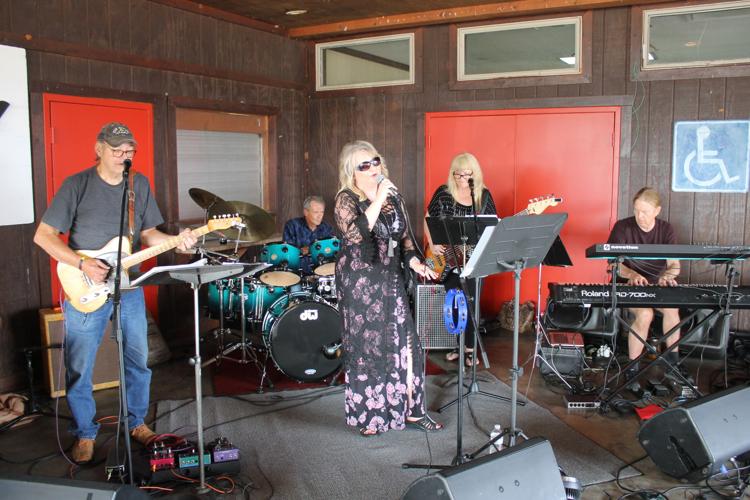 The eighth annual Making a Difference Suicide Awareness Movement Unity Walk was held on Sept. 14 from noon to 6:30 p.m. at the Red Roof Pavilion in the Winchester City Park.
This year's free MAD SAM Unity Walk saw a large turnout of community members who came out to show their support and solidarity in "Stomping out Suicide," which was this year's theme for the event.
The event provided an afternoon of fun for guests of all ages while also offering help, hope and information to those who had lost friends and loved ones to suicide.
Visitors browsed the many outdoor tents while enjoying a strong and soulful concert performed by Alison McCormick. Some of the many outdoor tents offered crafts and other wares to visitors while others focused on helping those seeking help for themselves or friends and family members.
Allen Burnette, lifeline recovery coordinator with Project Lifeline, was available at his tent for anyone in need of assistance with substance abuse and mental-health issues.
A neighboring tent, which was manned by Metro Industrial's Jeff Tant, offered assistance with finding employment. Spiritual assistance was also available from several tents with representatives from Franklin County churches, and Pastor Marion Pope of The Journey Church was available to anyone in need.
McCormick performed a strong and soulful concert that wowed those in attendance.
Children played in the free kids zone while attendees enjoyed bingo, cake walks, face painting and a free barbeque lunch, provided by Mark Perry.
Door prizes were given away to lucky guests, and an auction was hosted by auctioneer Ryan Miller.
Howard Campbell won the Hog Raffle prize, provided by sponsor Weaver's Farm and processed by Mac's Meat Processing.
At the conclusion of the day's festivities, it was time for the Unity Walk.
Tammy Nance Bolz led those who had lost friends, loved ones, and family members to suicide on a walk around the park.
This solemn action was to remember those who had lost their lives through suicide and to unify participants in healing and spreading the word about suicide prevention.
Following the Unity Walk, participants formed a circle. Each person held a balloon representing a lost loved one, and participants released them into the sky.
Nance, one of the organizers of the event said, "This is the eighth year for the MAD SAM Unity Walk, and we really want to take the stigma away from suicide and let people see that there are others who are in the same situation at the Unity Walk as well as survivors of suicide attempts and many others who will be there to provide support and information.
A memory wall was featured prominently between the tents which held the pictures of beloved friends and family members lost to suicide.
Nance explained the significance of the memory wall.
"Every time someone at the Unity Walk sees a family member stopping to look at a photo of their loved one on the memory wall and sees the emotions they have, how it still affects them, we are just hoping that anyone who might be contemplating suicide will see that pain it leaves behind," she said. "Four years ago, Franklin County had the highest suicide rate among teens in the state."
In 2016, there were seven reported suicides in Franklin County and in 2017, the number increased to 11, she said.
 "Through MAD SAM's sponsors, we hope to be able to help pay for counseling, whether it's for depression, addiction or other issues," Nance said. "We want anyone who might be contemplating suicide to know that it is not the answer."
Nance said that those who commit suicide may sometimes see it as a way to get away from financial problems, but that the burdens they leave behind for the family increase tenfold with grief, funeral expenses and other bills that insurance will not take care of.
Spreading suicide awareness among youths is a top mission for MAD SAM and one of the ways the organization plans to accomplish that is by raising money to build a cabin at Camp Rain.
The cabin will be used to inform young campers on what to look for and how to get help if they believe one of their peers is depressed or may be thinking of ending their life.
"The cabin at Camp Rain will be used to educate youngsters using a video that helps explain suicide prevention, what to look and listen for among their friends," Nance said.
Nance said MAD SAM's mission remains true and steadfast: "To bring a greater awareness to the warning signs of suicidal behavior, bring a sense of hope and strength to those considering suicide and to offer support for loved ones left behind by this silent epidemic. Break the silence. Be the change."
Nance was grateful to everyone who came out and made this year's Unity Walk a success and also to those who volunteered time, effort, and other contributions.
"I want to give a special thank-you to Moore-Cortner Funeral Home," Nance said. "I also want to give a special thank-you to John and Dorothy Bizwell for loading everything needed for the event, transporting it, and then setting everything up — before loading it all back up and putting it all back in storage when the event was concluded."
Nance also extended her thanks to the MAD SAM board members and volunteers by saying the event could not have happened without their efforts.
She also thanked Weaver's Farm and Mac's Meat Processing for contributing food items for the event.
The event was held in partnership with the House of Blessings, the Rain Teen Center/Camp Rain, and the Franklin County Prevention Coalition. Moore-Cortner Funeral Home was the premier sponsor.
Anyone who may be contemplating suicide is urged to talk to someone in confidence by calling 1-800-273-8255.