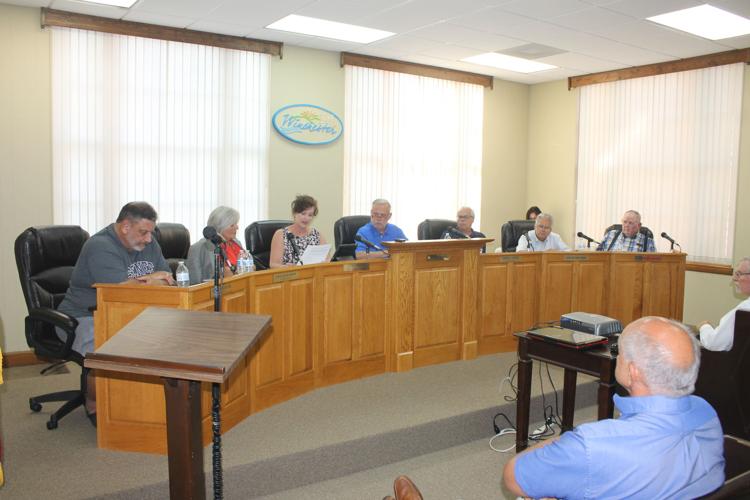 Complaints aired against the Winchester Police Department have sparked several Franklin County residents to request forming a police oversight committee.
The City Council held a workshop Tuesday with several in the audience expressing concerns about how they deem the Police Department has handled certain cases.
Darla Taylor referred to a March 2019 incident where her husband, Marcus Taylor, was stopped for a suspected speeding infraction by Patrolman Josh Glover.
"During the traffic stop, he was put in handcuffs and detained for exercising his First Amendment right to freedom of speech as well as repeatedly cursed out by this officer," Mrs. Taylor said. "He was also threatened with bodily harm twice. My husband was neither violent nor did he resist. As a matter of fact, he complied with all of the officer's directives."
Plans were to show a video of the incident to the council. But time limits were set for addressing the council, and playing the video was not allowed.
However, the video was posted on Facebook, and it shows the incident where Glover had stopped Taylor, and the dialogue quickly became controversial.
Police Chief Ritchie Lewis said the incident had occurred more than a year ago, and he had deemed at the time that Glover had acted inappropriately and was counseled, reprimanded and a letter about the incident was placed in his personnel file.
Lewis said that he thought the matter had been taken care of, and he was caught by surprise when having to address the issue again.
Mrs. Taylor said later in a Facebook post that Lewis did address her concerns at the council meeting.
City Administrator Beth Rhoton didn't say the city should consider forming a police oversight committee, but she said changes are being made to ensure issues such as the controversial traffic stop will be addressed.
"The council did hear the concerns and have taken the information under advisement," she said. "From the comments of our guest, I recognized a couple of things that could improve the complaint system so that I would always be aware, and those complaining would be notified that the issue had been handled.
"Those improvements will be implemented going forward."
She explained that the complaint about Glover came directly to the Police Department.
"But now, if a complaint goes to a department instead of City Hall, they are required to notify me," Rhoton said. "Our complaint system requires the complaint to come in writing before a formal investigation will be implemented. 
"Those written complaints will also go to the mayor and council so that they too can be involved if necessary."
Tina Baldwin, who is the aunt of drowning victim Johnny Baldwin, also attempted to address the council.
Johnny Baldwin, a 24-year-old Warrenville, Illinois, resident, drowned in Boiling Fork Creek early in the morning on June 4 after attempting to evade police in a vehicle chase that began in Decherd and ended on foot in Winchester's Ross Lane area, police reports said
Tina Baldwin said later that she wasn't allowed to speak to the council and satisfactorily air her concerns.
"They're not doing anything, still," she said, referring to city officials. "They basically don't care."
Rhoton explained that immediate relatives have filed a lawsuit stemming from the case, and city officials aren't allowed to comment on pending litigation or debate legal matters.
Johnny Baldwin had been visiting relatives in the area, according to Tina Baldwin.
She said she believes that the officers on the scene, Sgt. Cody Bishop and Patrolman Tristan Delacruz, didn't attempt to save her nephew because they didn't get into the water to help him when he indicated he was having trouble swimming.
Baldwin said Delacruz was removing his gear to go into the water, but Bishop stopped him from going further.
She said that they should have attempted to save her nephew's life, and their actions mirror the police brutality that is being protested on a nationwide level. Baldwin specified that her nephew wasn't black, but was of Puerto Rican descent and white
Baldwin had a copy of the police video and has shared it on Facebook. She said the officers acted inappropriately because at least one was laughing while her nephew was in the water and referred to him in an offensive way.
Baldwin and Johnny's uncle by marriage, Richard Steier, said they believe the officers should be fired and prosecuted. Steier said he believes they should be charged with murder.
They said they are considering taking legal action against the Winchester Police Department.
Lewis said he believes his officers did what they should have done.
He said the conditions were dark, the depth of the water was unknown and Mr. Baldwin greatly outweighed Delacruz.
Lewis referred to how Metro Nashville Police Officer Eric Mumaw drowned in 2017 while attempting to save a suicidal woman in the Cumberland River.
"We're not trained to do that," he said, adding that the situation would have been dangerous for his officers to go into the water.
Lewis said Bishop can't swim, and if Mr. Baldwin had struggled with Delacruz while attempting to save him, Bishop would not have been able to help his fellow officer, who could have drowned.
Decherd and Winchester police reports said that Mr. Baldwin was driving erratically at about 2 a.m. in Decherd and was followed by police.
Attempts were made to get the vehicle to stop at the Dairy Queen in Decherd, but Mr. Baldwin drove to the McDonald's restaurant and drove around the building, then got back on to Dinah Shore Boulevard and turned right on West Petty, right on Hillcrest Drive and then left on Sharp Springs Road, reports said.
Reports said the vehicle was traveling erratically on Sharp Springs and almost hit another patrol vehicle head-on. The vehicle Mr. Baldwin was in proceeded onto Ross Lane where it came to a dead-end area, and he got out and fled on foot, reports said.
Reports said Mr. Baldwin ran into a brushy area and tripped and fell into the water.
He swam almost halfway across Boiling Fork, and after Winchester and Decherd officers had made contact with him, he attempted to swim back to the bank, reports said.
Reports said Mr. Baldwin stated he was having trouble swimming. He was about six feet away from the bank and went under water, reports said.
Unable to locate Mr. Baldwin, the Franklin County Rescue Squad was called in, and personnel recovered the body, reports said.
The Franklin County District Attorney's Office ordered an autopsy, police said.