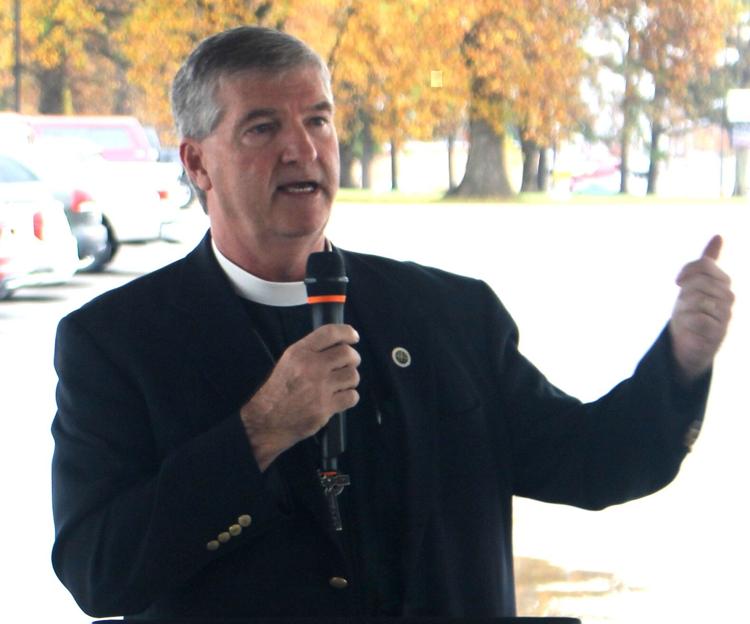 Area communities celebrated Veterans Day on Nov. 11 by holding special ceremonies to honor those who had given so much to ensure the nation enjoys the freedom they so unselfishly fought for.
The following includes highlights from Winchester and Huntland's separate Veterans Day celebrations.
Rev. Midgett explains naval service during Cold War 
Dreary, rainy conditions caused Veterans of Foreign Wars Post 1893 to move its Veterans Day program from the Winchester Square to the Farmers Market Pavilion, but the venue change didn't dampen the special tribute's meaning.
The weather did slightly reduce Wednesday's audience size, but those who were present duly honored Franklin County's native sons who have gone above and beyond the call of duty to serve their country.
The keynote speaker was Rev. Bill Midgett with Christ The King Anglican Church in Decherd who had served aboard the USS Dwight D. Eisenhower aircraft carrier as a nuclear electrical operator.
Midgett said that at the time he gave his oath to join the Navy in 1978, he didn't fully absorb the meaning of what he had recited until later.
He explained that his service was during the height of the Cold War with the former Soviet Union, and the Eisenhower served in the Mediterranean Sea and the Indian and North Atlantic oceans.
Midgett said it was very apparent how close the Cold War enemy was when submarines gathered trash disposed of at sea from the aircraft carrier to search for clues related to military operations.
He jokingly added that naval personnel would include special messages in the waste to distract the Soviets from their objective.
Midgett said he decided to join the Navy when those he was close to said it was an opportunity to see the world.
However, his interpretation of that didn't lean toward how much of the world is actually comprised of water.
He said that during his time at sea from 1978 to 1982, he only spent 44 days on land.
Midgett said he was serving when the Iran hostage crisis was in full effect.
The crisis was a diplomatic standoff between the United States and Iran where 52 American diplomats and citizens were held hostage for 444 days from Nov. 4, 1979, to Jan. 20, 1981.
The crisis occurred when a group of Iranian college students belonging to the Muslim Student Followers of the Imam's Line, who supported the Iranian Revolution, took over the U.S. Embassy in Tehran.
Midgett said his fellow sailors were all there in the region to support each other and to protect the United States' best interests.
"It was a privilege and an honor to serve with those fellows," he said, adding that, through his experience, he began to fully understand the meaning of serving.
Midgett said his experience in the Navy carried over in his service to the Lord and has helped him greatly in his subsequent calling in life.
Ray Cutrell, a Vietnam War veteran who led the Pledge of Allegiance, said Veterans Day is a time to thank all of those who served in the military as well as their families who also shared in their loved ones' sacrifice in protecting the nation's freedom.
Cutrell said the day also signifies a time to make younger generations aware of the sacrifices that have been made to give them opportunities that they possess.
He said it has been more than 525,000 minutes since the last time Franklin County honored its veterans on Veterans Day, which might not seem like a particularly long time.
However, he said that to the veterans in combat, that same amount of time seems incredibly long.
Cutrell read a poem mirroring "Twas the Night Before Christmas" that referenced veterans and the simple lives many of them lead after protecting their nation's freedom and liberties and how veterans truly are "guardians of honor."
Ray Cobb, American Legion Post 44 commander and a Vietnam War veteran, explained how the Legion has sponsored its Flag and Cross Memorial program, where crosses with deceased Franklin County veterans names, accompanied by American flags, have been placed along major thoroughfares.
Cobb said the memorials are placed for a two-week period around Veterans Day and again around Memorial Day.
He said that 178 memorials were placed along roadways this time, and the effort has just received commitments for 25 more.
Cobb said Post Vice Commander Tom Isbell spearheaded the drive after seeing a similar movement in Ringgold, Georgia.
Cobb extended his thanks to the City of Winchester, the Franklin County government and U.S. Rep. Scott DesJarlais, R-Tennessee, for supporting and backing the effort.
Bobby Clark, Franklin County Veterans Services officer and a Vietnam veteran, said veterans need to be recognized for the sacrifices they made while serving their country, and many harbor posttraumatic stress disorder symptoms years after they return h0me.
Clark said an alarming figures is that veterans make up 0.06 percent of the nation's population but account for 14 percent of the overall suicides nationwide.
"That's not normal," he said, adding that he was lucky to have been married and has had immediate family there to support him so he was not affected by that statistic.
Clark said veterans in Franklin County have the Veterans Services office to turn to, and it is greatly supported by County Mayor David Alexander and the County Commission.
He encouraged any veterans needing assistance to reach out to Veterans Services.
Huntland honors veterans during special ceremonies
Three Huntland area veterans were honored recently during three separate ceremonies at a special Veterans Day event held on Nov. 11 at the Huntland Community Center.
The close-knit Huntland community and surrounding area have a tradition of honoring veterans every year on Veterans Day, but due to the impact of COVID-19, this year's ceremony was held privately for the three honorees and members of their families.
The day's celebrations were split into three separate presentations to minimize any COVID-19 risks.
All three presentations were hosted by Huntland Vice Mayor Ann Gardner and featured retired U.S. Army Special Forces Col. L.Z. Johnson as the ceremony's special guest speaker and presenter.
Three crystal awards bearing the names of the day's honorees were presented to each veteran or family representative.
Additional gifts were awarded to the three honorees, whose names were added to the "Town of Huntland, Honoring Our Veterans" plaque which is displayed publicly and year-round at the Huntland Community Center.
Gardner spoke briefly about the importance of honoring our country's veterans and how COVID-19 has changed the way communities traditionally honor its veterans.
"Though 2020 brings with it changes to our traditional Veterans Day observances, there are still opportunities to honor and celebrate veterans past and present," Gardner said.
She introduced the ceremony's special guest speaker and presenter, Col. Johnson.
Johnson led each ceremony with the saying of the Pledge of Allegiance and giving a powerful veteran-themed prayer.
The first honoree was U.S. Army veteran Charles L. Kinslow, who could not be present due to health concerns.
Following the example of his brother who served in Korea, Kinslow enlisted in the U.S. Army in 1954 and served for three years in Europe.
Kinslow wanted to join his brother in Korea, but was prevented from doing so due to a military rule that would not allow two brothers to serve in the same combat zone.
Upon receiving an honorable discharge in 1957, Kinslow worked as an electrical operator at Arnold Center, where he retired in 1996 after 32 years of service.
Kinslow is also a proud Mason, and he joined the Arunah Lodge No. 132 in Winchester.
Kinslow's family attended the ceremony in his honor, and U.S Army veteran Sandy Kinslow accepted a crystal award bearing Charles L. Kinslow's name on his behalf.
Kinslow was also presented with a special lap quilt made by the Family Communication Education Club. Gardner read the accompanying letter:
"This veteran's lap quilt was made to honor our Franklin County veterans. The Family Communication Education Club, formerly called the Home Demonstration Club, or Quilt Club, appreciate your service to your community and country. The squares in the quilt are colored by the children and adults in the community. It is our hope that you will enjoy this quilt wherever you are, and that you will feel its warmth and know that you are loved and appreciated."
Following the conclusion of the first ceremony, the day's next ceremony honoring Vietnam veteran and Purple Heart recipient Eddie Glen Disheroon began.
Disheroon attained the rank of specialist while serving with the 594th Transportation Company in the U.S. Army and was wounded in combat outside Chu Lai on June 10, 1969.
Disheroon was presented with his crystal award and a gift certificate towards a family meal at Kelli's Country Cookin'.
The day's third and final veteran to be honored was Harold T. Jones, who served in the USARV Special Troops Transportation Company in the U.S. Army.
Jones began his years of service after being drafted into the Army on October 24, 1966.
Upon completion of basic and advanced individual training, Jones served in Long Bien, Vietnam.
Jones was a witness to several historic events in the Vietnam War, and recalled seeing a Bob Hope show and witnessing the start of the Tet Offensive in 1968.
Jones received his crystal award and a gift certificate towards a family meal at Kelli's Country Cookin'.