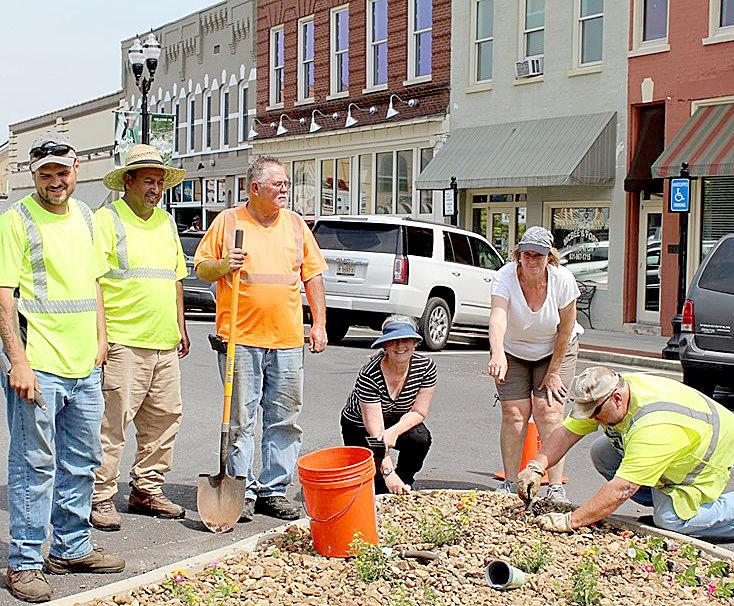 Those who have driven through downtown Winchester recently may have noticed that it is all abloom.
As one walks or drives by the square, eyes will be drawn to the spring and summer plantings and the shades of color in the flower beds.
Plant colors were chosen to accentuate the rising sun redbuds which flank the square.
The Franklin County Garden Club has been a huge part of this transformation by helping to design and provide plantings. The Winchester City workers executed the club's design plan.
Lola Eslick, president of the Franklin County Garden Club, said the club has four National Garden Club-certified landscape designers as well as a gardening consultant who completed a special course and have the skills to create garden designs and add to existing landscapes.
"The club members were excited to be a part of this transformation," Eslick said.
Franklin County Garden Club members grew green zinnias and marigold from seeds in time for this spring and summer planting.
Fall plantings of pansies, mums and hellebores will take the place of the summer annuals. There are also plantings of lantana, zinnias, marigolds, sweet potato vine and portulaca. The perennial plants will winter over.
Abby Pickett, director of Winchester Downtown Program Corp. said, "The existing beds had remnants of a previous planting which were sparse and in need of maintenance, including dividing and repositioning of plants."
Eslick said, "The Franklin County Garden Club hopes that through this transformation they have promoted the love of gardening with flowers. Make every inch count in your own landscape and reap the joy, beauty and visual eye candy of flowers, shrubs and trees."