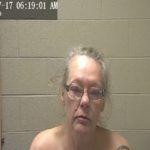 Ray was booked in the Coffee County Jail at 6:45 p.m. on Tuesday.
She is held in jail on $600,000 bond, according to the Coffee County Sheriff's Department.
The skeletal remains were discovered Tuesday about 6 p.m. on Murfreesboro Highway according to Manchester Police Department Assistant Chief Adam Floied. The victim's identity and cause of death has not been released.There is currently an investigation related to the discovery of human skeletal remains in Coffee County, according to authorities. At this point, there is no identification of those remains. 
The court date is set for Aug. 6. More information will be added to this story as it becomes available.