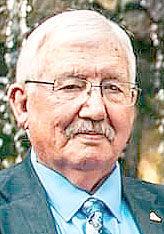 WILKERSON, Bro. Charlie "Chuck" Thomas, age 77, of Keith Springs, went to be with the Lord on Tuesday, Nov. 24, 2020, at his residence. He was born on Nov. 28, 1942, in Keith Springs, to the late Ira and Eliza Mae (Judge) Wilkerson. Chuck served as the pastor of Payne's Baptist Church for 25 years. He also proudly served in the United States Army and National Guard. Chuck loved coon hunting, listening to music, his mules, and most of all, his grandchildren. In addition to his parents, he was preceded in death by his brothers, William "Bill" Wilkerson, Prentice Wilkerson, James Wilkerson, and Terry Wilkerson; and sister, Barbara Mangum. Chuck is survived by his wife of 54 years, Betty Boswell Wilkerson of Keith Springs; children, Eric (Patty) Wilkerson of Decherd, and Rebekah (Derrick) Swann of Decherd; grandchildren, Candice (Dwayne) Autwell of Lynnville, Noah (Rebecca) Fults of Belvidere, Abagael (Sam) Williams of Winchester, Walton Levi Wilkerson of Lynnville, Juliann Swann of Decherd, Jake Swann of Decherd, and Chloe Wilkerson of Decherd; great-granddaughter, Kylie Autwell of Lynnville; sisters, Judy Sisk, and Lena (Kenneth) Steele, both of Belvidere, Linda (Dennis) Meier of Ashland, Kentucky, and Vera Jo (Sompong) Chuckliang of Summitville; and many nieces and nephews. Visitation was held on Friday, Nov. 27, 2020, from 11 a.m. to 2:30 p.m. at Moore-Cortner Funeral Home in Winchester. Funeral services were conducted on Friday, Nov. 27, 2020, at 2:30 p.m. in the Moore-Cortner Funeral Home chapel with Rev. Tim McGeehee and Jim Thomas officiating. Interment followed in the Clark Gardens Cemetery with military honors bestowed. Moore-Cortner Funeral Home, 300 First Ave NW, Winchester, TN 37398, 931-967-2222, www.moorecortner.com.
To plant a tree

in memory of Keith Sprin

as a living tribute, please visit Tribute Store.