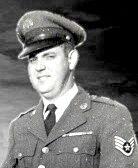 ELMORE, Jacob "J.D." Danuel, age 88, of Estill Springs, Tennessee, departed this life on Friday, July 16, 2021, at his residence surrounded by his loving family, after losing his hard fought battle with cancer. Mr. Elmore was born in Baxter Springs, Kansas, on April 29, 1933, to the late William Wheeler Elmore and Bertha Thomas Elmore. Mr. Elmore was a 20-year retiree of the U.S. Air Force, serving his country during the Vietnam War. He was a member of the American Legion. Mr. Elmore enjoyed playing golf, bowling and fishing. He was an avid NASCAR fan. He loved having fun and everyone who knew him knew his great sense of humor. He was known to be highly "tolerant" of his cat, Rusty. He was a loving and caring husband, father, "PaPa" and friend. In addition to his parents, he was preceded in death by his brothers, Bud Elmore and John Thomas. He is survived by his wife of 52 years, Mary Elmore of Estill Springs; children, Mike Elmore of Nebraska, Jay Elmore of Carthage, Missouri, DeWayne Husted of Carthage, Missouri, Donna Smith and husband, Brett of Decherd, Tennessee, and Ralph Elmore of Estill Springs; grandchildren, Chase, Shelby, Don, Crystal, Dawn, Brandy, Starlett, Wesley and Savella; siblings, Sharron McCumber and Jim Zane, both of Kansas. A graveside service was held on Sunday, July 18, 2021, at 2 p.m. at Eastern Star Cemetery in Sewanee, Tennessee, with Bro. Jeff Bailey officiating and military honors bestowed.
To plant a tree

in memory of Estill Sprin

as a living tribute, please visit Tribute Store.