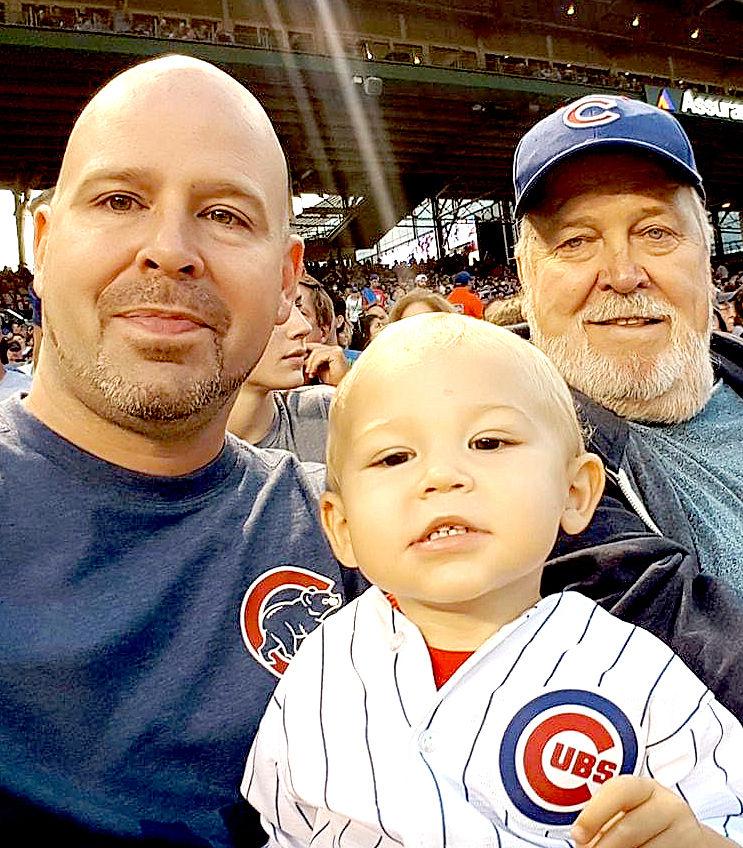 FRYE-FOWLKES, Raleigh Eugene "Tinker," passed on Saturday, May 9, 2020. He went to sleep peacefully in the afternoon. Tinker called his son, Kris just a few hours before, telling him, "Don't work too hard. I love you son." Kris replied, "I love you, dad, talk to you soon." Tinker was born on Jan. 8, 1943, in Tullahoma, and spent much of his life living in Tennessee and Harvey, Illinois. Tinker was a great family man who loved life and lived it to the fullest. His son, Kris describes him as, "A larger than life father and PaPa to his grandchildren, Tristan and Ezekiel. Daddy experienced so much life, had great friends that loved him dearly; he taught me to be a man, a father, and how to enjoy life. PaPa will always be alive in me, Tristan, and Ezekiel. We love and miss you Dad, PaPa. Fly high Dad, Papa, I know you will be watching over us from Heaven, and you can see Tristan and Ezekiel all the time now."
Don't grieve for me, for now I'm free
I'm following the path God has chosen for me.
I took his hand when I heard him call
I turned my back and left it all.
I could not stay another day,
To laugh, to love, to work or play.
Tasks left undone must stay that way
I've now found peace at the end of the day.
If my parting has left a void,
Then fill it with remembered joys.
A friendship shared, a laugh, a kiss
Oh yes, these things, I too will miss.
Be not burdened with the times of sorrow
Look for the sunshine of tomorrow.
My life's been full, I stood much
Good friends, good times, a loved one's touch.
Perhaps my time seems all to brief
Don't lengthen your pain with undue grief.
Lift up your heart and peace to thee,
God wanted me now- He set me free.
Tinker was preceded in death by his parents, Paul and Mattie Bell Frye; son, Steven Frye; grandson, Lukas Frye; and siblings, Wayne Frye and Mike Frye. He is survived by his children, Kris Frye and wife Jessica Frye and Scott Frye and wife April Frye; siblings, Clara "Dean" Simmons, Sonny Simmons, Marsha Barcikowski, Joe Barcikowski, Billy Frye, Jimmy Frye and Dwight Stephens and wife Jan; grandchildren, Tristan Frye, Ezekiel Frye, Raleigh Rae Frye, Scott Jr. Frye, Beth Frye and Steven Frye; nine great-grandchildren; and extended family members, Vicki Frye-Fowlkes, Mike Fowlkes (and wife Judy), Rick Fowlkes (and wife Linda), Chris Robbins, and Sherry Fowlkes. Visitation was held at Tullahoma Funeral Home, 401 Westside Drive, Tullahoma, Tennessee, on Thursday, May 14, 2020, from 3-5 p.m. Following Coronavirus precautions, visitation was limited to 10 people at a time. The family had people at Tinker's home afterwards for a meal outside with tables spread out for social distancing and masks for everyone. A head/foot stone will be provided at Bethany Cemetery, Tullahoma, once Tinker's ashes are returned, as he donated his body to science. The family wishes to thank everyone for the support and calls. Kris said, "So many people thought the world of my dad. He was a kind and gentle soul who could ease your pain with a joke or a smile."
To plant a tree

in memory of Raleigh "Tin

as a living tribute, please visit Tribute Store.