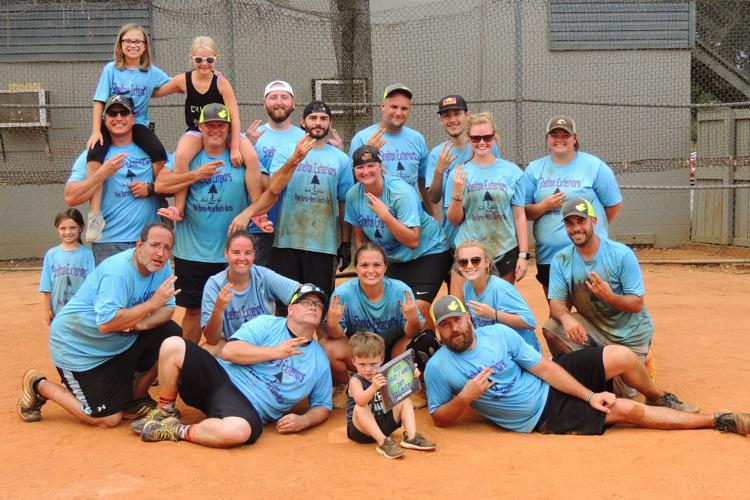 The 21st annual Molly/Abbie Softball Tournament was held Friday and Saturday at Winchester City Park with 25 teams in action across two divisions.
The tournament has become an annual tradition which is held in memory of Molly Stewart and Abbie Bondurant, Franklin County High School seniors who passed away in a boating accident in 2000. The event raises money for the FCHS softball team.
This year's edition of the event featured 15 teams in the competitive bracket and 10 teams in the more casual fun bracket.
Winchester Parks and Recreation Director Darrell Jolley has helped to put on the event since its inception and said that the 2020 edition of the tournament went well with a slight increase in the number of teams from the previous year and additional assistance coming from the Independent Sports Association.
"Everyone is having a good time. I'm sure that Franklin County softball is making a decent amount of money today," Jolley said. "The ISA has joined us this year and are helping us with the umpiring. We appreciate that."
FCHS head softball coach Mike Holt said that the tournament is a special event every year for current players, FCHS softball alumni and various other teams in the area that come every year.
"I love seeing all of the old girls that are coming back and playing," Holt said. "We have teams that have played in this for years and this is a tournament that maybe their team gets together and plays just once a year. That is really special for us."
Holt added that the money raised will help to pay for uniforms and equipment for players during the 2021 spring softball season.
The members of the FCHS softball team were involved in the event as they helped to run the concession stand, keep scorebooks, pick up trash and maintain the fields when needed. The players were assisted by coaches, parents and other volunteers involved with the program.
Tournament action started Friday night with a few teams in action with the remainder of both brackets being played throughout the day on Saturday.
The first bracket to be decided was for the fun division as Shelton Exteriors, also known as the Shockers, took on Bases Loaded. After losing to the Shockers earlier in the day, Bases Loaded bounced back with a 12-2 victory in the first game of the championship round to force a winner-take-all matchup.
However, Shelton Exteriors rallied with 11 runs in the sixth inning to win the decisive title contest by a final margin of 19-9. The Shockers have won the championship for the fun bracket for the past two years and have won the title three times overall.
The competitive bracket finished up later in the night as the championship round came down to Animal Care Center and SD.
Animal Care Center capped off an undefeated run through the division with a dominant 18-1 victory to claim first place for the bracket.