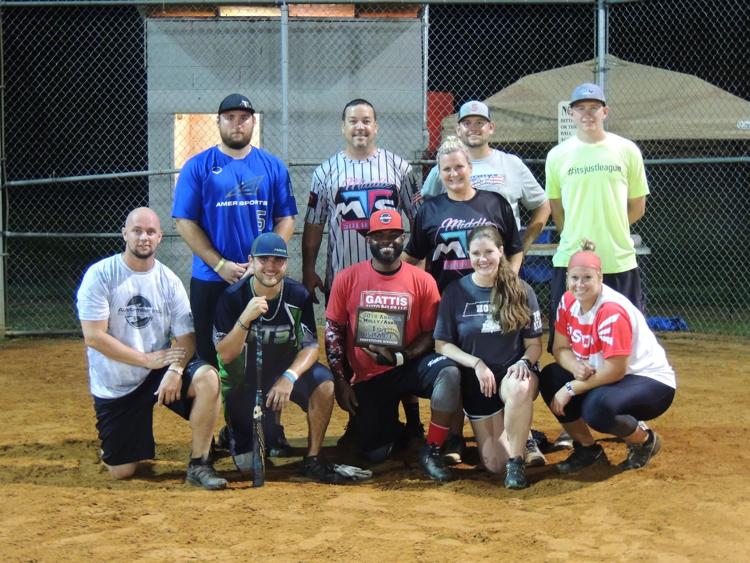 The 20th annual Molly/Abbie Softball Tournament was held Friday and Saturday at Winchester City Park with 22 teams in action across two divisions.
The tournament has become an annual tradition which is held in memory of Molly Stewart and Abbie Bondurant, Franklin County High School seniors who passed away in a boating accident in 2000. The event raises money for the FCHS softball team.
This year's edition of the event featured 12 teams in the competitive bracket and 10 teams in the more casual fun bracket.
Winchester Recreation Director Darrell Jolley has helped to put on the event since its inception and said that the 2019 edition of the tournament went well with a slight increase in the number of active teams.
"We had 22 teams, which is good. We had 17 or 18 last year so we got it back up a little bit," Jolley said. "I think the concession stand has done well, the gate did well early in the morning and the weather cooled off."
The weather for the tournament was clear for all of Friday and part of Saturday, but nearby thunderstorms did slightly delay play on Saturday afternoon.
"It didn't rain hard. It actually felt good. We took maybe three delays for lightning which set us back by maybe an hour," Jolley said. "To just be an hour behind on a pretty good evening like this is nothing to complain about."
The members of the FCHS softball team were involved in the event as they helped to run the concession stand, keep scorebooks, pick up trash and maintain the fields when needed. The players were assisted by coaches, parents and other volunteers involved with the program.
FCHS head softball coach Mike Holt said that the Molly/Abbie Softball Tournament is a valuable fundraiser for the program that also serves to memorialize Stewart and Bondurant.
"We usually tell (the players) what the Molly/Abbie is because they're young enough that they might not remember," Holt said. "We try to express that to them and make them understand that it's something that has meant a lot to the softball program."
The action for the tournament wrapped up Saturday night with champions crowned in both brackets.
The Gattis Auto Services team won its third straight championship in the competitive bracket for the Molly/Abbie Softball Tournament. Gattis Auto finished an undefeated run through the bracket with an 18-6 victory over HammerTime in the championship round.
The fun bracket came down to Stew's Crew and the Shockers with Stew's Crew winning the first game of the championship round by a margin of 11-9 to force a second game.
However, the Shockers bounced back to grab an 11-6 victory in the winner-take-all contest and claim their second championship at the Molly/Abbie in team history.