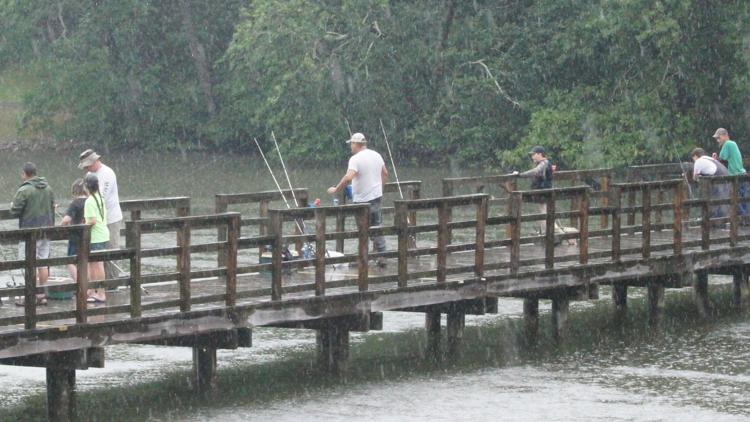 Free Fishing Day was celebrated Saturday across Tennessee as anglers throughout the state got the opportunity to fish without being required to have a license.
The Tennessee Wildlife Resources Agency holds Free Fishing Day annually in an attempt to increase general interest in fishing for all ages.
To help that cause, the TWRA hosted special fishing events for young anglers throughout the day with one such event being held at the Morris Ferry boat dock on Woods Reservoir in Estill Springs.
The Estill Springs event was for children ages 16 and under with adults and representatives from the TWRA there to supervise the proceedings.
Jesse Taylor, fisheries biologist and wildlife manager for the TWRA, said that the TWRA stocked catfish within a set area to give the young anglers something specific to fish for.
"We've blocked off an area of about five acres with a net, and we put 800 pounds of catfish in here," Taylor said. He added that the minimum weight for each catfish was about one pound while the maximum weight was about five pounds.
The event ran from 7 a.m. until noon with an estimated crowd of 75 young anglers arriving to start the day, according to Taylor.
The TWRA had free food on hand for those in attendance and also offered free bait on a first-come, first-served basis.
Rain began to fall at around 9 a.m. which led to some of the participants leaving early, but others continued to stick around throughout the rain.
The rain began to clear at around 10:30 a.m. though the skies remained cloudy for the rest of the event.
Taylor said the attendance for the event was slightly down from previous years, but that could mostly be attributed to the weather.
"When we first started, we had upwards of 200 kids, and it's kind of leveled off to around 100 or so kids each year," Taylor said. "This year's been a little less because of the rain and the weather which has kept everyone else at home."
Taylor reiterated the importance of Free Fishing Day as a way for children to get involved and invested in fishing at a young age.
"They come out here, they catch a big fish and we hope it gets them hooked on fishing. It's the main reason why we do this," Taylor said. "They get interested in fishing and they want to keep fishing throughout their life."
In addition to Free Fishing Day giving anglers of all ages chances to cast their lines, children ages 15 and younger may continue fishing without a license until Friday.